Set In Stone Hardscapes
Best Hardscaping Company
Nominating Category: Best Landscaping Company
Steve Baugh, Owner/Operator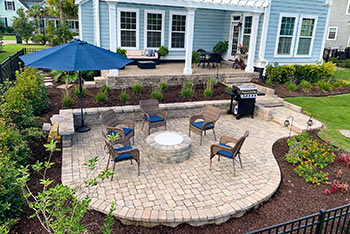 ---
What is it like working with the Mount Pleasant community?
My wife Felicia and I love living and working in Mount Pleasant. We made the move here in 2011 after my military service, looking for a better opportunity and a great place to raise a family. We have seen a lot of growth over these last few years, but that small town charm we fell in love with still remains. We enjoy meeting clients and discussing all the different options available, assisting in design and bringing their hardscape vision to light.
How did your business get started?
Felicia and I started Set in Stone out of our home in 2016, with the hope of becoming a trusted name in the community. We began working on small patio projects and over time added to our certifications and services list to include water features, fire features, outdoor kitchens, artificial turf and more. Since the beginning, our goal has always been to provide quality products and installation and excellent customer service, to ease the stress of our clients and earn their recommendation.
What is the most rewarding part of your business?
There is nothing more rewarding than exceeding a client's expectations and providing a finished product they absolutely love. We often receive thank you cards, emails and messages from our clients after their installation, thanking us for a job well done and a beautiful outdoor space that is better than they imagined. We receive pictures of them enjoying their new patio or roasting marshmallows around their new fire pit. We are building spaces where memories will be made, and this is why we absolutely love what we do.
What are some challenges that you've overcome?
If you know anyone in the construction industry, they can tell you the last two years have been one of the hardest times to navigate. Material and labor shortages across the country have created a number of obstacles for small businesses like ours. The pandemic forced us to change how we operate, to keep up with safety guidelines and maintain quality service. In doing so, together with our team, we found even better ways to serve our clients.
You've been named one of the Best of Mount Pleasant. What led you to your success?
We are so honored to be named in this year's Best of Mount Pleasant. We definitely did not get here on our own and have many to thank for our success. We have had the opportunity to learn from some of the best in our industry whose experience and vast knowledge has proven to be invaluable. Our dedicated team works hard every day to provide excellent service to our clients, and we continue to look for new ways to improve how we do things.
To learn more, visit setinstonehardscapessc.com, or call 843-410-0238.