Sweetgrass Pharmacy and Compounding
Best Pet Pharmacy (Local), Best Pharmacy (Local)
Nominating Category:
Best Pharmacist
Cynthia Feldman, Owner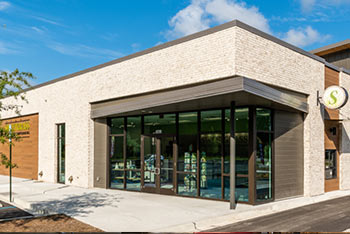 ---
What is it like working in the Mount Pleasant community?
We've been lucky to build our pharmacy in an area that is so unique. It is great being able to provide personalized medications to the people of Mount Pleasant and the Lowcountry.
How did your business get started?
The idea to open up Sweetgrass Pharmacy came from my deep desire to help people and to satisfy a need in my community. After moving to Mount Pleasant with my husband and our five children, I wanted to make a difference. I wanted to provide the people of my community a place where they could fill their medications with confidence and have access to compounded medications that big-box chain pharmacies simply do not offer. I had the idea to offer a unique boutique pharmacy experience that combines an old-school apothecary feel with a modern elevated twist. Sweetgrass Pharmacy is a destination where you can not only pick up your medications but also shop for locally made gifts, hand poured candles and luxurious skincare products.
What is your most popular product?
We pride our business on being a full-service pharmacy, like big-box chain pharmacies — only we can do so much more. Besides filling prescriptions and accepting all insurance types, we also have our own sterile and non-sterile compounding labs, which means we can make all sorts of custom medications, anywhere from serum eyedrops and infusions to compounded capsules, nasal sprays and creams. We are even able to compound prescription dog treats and lollipops that can "help the medicine go down" when needed. These specialty compounds also allow for specific dosing and allergy-free options that are not commercially available. We offer free medication compliance packaging as well. In addition to our prescription items, we also have an expansive retail selection where you can browse CBD products and gifts.
What is the most rewarding part of your business?
The most rewarding part of my business is providing a friendly neighborhood pharmacy. The bonds that we have formed with our patients over the years are priceless. One of the greatest pleasures of my life is knowing that I have earned the respect and trust of my patients.
What are some challenges that you've overcome?
Healthcare certainly has its benefits, working with the public being the number one, but like anything else, it has its challenges. We've had to become adaptable. There are no days off in the pharmacy. Over these past two "COVID years," in addition to our expansion, we have ramped up our free delivery and shipping services, offered curbside pick-up and rapid and PCR COVID testing. We have also seen a great need in the businesses and schools in our community, and we have partnered with many to offer on-site flu and COVID vaccination clinics. We are proud and humbled to provide comfort, support and service to our community during these unprecedented times.
To learn more, visit sweetgrasspharmacy.com, or call 843-654-4013.