Vanity Salon & Blowout Bar
Best Hair Salon
Kim Coleman, Owner/Stylist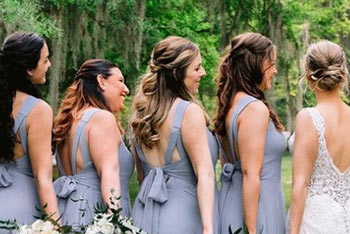 ---
What is it like working in the Mount Pleasant community?
Since I'm a native of Mount Pleasant, it's special for me to serve my customer right here in the town I've always called home. It's easy to think of my clients as family and friends.
How did you start Vanity Salon?
I was working at a salon that was going out of business. The space came available, and opportunity knocked. I had been a stylist for about five year and I loved what I was doing. It was a challenge I wasn't sure I was ready to face, but 12 years later in business I have no regrets. I had an opportunity to start a business and gave it my all. I have been blessed to have amazing community support, loving friends and family, and a great staff!
What is the most popular item or service you provide?
We have two full salons specializing in the top trends and looks. We use only the highest quality hair care products to deliver the healthy beautiful hair. We are known for beachy blondes, extensions, and all the weddings. We are behind the chair on most days but spend a good amount of our time on site working with bridal parties in the weekends.
Describe the atmosphere and services at your business. What do you want customers to take away from your business?
We pride ourselves on education. Our staff continues their education to bring the newest techniques to the salon. Many of our staff are educators themselves. While not in the salon they are teaching other stylists either on stage at industry shows or in class settings. Collectively our work has been published, recognized and awarded. We take education very seriously and love sharing what we know with our customers.
You've been named the Best Of Mount Pleasant. What led you to your success?
All of us here at Vanity Salon really enjoy what we do so it's not like work to us and that transcends to our clients. People love to be feel special and since we have passion for what we do we feel our customers feel it. We care about them and they care about Vanity Salon so our environment is welcoming and a fun for both the Vanity Salon client and our stylist.
To learn more, visit vanitysalonsc.com, or call 843-571-1945.