Woof Gang Bakery and Grooming Mount Pleasant
Nominating Categories: Best Dog Groomer,
Best Pet Store
Cameron Reid, Owner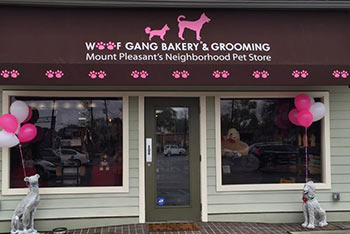 ---
Cameron Reid, Woofgang Bakery & Grooming on Lowcountry Live
What is your most popular item for sale?
Our most popular retail items would be on our gourmet treat table. We sell bulk dog treats in big glass bowls — customers can mix and match to find their dog's favorite treat. We also have beautifully decorated peanut butter cookies with a yogurt icing that we rotate seasonally.
What is the most rewarding part of your business?
Many aspects of this business are rewarding: helping new dog owners find the right dog food or training treats, showing what toys and chews will be safe for their puppy and helping fit their pup into their first harness are just some of the moments we treasure. Also, the grooming side of our business is very rewarding and would not be possible without our amazing grooming staff. They work with dogs who have been kicked out of other grooming salons for being "difficult," and, slowly but surely, they have transformed these dogs so they love grooming by providing a caring and gentle experience. The happiness it brings to the pup and their owners is extremely rewarding.
What are some challenges that you've overcome?
I would say one challenge — most likely common for any small business — is keeping your community interested in shopping local. With so much available online, it can be hard to keep customers coming back. We try to carry unique specialty pet items that you cannot find elsewhere.
Describe the atmosphere at your business. What do you want customers to take away from your business?
When you walk into Woof Gang, you are immediately greeted by our large treat table located under a beautiful chandelier. We welcome all dogs to come in, sniff around and have a tasty test. The atmosphere at our store is any dog's heaven. We have a huge wall of buckets, filled with safe and natural dog bones and chews, along with shelves of specialty pet foods and walls of yummy packaged treats. We also carry durable and plush toys — we're able to recommend the best toy option based on your dog's needs. Along with these, we have a large selection of collars, leashes, harnesses, bandanas, sweaters and more that your pup is welcome to come test out. Our health section is another spot to not miss, with CBD treats and oils for teeth, ear and eye care.
You've been named one of the Best Of Mount Pleasant. What led you to your success?
I believe my love for animals, my grooming staff and the support we have received from our customers has led to the success of Woof Gang. I treat every animal that comes into the store like my own. Their health and happiness is my number-one concern, and I believe my customers can see that. That's why they continue to come back and refer us to their friends and families.
To learn more, visit woofgangbakery.com, or call 407-355-9210.