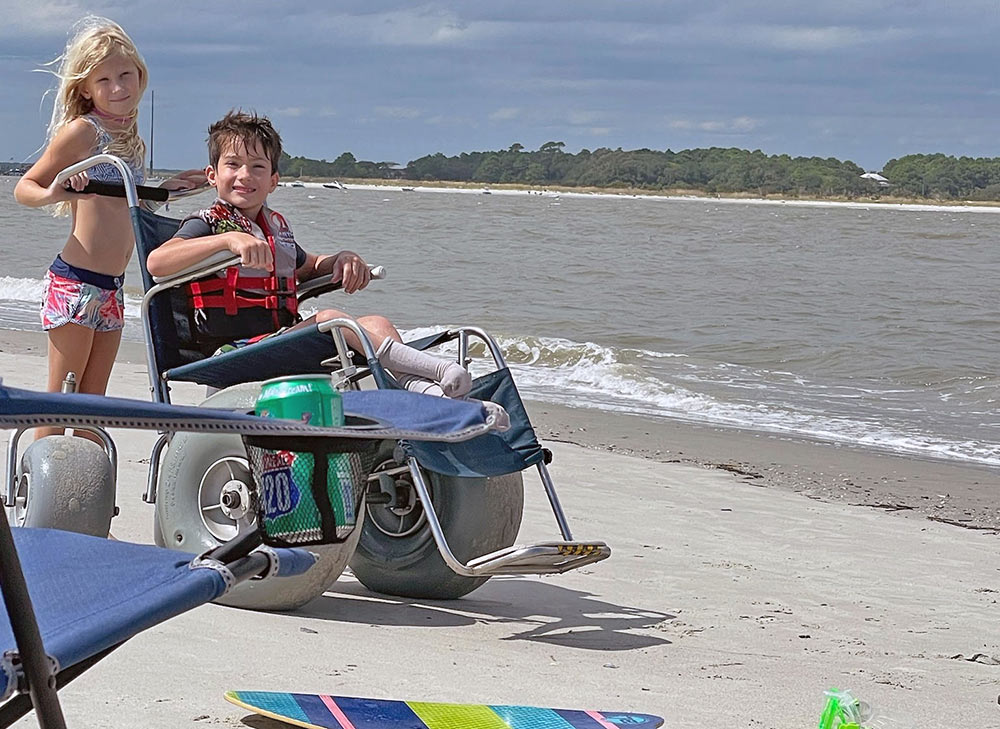 When it comes to local businesses in the Lowcountry, many are family-owned and operated. On Call Mobility cannot only lay claim to this, but Carolyn Lever, their owner and operator, can include Southern hospitality on their list of A+ business traits. Always with a smile on her face, Lever caters to individual needs for on-site wheelchair delivery and pickup for those hoping to explore the area in a stress-free way. Not only are On Call Mobility's client relations noteworthy, their lineup of ADA-compliant wheelchairs and beach wheelchairs are equipped to make fun and leisure easy for anyone. They are readily available for both residents and tourists.
On Call Mobility's DeBug® beach/all-terrain wheelchairs are popular requests. This chair gives riders— no matter their disability— a new take on the word 'wheelchair' for a number of reasons. To start, the DeBug's® seat was mathematically calculated for its disabled riders to be seated at just the right height, making for an easier sit and stand as opposed to the commonly seen PVC-piping-framed beach wheelchairs. The DeBug's® balloon-like yet resistant tires make for a turbulence free ride, no matter the terrain. These tires make for smooth rides for the seated and make pushing much easier.
This well-above-par beach/all-terrain wheelchair is also manufactured with a slight tilt on its non-corrosive, above-marine-grade, stainless steel framing and adjustable footrest. The DeBugs® that were recently added to their rental lineup are even suitable for riders up to 600 pounds and are ready to be equipped with a head brace, neck brace, chest harness or seatbelt. They can even be delivered with a mounted umbrella.
Lever noted that a big want for her clients and caregivers is the "convenience of knowing the wheelchair is at their access at all times."
She is sure to keep this in mind for each client by aligning her drop-off with their ideal day, time and location. She's also happy to work out a pick-up location most convenient for the clients after a short or extended use.
Whether you are local or just visiting, On Call Mobility's Carolyn Lever is just a phone call away from helping the disabled navigate the Lowcountry's iconic landscapes, outdoor venues and landmarks again…or even for the first time.
While reading you may have asked yourself what this author truly knows about using wheelchairs. I am a survivor of a traumatic brain injury (TBI) and am still wheelchair-bound when on rough terrain, long journeys or lengthy trips. Since returning home to Mount Pleasant from the in-patient chapter of my recovery almost nine years ago, I wanted to re-explore the Lowcountry's beaches and marshlands. I was even looking to attend North Charleston's High Water Festival. Each of these desires could not have been accomplished without the help of On Call Mobility. All of the words included in this story were written from my heart and do nothing but paint a clear picture of your next wheelchair rental from the amazing Carolyn Lever.
By Anthony Macchio