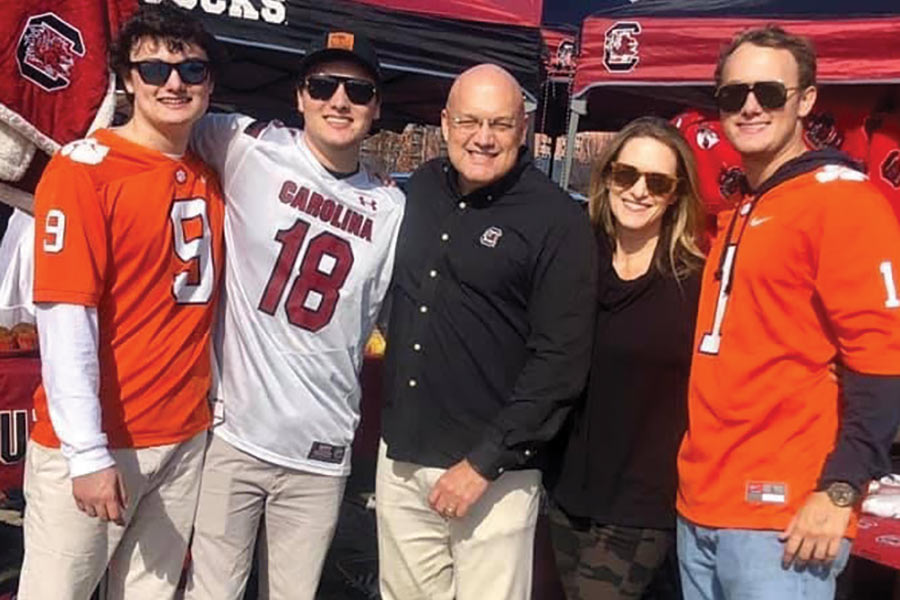 As the temperature begins to drop and pumpkin patches begin to pop up on street corners, the smell of chili wafting through the crisp air is nothing out of the ordinary. Although chili makes its way onto the menu of many local restaurants, it is in the kitchens of Lowcountry residents where this dish is truly appreciated. For decades, the South has been a hotspot for chili recipes, passed down through generations to usher in the new season.
Mount Pleasant resident and South Carolina state representative Mark Smith recalled that when his three sons were growing up, his wife Elayne Smith began making chili to sneak more vegetables into their meals. Their family quickly fell in love with the dish. Ever since, his wife has been welcoming fall into their home with a crock pot full of her infamous chili recipe, which proves to be one of Smith's favorite parts of this time of year. For their family, chili is more than an annual tradition — it's a go-to meal perfect for many occasions. He recalled when his wife brought in a pot for their staff at McAlister-Smith Funeral Home one day.
"Everyone loved it and wanted to get the recipe from her," Smith remarked.
Whether it is with their family at home, with colleagues at the funeral home or even with friends at a tailgating party, Smith agrees that chili is a key part of autumn.
Even those who weren't raised eating chili quickly come to love it. Michael Antonelli, principal of Carolina Park Elementary, relocated to the Lowcountry 27 years ago and now loves the dish.
Antonelli said, "Being Italian, chili was not a big part of my childhood. However, I have learned to appreciate a good chili recipe on a cold, damp day."
Antonelli's unique chicken chili recipe differs from the traditional beef-based chili and was first shared by his sister-in-law during a family gathering.
He said, "We are fortunate to have family living close to us in Mount Pleasant. Though our lives are busy, we try to make time to get together for family meals so we can catch up on life."
Having a big family, Antonelli said that gatherings are often loud and rambunctious. However, they are always full of fun and happy memories… and chili. His family has enjoyed their recipe for years because it is an easy meal to prepare for a big group but never fails to be a crowd-pleaser for both children and adults. It is a meal that brings family and friends together.
In an area that treasures hearty, home-cooked meals for the whole family, it is no mystery why fall and chili go hand-in-hand in the Lowcountry. This beloved meal will never go out of style.
Smith Family Recipe
INGREDIENTS:
1 large Vidalia onion, diced
1 large green pepper, diced
2 garlic cloves, minced
2 cups vegetable oil
2 pounds ground beef, turkey or substitute (browned)
1 large zucchini, diced
1 (11 ounce) can of whole kernel corn, undrained
2 (15 ounce) cans of no salt added tomato sauce
2 (10 ounce) cans diced tomatoes and green chiles, undrained
1 (15 ounce) can of black beans, rinsed and drained
1 (15 ounce) can of pinto beans, rinsed and drained
1 teaspoon sugar
1 envelope Texas-Style chili seasoning mix
DIRECTIONS
Sauté the first 3 ingredients in hot oil in a large stock pot over medium-high heat for 5 minutes. Stir in browned meat and the remaining ingredients. Bring to a boil; reduce heat. Simmer uncovered to flavor. Enjoy!
Antonelli Recipe
INGREDIENTS:
1 large sweet onion, diced
2 garlic cloves, minced
1 to 2 tablespoons olive oil (for sautéing onion/garlic)
4 cups chicken, cooked and shredded
2 cans chicken broth
2 small cans chopped green chiles, undrained
1 package white chicken chili seasoning mix
3 cans navy beans (undrained)
Optional toppings: shredded cheese, salsa, sour cream, cilantro, tortilla chips
DIRECTIONS
Sauté the onion in a large soup pot over medium heat until the onion is tender. When the onion is almost done, add the minced garlic, and be careful not to burn the garlic. Stir in the chicken, broth, green chiles, chili seasoning packet, and 2 cans of the navy beans. Mash up the third can of navy beans and stir into chili as a thickening agent. Bring chili to a boil, stirring frequently. Cover the pot and reduce the heat to low. Let the chili simmer (stirring occasionally) for 10-20 minutes. Serve with desired toppings.
By Madison Broach