People love parades. They bring community members together in the best kind of way. A celebration of the holidays spills onto businesses and organizations all over town, then spills into our hearts. It's a togetherness filled with children's laughter, pride for the town and excitement for what the future holds. There is also an incredible air of gratefulness for what we all collectively enjoy every day that puts the cherry on top—that and Santa Claus, of course!
The cover of this issue features an image from a past parade. As we searched for the perfect photograph to put on the holiday issue, we all kept brainstorming what image could represent Mount Pleasant as a whole. We wanted something that could speak to every person, while also representing the season of giving and celebration. We think we landed in the perfect place. This is our parade.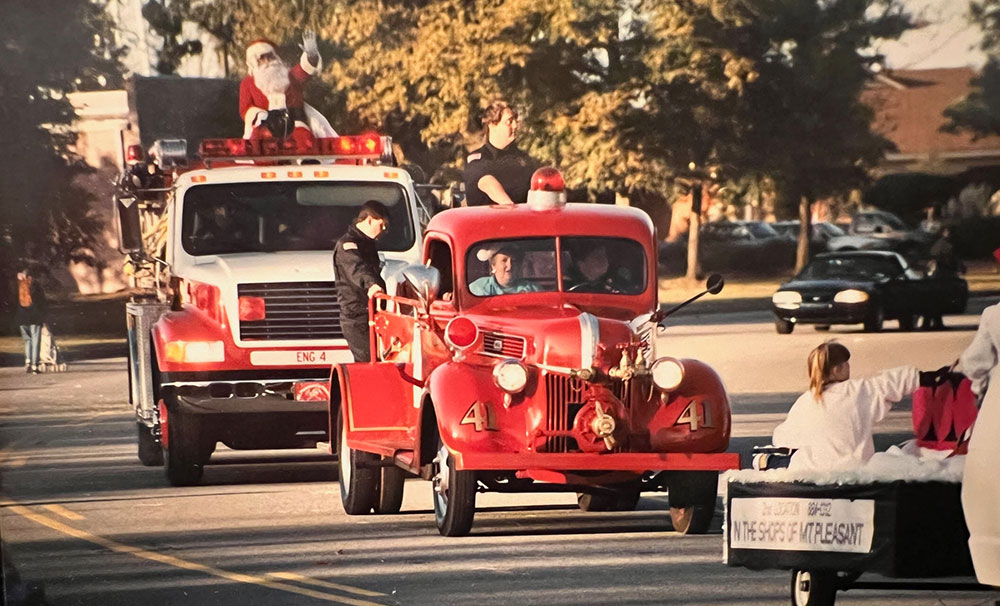 The parade will be held December 11 at 5:30 p.m. this year. It will include brightly lit floats and fireworks. The nighttime spectacular is sure to draw a huge crowd as the sun goes down. However, this parade began as a daytime event close to three decades ago.
---
Read how a Mount Pleasant Town worker Jane Yager-Baumrind
and her family help with the balloons in the Macey Parade
---
Jennifer Magwood Ray fondly recalls the earlier years of the parade. Her stepfather, Fred Tetor, was Mount Pleasant's fire chief during the event's beginnings. Back then, it was the fire department that facilitated the celebration.
"I was there as a teenager helping out and walking the routes with him," offered Ray. "I just think it's a great way to bring people together. My now-grown son and daughters grew up riding with the fire department. It was always a family affair. I still help at the starting line every year, and I hope I can always continue doing that."
Ray's voice went up an octave with each new memory as we spoke, and the joy the event had brought to her and her loved ones was clear. It's a joy many in this town have likely experienced, with many others destined to join.
Though there are many highlights, both Tetor and Ray especially enjoy watching the children's faces come alive when Santa appears.
The parade begins at Live Oak Drive and heads south to Patriot's Point. Don't miss this spectacular evening event with those you love most. We wish you all the happiest holiday season ever.