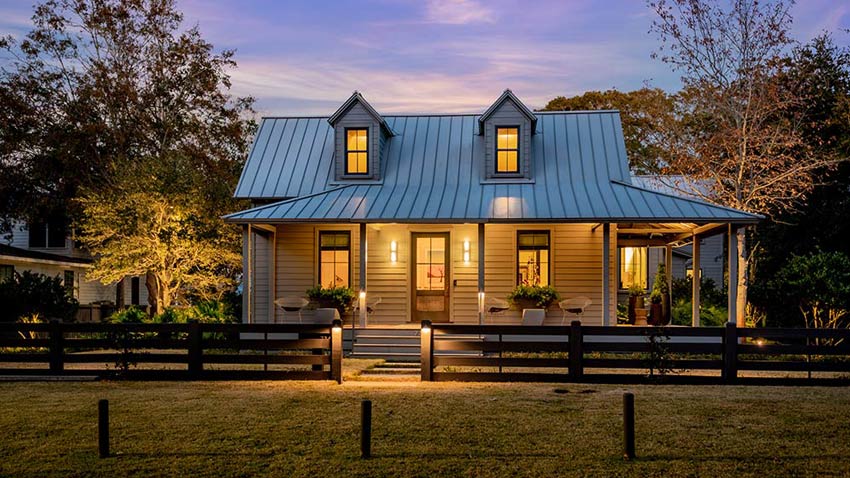 The Southern way of life, combined with the beauty of the Carolina coast, is captured in every home featured in our 2022 Beautiful Homes edition. We'd like to thank Janet E. Perrigo, this year's Beautiful Homes writer, as well as the rest of the publishing team and the participating Realtors and photographers for a wonderful, visual showcase of Lowcountry residences.
Each home featured in this collection of coastal dwellings comes with substantial information, including square footage, selling price and a description worthy of our real estate dreams. Every year, our excitement builds as we think about our readers perusing these magnificent homes inside Mount Pleasant Magazine's pages and either envisioning their next abode or gleaning inspiration for an update.
Each of the 10 homes in this issue highlights feature upon feature to exemplify the easy-going lifestyle with which we've all fallen in love. The Lowcountry tradition is one of porch parties, river breezes, tasty libations and endless laughs with our friends, family and neighbors — and home is the hub for such heartfelt gatherings. That said, this printed parade of homes isn't merely a series of buildings, but a showcase of personality, culture and design. These homes are the very symbols of who we are as a community. They tell the stories of our pasts and the hopes for our futures.
Please enjoy the best our area has to offer, and step into our lifestyle in this year's Beautiful Homes issue.
Sincerely,
The Editors
Dunes West: Relax in Natural Surroundings
Gently surrounded by mature trees and abutting Wagner Creek, 3216 Pignatelli Crescent has been built to fit perfectly in its comfortably casual natural surroundings. The grounds are landscaped with that same air of relaxed placement. A welcoming front porch is the ideal spot for a summer visit with lemonade and sweet tea. Out back, an expansive screened porch complete with its own fireplace invites family and friends to enjoy the peaceful water views. Choose the weathered dock to access the boat, or wander over a hedge-guided path to a fire pit for friendly evening gatherings.
Inside, this single-family home shows its understated beauty in beautiful light wood flooring and complementary ship-lap walls. On the first floor, a premium chef's kitchen, large living room with gas fireplace and sunny dining area welcome the outdoors inside through a wall of windows that provides views from almost every angle. High ceilings and lightly colored walls further enhance the spaciousness of the common area. A guest room with full bath, an office and craft room complete this floor. A practical laundry, two bathrooms and four more bedrooms, including the master bedroom with its own private screened-in porch, are upstairs.
An existing elevator shaft is available for easier mobility, and a three-car garage and storage area are conveniently located under the house's elevated construction. Charming wrought-iron fencing defines the backyard. For relaxed country living on the water — surrounded by nature but still part of an amenities-loaded golf community — this property offers it all.
At a Glance
Built: 2016
Bedrooms: 5
Bathrooms: 5
Square Footage: 4,491
Lot size: 1 Acre
Builder: Ray Ferrell
Last Sold: 7/9/21
Price: $2,100,000
Listing Agent:
Katherine Cox
By Janet E. Perrigo
Sullivan's Island: Design and Attention to Detail
The charming fountain and custom circular cobblestone driveway are the first indications that attention to detail and design are a priority at 847 Middle Street on Sullivan's Island. Stately palm trees, flower beds and manicured lawns frame the conveniently situated, forward-facing garages, which offer space for five vehicles and a golf cart.
Once up the porch steps, visitors are greeted by elegant wood floors and a substantial center stair. The first-floor open design includes a living room with fireplace and a gourmet kitchen with a spacious center island and two sink areas. A generous pantry and dining area complete this space. With pale walls and clean white cabinetry atop the warm-as-honey wood flooring, the result is a friendly but airy space. Non-stop windows line the back of the living and dining areas, offering incredible indoor views of the ocean and outdoor activities.
Also on the main floor is a master bedroom complete with its own fireplace and sitting area. Adjoining is a massive luxury bathroom with a glass-enclosed shower. A finished family room with wet bar and a guest room have been built above the garage. On the second floor, a craft room and four more bedrooms with vaulted ceilings await. Almost all rooms have large unobstructed views of Charleston Harbor.
Screened back porches, a pool, hot tub, outdoor kitchen, a dining area, and plenty of sunbathing or shaded conversation areas – all with a clear view and access to the ocean – offer the finishing touches to a fun-filled, family-friendly beach house in the most exclusive area of Sullivan's Island.
At a Glance
Built: 2008
Bedrooms: 6
Bathrooms: 7
Square Footage: 6,780
Lot size: 0.69 Acre
Designer: Stephen Herlong
Last Sold: 8/10/21
Price: $10,575,000
Listing Agent:
Tim Reese
By Janet E. Perrigo
I'On: Stately and Modern
Modestly discreet and stately from the outside, 47 Robert Mills Circle offers a blend of minimalism, modern contemporary and urbanist design on the inside. The rich dark cabinetry, floors, doors and trim work form a striking contrast against crisp white walls and ceilings. Curtainless windows welcome natural lighting. Minimalist furnishings are substantial yet eloquent.
Entering this home requires crossing a floating courtyard and passing a unique plunge pool. These peaceful water features are an invitation to enter a tranquil retreat and temporarily escape the hectic world outside. Once indoors, visitors pass through a formal dining room to the chef's kitchen, which is surely the hub of the home. It is outfitted with a Wolf range, Sub-zero refrigeration, two Miele dishwashers and a butler's pantry that includes an ice maker and wine and beer refrigerator. A large kitchen island with a honed black granite counter top stands before an equally impressive wall of rich wood cabinetry.
A private master suite is primarily accessible from outside by crossing the plunge pool. In addition to a lofted office area, it houses a spa bathroom with sunken tub, laundry and walk-in closets. An accessible, fully outfitted gym waits just a door away. The second floor offers four ensuite bedrooms, one of which has custom-made, built-in bunk beds. The third floor is a dedicated space for entertaining, offering a movie theater, pool table, wet bar and outdoor deck for star-gazing.
Above the two-car garage and overlooking the front courtyard is a mother-in-law's suite, complete with bedroom, living area, balcony, kitchen and laundry. Other amenities include an integrated sound system, an outdoor kitchen and outdoor dining, custom lighting, a hand-turned copper roof and incredible marsh views. Specifically designed for easy living, this unique home truly offers something for everyone.
At a Glance
Built: 2014
Bedrooms: 6
Bathrooms: 8
Square Footage: 8,007
Lot size: 7,840.8 Sq. ft.
Architect: Neal Van Dalen
Last Sold: 4/15/21
Price: $3,300,000
Listing Agent:
John Bell
By Janet E. Perrigo
Isle of Palms: Luxury at its Finest
What does the most expensive property .ever sold on the Isle of Palms offer that makes it so valuable? The answer in one word is luxury. Every aspect of 3908 Palm Boulevard has been completed with the finest high-end materials and an eye for critical details that matter to the discriminating home owner. From the expansive exotic decking outside to the Brazilian cherry wood floors inside, this property showcases luxury at its finest.
The chef's kitchen, which overlooks the ocean, offers high-end, stainless steel appliances including two dishwashers, a 48-inch Wolf gas range with two ovens, endless cabinetry, a long center island with a prep sink and bar seating, built-in hutches and cupboards and glistening dark granite countertops. In addition to a lavish dining area, the spacious living room includes a fireplace and more built-ins. High ceilings, light walls and a panoramic view of the sea contribute to a feeling of airiness.
Multiple luxury ensuite king bedrooms with private porches and jacuzzis abound throughout the house. There are two custom-designed bunkrooms and a second-floor family media room that can be converted into even more sleeping space.
Homeowners can enjoy both the beach at the end of their private boardwalk and the elevated infinity pool with hot tub in the center of their back deck. Multiple seating on all five decks and an outdoor kitchen with dining area guarantee that year-round enjoyment will be non-stop at this exclusive address.
At a Glance
Built: 2006
Bedrooms: 9
Bathrooms: 10.5
Square Footage: 6,896
Lot size: 0.92 Acre
Builder: Oceanway
Developer: Mel Miles
Property Manager: Shelley Miles
Last Sold: 10/4/21
Price: $7,930,000
Listing Agents: Joanne Grimshaw, Mel Miles
By Janet E. Perrigo
Georgetown: Heart of the Historic District
Imagine, for a moment, stepping back to the earliest days of this country. Georgetown, founded in 1729, was well on its way to becoming a notable, prosperous community. Six miles out of town living on the famed Mansfield Plantation were Mary Man and her mother. In 1775, Mary decided to build a "townhouse" in Georgetown for entertaining. She bought two lots and supervised the construction herself.
That house, 528 Front Street, survives today. Remarkably, it has only passed ownership to two families in all these years, and the newest owner is a descendent of the first family. The original two-story colonial with center hall, stairway and eight fireplaces has been kept intact, and the interior décor has been lovingly restored. A rich colonial mustard yellow covers much of the lower woodwork, wainscoting, doors and trim. Old wallpaper has been removed, but the period style window valances, polished heart-of-pine wood floors and antique furnishings harken back to a much more genteel time. A favorite spot is the formal dining room, complete with hearth and built-in cupboards. Chandeliers provide delicate lighting in the double parlors. The kitchen is also scheduled for restoration. At one time, the second floor held a ballroom for evening soirees.
Built of hand-hewn cypress, this stately white colonial sits on a treed lot in the heart of the historic district of Georgetown. It boasts double balconies with wrought iron railings, stoic columns, black shutters and a classical portico entrance. Best of all, the new owners plan to continue preserving the rich history of "The Mansion on Bay Street," or "The Mary Man House," for generations to enjoy.
At a Glance
Built: 1775
Bedrooms: 5
Bathrooms: 2.5
Square Footage: 5,800
Lot size: 1 Acre
Last Sold: 11/21
Price: $1,800,000
Listing Agent: Kevin Jayroe
By Janet E. Perrigo
Brickyard Plantation: Southern Spaciousness and Stunning Sunsets
Once known as the premier brick producer for colonial Charleston, Brickyard Plantation is today the tranquil 513-acre setting for discriminating residents who value the privacy and buffer protection provided by neighboring Boone Hall Plantation and Horlbeck Creek.
1368 Old Brickyard Road quietly echoes the elegance and Southern charm of the area in both its design and landscaping. An impressive front stairway sets the stage by inviting guests up to the more casual wrap-around veranda and stately double front doors. Out back, an unobstructed view of the creek offers breathtaking sunsets from inside rooms, the back porch and the upper-level balcony. The deep-water dock with its new 10,000-pound boat lift, a generous inground pool and an accommodating outdoor kitchen with dining area are also prized features. Another unique space on the ground floor is the custom-built Bourbon Room, which houses a "memorable collection of aged and rare bourbons," according to Realtor Amy Templeton.
Recent renovations have included a loft area for billiards over the family room, coffered ceilings in the main floor living areas and an updated gourmet kitchen with quartz countertops and huge center island. With a palette of soft ocean mists and crisp white woodwork and trim, each room feels airy and light. Rich Brazilian cherry flooring creates a unifying flow from room to room, and unique high-end light fixtures add distinctive personality. For a spacious, peaceful retreat designed with attention to detail and comfort, this Brickyard Plantation home has much to offer.
At a Glance
Built: 1999
Bedrooms: 5
Bathrooms: 4 full, 2 half baths
Square Footage: 4,800
Lot size: 2.06 Acres
Last Sold: 4/8/21
Price: $1,950,000
Listing Agent: Amy Templeton
By Janet E. Perrigo
Riverside at Carolina Park: Contemporary Cottage with Urban Appeal
Located on a corner lot of a cul-de-sac in the much-desired, family-friendly Riverside community, 3741 Juneberry Court has been described as a prime example of "laid-back Southern charm," and that starts right with the gently manicured landscaping around front steps that lead to a neighborly covered porch – the perfect invitation for passersby to stop and chat.
Multiple gables and dormers combine with the steeply pitched roofs to present a cottage feel, but this house is actually spacious and roomy with generous areas for entertaining. As it extends toward the back of the lot, the conveniently attached two-car garage is offset by a side lawn leading to a charming screened back porch. Wrought iron fencing, carefully spaced trees, and delicate landscaping frame the outdoor area without overwhelming it.
Light gray walls, pale wooden floors, white trim work and high ceilings create an airy ambience in the living areas. The kitchen space soars with clean white cathedral ceilings and exposed trusses. A center island offers bar seating, while patterned wall coverings add a pop of color. The generous pantry keeps kitchen goods organized and out of sight. High-end stainless-steel appliances provide modern efficiency.
The open-concept family area invites social gatherings around the prominent fireplace, but a formal dining room and living room are well-appointed for those occasions as well. An office and a luxurious master suite complete the main floor, while additional bedroom suites are on the upper level. For its cottage appeal and spacious entertainment capabilities, this house delivers on all levels.
At a Glance
Built: 2018 – 2019
Bedrooms: 5
Bathrooms: 4.5
Square Footage: 4,191
Lot size: 0.28 Acres
Builder: Jackson Built
Last Sold: 8/9/21
Price: $1,500,000
Listing Agent: Ruthie Ravenel
By Janet E. Perrigo
Hamlin Plantation: Life's a Breeze
Resting on the banks of Hamlin Sound, this two-story waterfront home at 4903 Soundview Drive offers panoramic views of both the sound ..and the Isle of Palms. Thoughtful landscaping and an elevated construction design have taken into account the stunning natural surroundings. Stately palm trees dot the property. A strategic casualness complements the unspoiled shoreline, but quality workmanship and a certain elegance are also clearly visible. Curved arch windows in the front dormers further soften first impressions. At ground level, a five-car garage offers plenty of parking space.
Once inside, high ceilings and a palette of softly colored walls with white molding and trim work set the mood for relaxed living. Dark wood accents and furniture provide an interesting contrast, and the warm wood tones of the floor draw the eyes effortlessly from room to room.
The main floor offers a centrally located open-concept kitchen plus a breakfast area, family room, sitting room and formal dining room with Doric columns and a lovely coastal mural. The family room, living room and master bedroom suite all open onto a screened back porch covering the back of the home. A stylish but practical elevator is conveniently placed for maximum usage, but it is the gently winding front staircase that beckons from the front foyer. Upstairs, there are three more bedrooms and another family room with its own private balcony. There, family and friends can enjoy the scenic views of Hamlin Sound – and the constant sweet breezes that make ownership in Hamlin Plantation such a satisfying experience.
At a Glance
Built: Circa 2007
Bedrooms: 4
Bathrooms: 3.5
Square Footage: 3,699
Lot size: 0.43 Acres
Last Sold: 5/21/21
Price: $1,425,000
Listing Agent: Lauren Zurilla
By Janet E. Perrigo
Rivertowne Country Club: Stunning Panoramic Views
Golfers, naturalists and entertainers alike will be attracted to 2684 Crooked Stick Lane. With the 9th hole clearly in sight and an active wildlife habitat beyond the backyard, there is always something to see or do. The expansive kitchen, several dining and living areas and restful, luxurious bedroom suites invite friends and family to come and stay awhile.
From the curb, this home is noteworthy for its size and meticulous landscaping. However, its most unique feature is a small white railing outlining the rooftop – a widow's walk, accessible by the spiral staircase from the second-floor family room and offering stunning, 360-degree views of the surrounding community and waterways. Whether gazing at nature, the magic of the cosmos or a local fireworks display, the unobstructed view is breathtaking.
Back inside the home's foyer, a gently curving staircase with wood-and-wrought-iron railings opens up the front of the house, separating the formal dining room from the most direct route to the kitchen. For those who love to cook and entertain, this area will surely be a hub of activity. Three work islands, multiple seating areas, modern stainless-steel appliances and floor-to-ceiling cabinetry combine to make an efficient and user-friendly area. A dark-paneled den, laundry room and master suite complete the main floor.
Adjoining the foyer, a functional elevator awaits those who prefer to ride upstairs to three additional luxury bedrooms, an all-purpose space, a family room with a dramatic coffered ceiling and French doors to the private balcony with a hot tub and incredible views. Regardless of the occasion, this lovely residence is bound to be a welcoming place for all who step inside.
At a Glance
Built: Circa 2008
Bedrooms: 4
Bathrooms: 4.5
Square Footage: 5,156
Lot size: 0.24 Acres
Builder: Tom Bellino
Last Sold: 12/6/21
Price: $1,655,000
Listing Agent: Vanessa Carter
By Janet E. Perrigo
Old Village Historic District: Blending Present and Past
Visitors will be captivated by this one-of-a-kind property at 734 Pitt Street, just minutes from both the waterfront and historic Charleston. The dark rail fence, low-hung eaves over the front porch and earthy wood siding pay respect to the home's simpler beginnings, more than a century ago. However, its outward first appearance belies a thoroughly modern and sophisticated interior design, complete with state-of-the-art features, appliances and finishes.
From the front living and dining area with the upstairs office or playroom, the home free-flows into a kitchen space that was designed by Siematic in Germany. High-end appliances and sleek counters create a stream-lined, efficient presence. Generous windows, sliding glass doors to the deck, and cathedral ceilings contribute to the spacious ambience. Bar seating is available at the kitchen island and in the sitting area before a modern gas fireplace. Pale oak flooring and light walls balance the darker cabinetry and countertops.
A generous family room and master bedroom suite with two guest rooms and full bath upstairs complete the living space. Custom light fixtures, wall art and furnishings suggest a modern minimalist influence. Ample outdoor seating is available with shaded and screened deck areas, another gas fireplace and a roomy spa overlooking the backyard.
A heated lap pool awaits in front of the backyard's one-bedroom guest house, where guests can enjoy their own porch and private living and dining area with the same high-end furnishings and spacious cathedral ceilings as the main house. Clever design and thoughtful decorating have created a wonderful, cohesive residential property that combines yesterday and today with equal appreciation and artistry.
At a Glance
Built: 1900; completed 2020
Bedrooms: 4
Bathrooms: 3.5
Square Footage: 3,822
Lot size: 0.46 Acres
Architect: Heather Nelson
Builder: Metamar LLC
Last Sold: 12/29/21
Price: $4,200,000
Listing Agent: Jimmy Dye