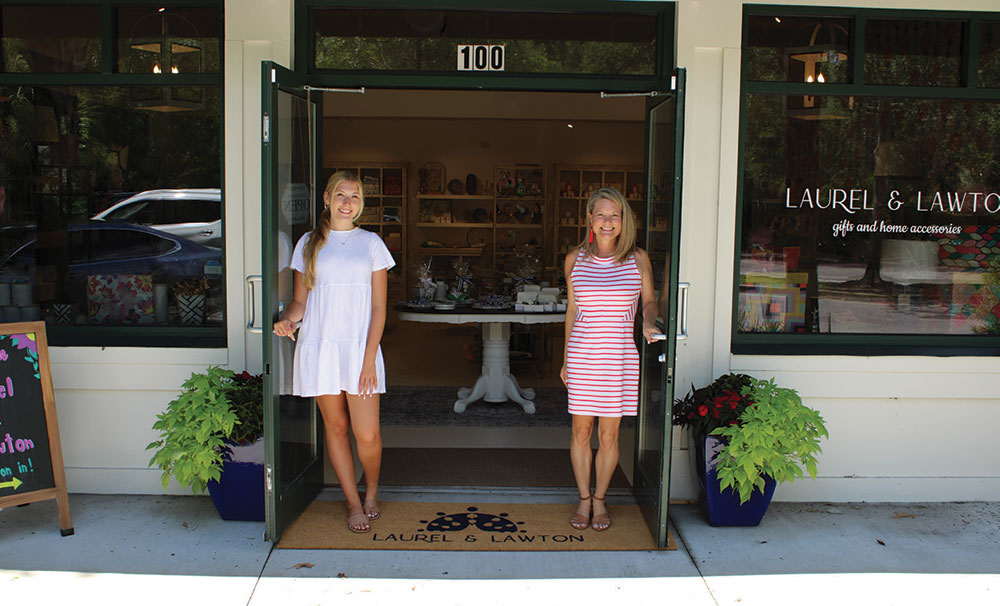 If you're browsing through Laurel & Lawton Gift and Home Accessories in Mount Pleasant, don't be surprised if the items you consider come with a story from owner Ashley Davis. Davis opened the new shop in June 2022 in the Queensborough Shopping Center, three years after retiring from teaching—and rather than just selling items, she tries to educate patrons whenever possible on the origin, background and history of her curated pieces.
"I've always had an eye for whimsy and interesting items," she said. "And after leaving teaching, I chose a gift and home accessories shop because I pride myself on being a good gift-giver."
For example, inside Laurel & Lawton, you might learn from Davis that the glass cloches you are contemplating came from the Museum of Modern Art in New York City or that a set of everyday cloth napkins was crafted by The Organic Company, a Danish brand. Some of the seemingly simple hand-painted ornaments came from a place in Knoxville, Tennessee, known as Glitterville Studios, which has made the list of Oprah Winfrey's favorite things.
"We offer a little of everything," Davis said. "And I enjoy helping customers find just the perfect gift for someone."
The road to that perfect gift was both long and short in the making. As recently as September 2018, Davis was entering her 15th year of teaching middle schoolers. But when the 2018-19 school year ended, she decided to pack up her desk for the last time—and even though she knew it was necessary, it wasn't easy.
"When you become a teacher, you think it will be who and what you are for a lifetime," Davis said. "And leaving behind who you thought you were takes time to understand."
To find some direction for the future, Davis spent the next two years helping out at Bohicket Construction, her husband's commercial general contracting company, and volunteering with several local nonprofits.
Along the way, Laurel & Lawton started running on long-term cylinders. The only question Davis now continues to keep answering is how she came up with the name.
"It sounds like a law firm, but it was actually inspired by the names of the towns where my maternal grandparents were from— Laurel, Mississippi and Lawton, Oklahoma—as a tribute to them and their marriage," she said, smiling. "And I hope the shop becomes a part of the fabric of Mount Pleasant for both locals and Lowcountry visitors."
For more information, please visit laurelandlawton.com, or call 843-972-8410.
By L.C.Leach III