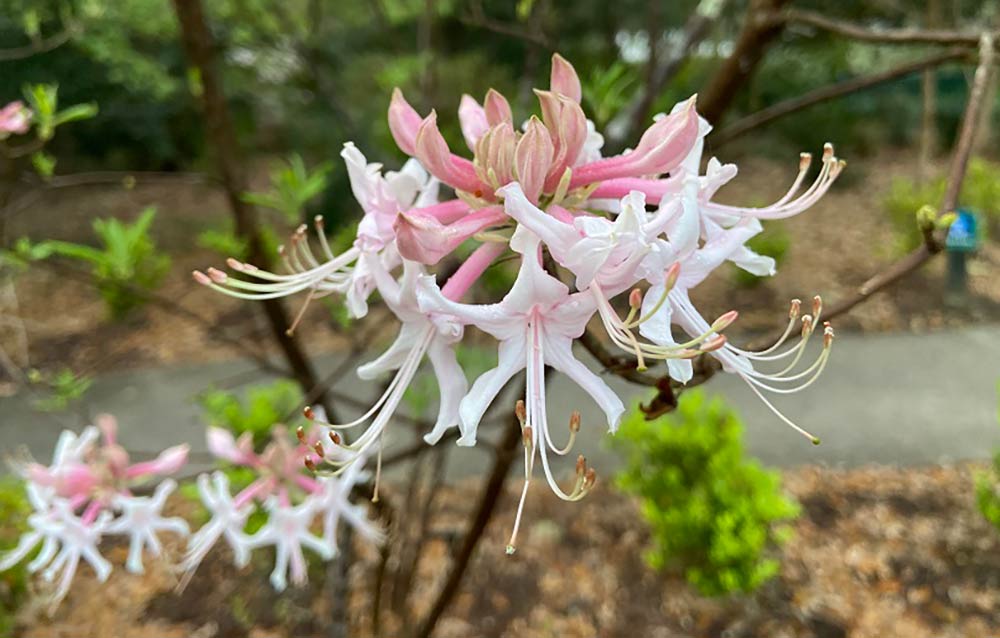 Spring is a great time to begin thinking about summer and outdoor entertaining. With the right landscaping and improvements, you can create a space you'll never want to leave. Staying home will be much more fun when you have an oasis in your own backyard.
When seeking spring planting advice, who better to ask than the experts at Brookgreen Gardens, which is celebrating its 90th anniversary this year?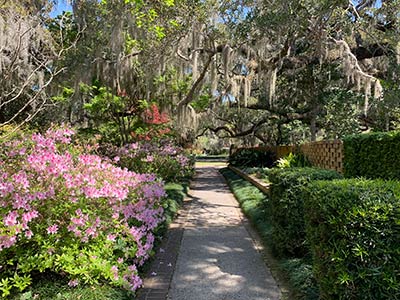 "Early April is typically when we start putting our annuals in the ground," said Lucy Contreras, assistant manager of plant collections. "I always tell people to make sure we're not going to have any more frost before you start putting tender plants like annuals into the ground."
Annuals aren't the only thing to plant in the spring; it's also a good time to plant shrubs and trees, Contreras said. "You don't really want to plant those much later than April."
Contreras provided further advice for planting shrubs and trees, such as to be careful not to plant them too deep in the ground. The root flare should be at ground level or even a touch higher. If soil or mulch is covering the root flare, you can end up having problems with rot due to moisture getting trapped.
Another important factor to consider when planting is where you should plant.
Spring is a great time to enjoy the azaleas that line the path to the Live Oak Allé at Brookgreen Gardens. It's also a great time to plant them and other shrubs and flowering annuals.
"I always tell people, 'the right plant, right place,'" Contreras said. "My example is the Japanese Camellia, because they can get to be the size of small trees."
Knowing the mature height of the plant and if there are any other considerations can help you narrow down the best spot for each plant.
"You want to make sure that you're not going to have problems with it down the line because it's just too close to your house, or if it's going to end up encountering underground utilities and doing damage," she continued.
Plants aren't the only way to spruce up your outdoor space. A new or refreshed patio, pool deck or water feature can also turn your backyard into a year-round oasis.
"We get a lot of pool deck remodels in the spring with people wanting to get their pool ready for the summer," said Felicia Baugh, who owns Set in Stone Hardscapes with her husband Steve Baugh and sister Anna Perryman.
"If someone has a pool they've had for five or 10 years and the concrete or pavers have started to crack, sink or fail, we'll come in and completely demo everything that has failed — minus the pool itself — all the way up to the pool coping which is the curved border," she added.
The result can transform the pool deck and make your pool look new again.
"Another thing that we see a bit more of in the spring is the addition of water features," Baugh said. "We're seeing more people interested in adding these tranquil water designs into their hardscape projects."
Set in Stone recently teamed up with Aquascape, a supplier of fountains that can be customized with various features and layouts.
"Some have spillover bowls or a giant urn that bubbles up that could be the central focal point, then we add rocks and a pond area around it," Baugh said. "There are dozens of different styles and sizes and some different color options."
Even in spring, it's a good time to look ahead to cooler weather. An outdoor kitchen and firepit are other additions that can make your backyard your new favorite place to hang out.
Along with plants, patios and water features, even the grass in your yard can get an upgrade. Some homeowners are switching to synthetic turf, Baugh said.
"People are over lawn maintenance," she said. "Or they have dogs that are destroying the grass. We get a lot of people wanting to replace their grass with artificial turf."
To help homeowners visualize their yard's potential, Set in Stone provides 3D design services with a $1,000 deposit on projects.
"We can go out to the client's home, take photos, do a bit of a questionnaire to understand what they're looking for, and then I build a 3D rendering and create a video walk-through for them," said Baugh. "So, you can have a complete 360-degree idea of your project before we ever break ground."
As we tick off the days on the calendar until summer, make plans to visit Brookgreen Gardens for inspiration. Check out their Garden Symposium in March to see topiary demonstrations, and get advice from well-known gardening experts including Brie Arthur, who appears on the PBS show "Growing a Greener World."
You can also pick up plants for your garden at Brookgreen Garden's Spring Plant Sale on April 23. Visit their website, brookgreen.org/events/spring-plant-sale, for a list of plants available.
By Christine Steele