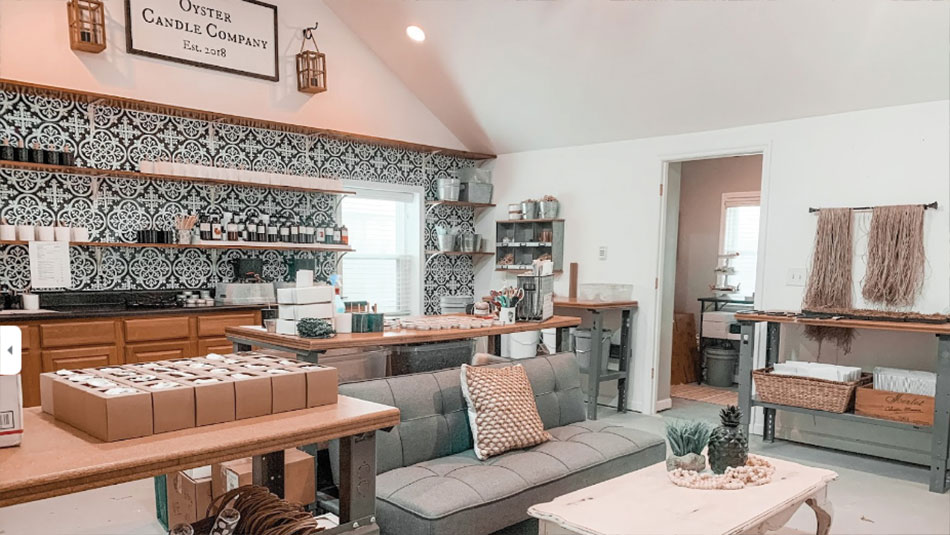 Oyster Candle Company & Coastal Gifts isn't the typical gift shop. Located in a charming old house with a welcoming front porch, Oyster Candle Company makes browsing through a carefully curated selection of candles and gifts feel cozy and inviting. Owner Shannon Gallo put it best when she said, "the shopping experience is truly unique."
Gallo proudly showcases products from small businesses and local artisans, as well as her own candles that are made on site. From tote bags to Charleston hot honey to handcrafted jewelry to Shem Creek oyster shell candles, there is always something new to discover.
Oyster Candle Company also offers the unique opportunity to become a chandler, the official term for a candlemaker. In their private backyard studio, groups of eight to 12 attendees learn why various wicks, fragrances, temperatures, waxes and vessels have to be compatible in order to make a superior candle. After choosing from a variety of components, class-goers craft two candles of their own. Participants are also offered a private shopping experience with 15% off.
Starting this fall, on select Thursday nights, the shop will resume their popular "Ladies Night Out." This event features live music, vendor pop-ups and discounts. Gallo invites guests to bring a beverage of their choice and sip while they shop. With the holiday season approaching, Coast Candle Company is a welcoming one-stop shop for everyone on your list.
For more information, call 843-364-0203, or visit oystercandlecompany.com. The company can also be found on Instagram, @oystercandlecompany.
By Sherry Whiting