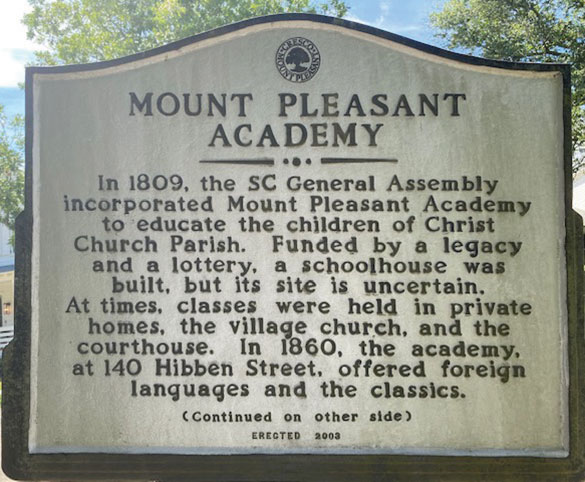 For decades, the town of Mount Pleasant has boasted the fact that its public schools consistently rank among the top in the state. Two of those amazing schools also tout a long history and prominent role in the field of education.
During the 1700s, the only children who received formal schooling were those of affluent plantation owners who were taught by private tutors. Then, a bequest in 1775 from Mount Pleasant resident Elizabeth Fleming stipulated that money from her estate be "put at use for the purpose of building a school for the good of the poor."
Those funds eventually appropriated to the "building of a poor school" in the village of Mount Pleasant for the education of indigent children. In 1808, the state legislature approved the incorporation of Mount Pleasant Academy, and things were finally set in motion. The first headmaster of the school was Reverend Aaron W. Leland, an Episcopal minister and husband of Eliza Hibben. The school offered the basics, as well as instruction in foreign language and classics. Classes were held at several locations until a school was constructed in 1908 on the corner of Pitt and Venning Streets. It operated there until 1938, when a new structure was built on the corner of Coleman and Simmons. The Academy has been on Center Street since the 1960s.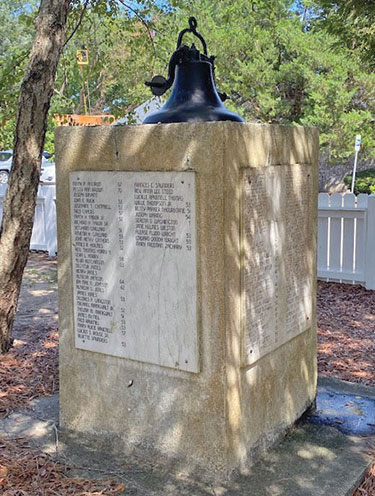 However, when Mount Pleasant Academy was conceived nearly a century before the Civil War, there was no thought given to the education of Black children. In fact, during the days of slavery, the education of enslaved people of any age was forbidden by law. But in 1866, the year immediately following the end of the war, Quakers from Philadelphia, with the help from community advocates, established a school for the recently emancipated Black population. Named for fellow Quaker Henry Laing, the curriculum included a seven-year elementary education, as well as instruction in vocational skills. The school building on the corner of King and Whilden Streets was destroyed by the 1886 earthquake but was rebuilt and in operation until 1954. At that time, a new Laing School for grades 7-12 was built at the intersection of Highway 17 and Six Mile. Laing became part of the public school system in 1938 and was the first accredited school for Black children in the state. The Miriam Brown Recreation Center occupies the site of the original Laing School in the Old Village, and the bell from the old school, as well as a historical marker, flank the entrance.
With such significant history, is it any wonder that Mount Pleasant public schools continue to carry on the great tradition of offering our youth an exemplary education?
By Mary Coy