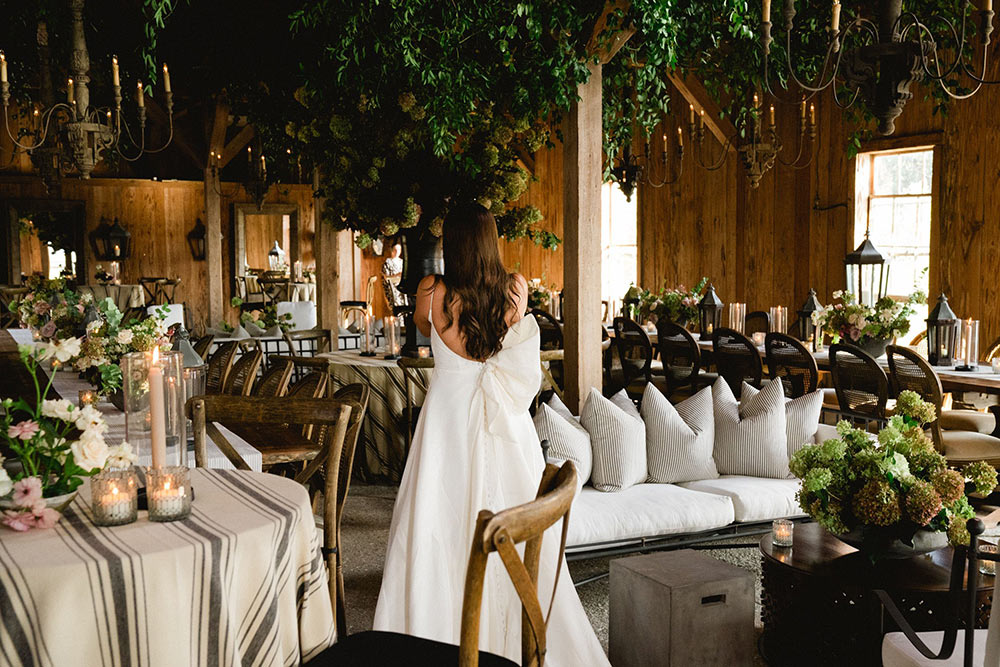 When planning her own wedding, Natalie Knox, director of weddings and events at Boone Hall Plantation, knew she'd be poring over details, engaging vendors and curating an event that she and her then-fiancé, Hampton Rosenzweig, would treasure for a lifetime. As a professional planner for over a decade, however, Knox was not expecting the pressure she'd feel when friends and loved ones shared their anticipation for the upcoming nuptials.
"'I wouldn't miss your wedding — it's going to be amazing,' they would say," recounted Knox. "Because I'm a wedding planner, my guests were excited to see what I'd come up with. I told them, 'Don't expect the Met Gala.'" Knox explained that the pressure she felt to awe her family and friends on her wedding day inspired her to pair traditional touches with an element of surprise.
Having executed hundreds of weddings and events, Knox had countless ideas in the months leading up to the big day. She worked with Tailor & Table to narrow down her vision and choose the direction that most reflected her goals for the day: to create a unique celebration that would blend the traditional with the modern while embracing the flavors of the season, showcasing the coastal aesthetic and cuisine, and, most importantly, keeping it lighthearted and fun.
Knox had just 10 months to plan the wedding but had it planned in about half that time. "I chose vendors I worked with often and was familiar with," she said, adding that her personal friend and mentor, Virgil Bunao, photographed the festivities.
When asked what kind of bride she was, Knox assured that she wasn't a bridezilla, despite a couple of meltdowns over the possibility that her dream wedding flower would not be available due to COVID-19. "My florist ordered over 800 antique pink hydrangea stems. We had a shortage a week before the wedding and were nervous we couldn't get them all, but it worked out. We had them everywhere!" she exclaimed.
From placing the ceremony by the front gates of the front lawn with a majestic avenue of oaks in the background to hosting the cocktail hour at the Cotton Dock and wowing guests with disco ball dancers at the reception, Knox thought of everything to ensure the event had plenty of "pizzazz."
The couple worked with Cru Catering to design a locally-inspired and seasonally appropriate menu which included fried green tomato and pork belly, crab cakes and fried chicken and waffles during cocktail hour. The station-style reception featured a traditional beef tenderloin station complemented by a short rib and grilled swordfish taco station and a butternut squash ravioli station.
"Our favorite part of the menu was the late-night snacks that were passed around the dance floor. We had tiny pizzas with a photo of our dog, a white goldendoodle named Huck, that said "thanks for being a pizza our wedding."
The couple served signature cocktails honoring their tastes, Huck included. Knox is known for her love of martinis, therefore they made sure guests were treated to her favorite cocktail: a slightly dirty vodka martini with blue cheese olives that she named Nat's Tini. In honor of the groom, guests enjoyed a Ham's Tini, a classic espresso martini. Not to be outdone by the humans, Huck's namesake drink of the day was a Huck's Mule, a garden Moscow mule made with muddled blueberries and cucumber vodka, along with the traditional lime and ginger beer. While he didn't partake in the cocktails, Huck stole the show in his black bowtie.
Professional wedding planners shine under pressure, and Knox is no exception. A pandemic and unseasonably warm October weather that caused the cake cutting to happen earlier in the day than planned might have tested her patience but didn't cramp her style. Instead, Knox now has a greater appreciation for the importance of taking in the wedding day and enjoying it as much as possible.
"Brides get caught up in the traditions, yet most of my favorite memories of the day were some of those non-traditional moments that Hampton and I shared," she mused. "We had breakfast together that morning and had our first look near a leaning oak tree on the water behind the main house of Boone Hall. The tide was high and perfect."
Learn more about weddings at Boone Hall Plantation.
By Isabel Alvarez Arata