Enjoy learning how your Mount Pleasant neighbors, business owners and peers manage all of the moving parts in their lives. Look at the cogs turning, gears grinding and axles spinning inside the mysterious machine that is a family. Get to know the moms and dads that work for it and that march alongside you, navigating the same fast-paced world that you are.
---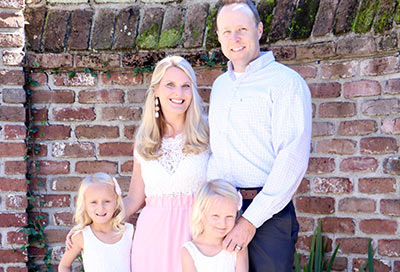 Jason and Jessica Jones
It's common to hear the phrase, "keepin' up with the Joneses," and it usually doesn't have the best connotation. However, when it comes to this Jones family, go for it. Call it inspiration, and get ready to take notes from a family who believes in pushing through any obstacles.
Jason Jones, a pharmacy manager for Publix Supermarkets, and Jessica, a clinical pharmacist and skincare consultant, met in their early days of the pharmaceutical game. After friendship turned to love, the couple was married only six months before a shocking breast cancer diagnosis for Jessica. Plans of building a family, nurturing a new marriage and performing 12-hour shifts seemed more daunting than ever.
Despite the uphill battle ahead, the couple banded together and fought. Jessica attacked the cancer, while Jason stood by her side and completed his degree. However, after the battle was won, the couple was left with practically no chance of having children. That's when the miracle occurred.
When going in for a yearly scan, Jessica was given the best news of her life. Not only was she cancer-free, but she was pregnant with TWINS! Now Jason and Jessica enjoy raising their 7-year-old girls while appreciating perfect health, accomplished careers and, most importantly, strong senses of faith and family.
Jessica stated, "Being a Jones, the girls know that we like to have a good time and that life is meant to be enjoyed. At the same time, we thank God for the many blessings He has given to our family."
By Lorna Hollifield