Enjoy learning how your Mount Pleasant neighbors, business owners and peers manage all of the moving parts in their lives. Look at the cogs turning, gears grinding and axles spinning inside the mysterious machine that is a family. Get to know the moms and dads that work for it and that march alongside you, navigating the same fast-paced world that you are.
---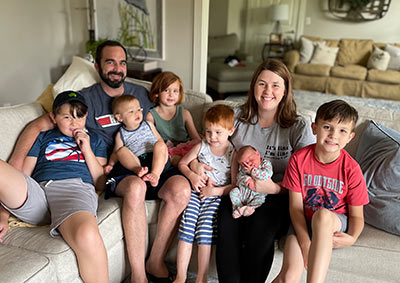 Jeff and Alison Leeman
Dr. Jeff Leeman of Crescent Care Veterinary Clinic and his wife Alison have been a team since grade school. Today their team includes six children, two dogs, a cat and a bustling clinic. It's wild at times, but Team Leeman gets the job done.
The high school sweethearts moved to the Lowcountry 11 years ago to raise their growing family and pursue their dreams. Jeff always wanted his own clinic and is passionate about the bonds formed between animals and humans. After years in a corporate clinic, he knew it was time for change.
"He was after the opportunity to provide clients with a better veterinary experience," said Alison. "He wanted to build a practice that clients could come to and get straight talk."
Crescent Care has become just that: a compassionate small-town clinic offering cutting- edge services to pets.
The pair moved to town with one child and now have six. Therefore, the clinic started in small steps. However, it's now home to three veterinarians and nine staff. A family-run operation, Alison handles the administrative side from home with the kids while Jeff sees patients.
"It's a busy life," noted Alison. "With six children and a business to run, we don't find ourselves sitting still too often! We wouldn't be able to make it work without the enormous faith we have in God and in each other. Since the day we got married, we've been Team Leeman. Plus, we have an amazing team of employees."
By Leah Rhyne