Enjoy learning how your Mount Pleasant neighbors, business owners and peers manage all of the moving parts in their lives. Look at the cogs turning, gears grinding and axles spinning inside the mysterious machine that is a family. Get to know the moms and dads that work for it and that march alongside you, navigating the same fast-paced world that you are.
---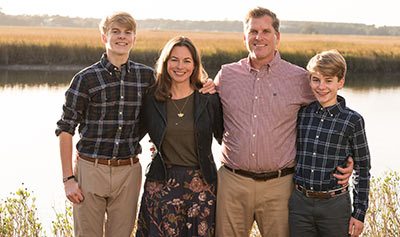 Jim and Courtney Buxton & Brian and Lauren Collie
Blended families have been around since the days of "The Brady Bunch." However, the families behind Buxton & Collie LLC, a law firm focusing on business, real estate and estate planning, give "blended" a different definition. They combine business acumen, legal knowledge and love of family to create a mix of work and home life…together.
Courtney and Jim Buxton met at The University of South Carolina, where it was love at first sight. They graduated in 2002, marrying a year later. They now parent two boys.
Unlike the Buxtons, Brian and Lauren Collie managed not to meet in college but instead at a mutual friend's wedding. They've now welcomed two daughters.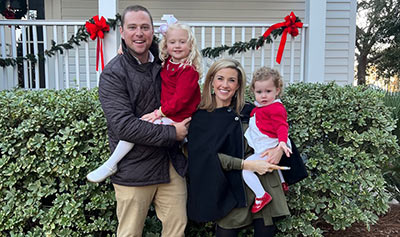 The families crossed paths while Brian studied law. Jim taught Brian's class, and the two connected. They blended their legal talents after Jim's law practice began to excel. Brian joined Jim's firm in 2012, eventually becoming partner. "I look at him more as a big brother than a law partner," said Brian.
These families have truly become a team. Jim, Brian and Courtney work for the firm, while Lauren thrives at Blackbaud. Becoming more a family all the time, they even vacation together.
"We've tried to create an atmosphere at the firm that reflects our shared values of hard work and a dedication to family," said Courtney.
"It takes a village," added Lauren. "But we all feel so lucky to live in such a wonderful place as Mount Pleasant!"
By Leah Rhyne