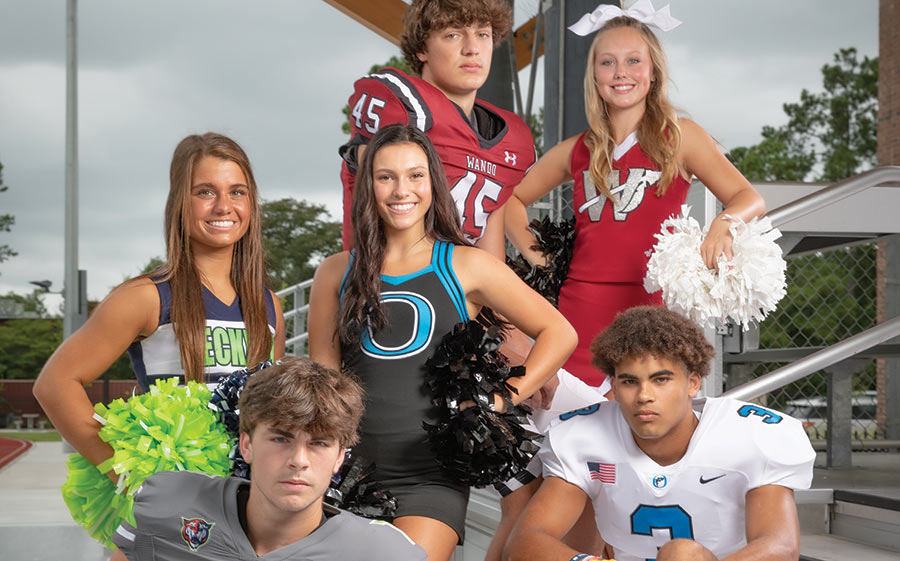 It's autumn in the South, and we all know what that means: helmets crashing, cheerleaders jumping and crowds roaring. The Friday night lights are blazing, so it's time to introduce you to three of Mount Pleasant's brightest football stars.
At Oceanside Collegiate Academy, senior Zach Hagedon is helping build a football legacy. His senior class is only the fourth to graduate from the young charter school. This is also only Hagedon's fourth year of football; prior to high school, he played soccer. But American football was always in his blood.
"I watched football my whole life," he said. "I had to try it."
He tried out, made the team and became a key defensive player for Oceanside.
"I played linebacker my freshman year and learned I really like tackling people. That's where I make a big impact."
Since then, he's settled into other defensive roles, including cornerback and safety.
"I'm looking forward to making a last run with the players and friends I've been with for the last four years and trying to win the state championship," he said. "We've been working so hard. It'll be nice to see it pay off."
Next year, Hagedon plans to go to college. Coastal Carolina is his dream school, but he'll see where the next few months take him
Over at Lucy Beckham High School, quarterback Jimmy Webb is pumped. Literally. He's been working out hard his whole life, waiting for this moment.
"I've been playing football since I was 5 years old," he relayed. "I started with flag football, then moved up through the ranks."
He used to be a lineman, both offensive and defensive, which requires a very specific size and physique. However, after a year of diving into the weight room and nutrition planning, Webb and his coaches realized he wasn't fitting into that mold anymore. They moved him to starting quarterback.
"I grew up playing baseball," said Webb. "I had a good arm already, but I owe everything to Coach Hart, the offensive coordinator and quarterback coach. He brought me up from scratch."
For his senior year, Webb said, "I want us to do the best we can. There's no reason we can't be the best team in the state. We have the talent at every position. We've [beaten] teams that other schools didn't think we could. So why not us?"
His is the first senior class at Lucy Beckham.
"I think being the first class that'll graduate, I've really been able to make my mark on the school. And for the younger guys on the team, I've tried to be a role model and leader, on and off the field."
For college, Webb hopes to stay in state. While he's gone to a few football camps and on a few tours, he's not sure he'll play in college. But there's still a whole season ahead of him. That's what's most important to him at the moment.
Of course, we can't talk about Mount Pleasant football without including Wando High School, one of the biggest schools in the state. It's there that senior Mikey Rosa is getting ready to have the season of his life.
"I've been playing since elementary school," offered the starting linebacker. "Football is my whole life. It's my favorite thing in the world. It's my escape from the world. Football gets my mind off everything else. You just play."
As a linebacker, he's a leader of the Wando defensive squad.
"You'll see me on the field, yelling my head off," he said. "It's my job to recognize the strengths in the other team's offense and get people where they need to be."
Rosa spent much of the summer injured but has been cleared to play. The whole team's been working hard in the weight room, implementing a new strength and conditioning program. Rosa hopes to make his own mark by being a leader and helping to shift the team culture to be even more of a winning one.
He told Mount Pleasant Magazine, "I want to help raise these freshman and sophomores and shape them into what a winning team looks like. I want to show them how to do it on and off the field."
Unlike Hagedon and Webb, Rosa knows where he's going to college, but he's keeping that info close to his chest for a while. He's excited about the future, but right now, he's focused on the present. That means making his senior season at Wando truly incredible.
You can catch Hagedon, Webb and Rosa on the field for the next few months of Fridays, where their talents are sure to shine as brightly as the lights cast upon them. Cheers to all of them for representing Mount Pleasant. We wish them each a safe season.
By Leah Rhyne
(edited) Photo by Mark Staff