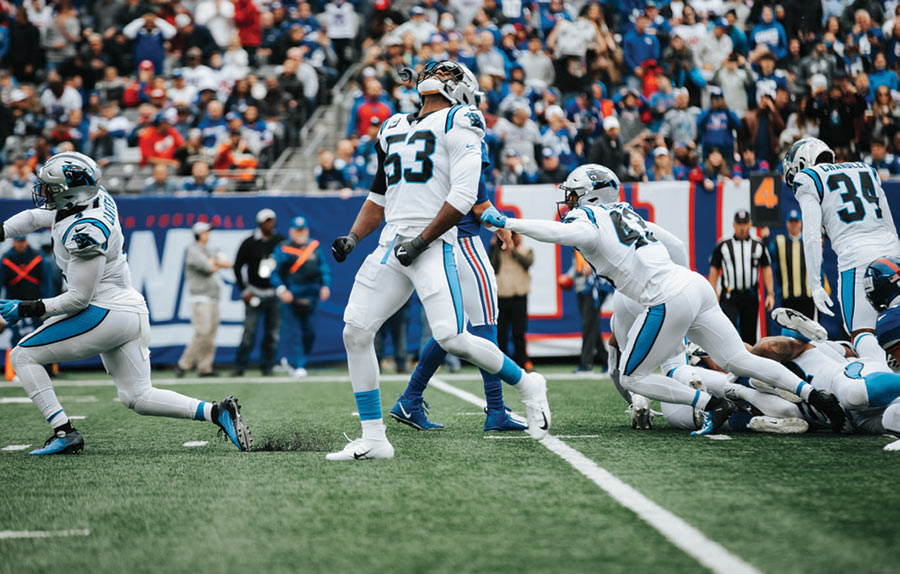 There are a lot of football fans in South Carolina. If you ask someone about their favorite team, the response is usually one of two sides of the college coin: Clemson or the University of South Carolina. For a long time, South Carolinians didn't necessarily identify with an NFL team. However, when the Carolina Panthers suited up in 1995, the team was meant to represent both Carolinas. Though games are played in Charlotte at Bank of America Stadium, training camps take place in Spartanburg. The organization wants South Carolina to feel the love and know they have a home team. Mount Pleasant Magazine sat down with director of communications Riley Fields to catch up on the latest. We learned that their efforts are reaching all the way to our front porches.
What is your position with the Panthers?
[I am the] director of community relations. Prior to joining the team in 2003, I worked for Mecklenburg County Parks & Recreation in a similar capacity, which was a great experience that prepared me for my current position. As a native Charlottean with family in North and South Carolina, it's rewarding to have the opportunity to serve the region.
What are you all most excited about this season? Which players should we watch?
I'm most excited about a true return to normalcy. With the restrictions from the past couple of seasons now lifted, we can fully engage our players back into community outreach efforts, which is something they are also enthused about.
I'm looking forward to seeing some of the younger players step forward— there is a lot of talent on the roster. A great example is Jaycee Horn, who played collegiately at USC. Injury sidelined him for his rookie season, but he is a dynamic player and will be a difference for the team.
How is the organization engaging with South Carolina?
The Carolina Panthers is regional. It's something in which we take a great deal of pride. Most of our community outreach programming is specifically designed to serve the two-state region with key focus areas of education, social initiatives, youth fitness and wellness, youth and high school football and military outreach.
How do the Panthers give back, especially to South Carolina?
The team executes over 80 programs and services annually, reaching over 4,800 agencies, nonprofit organizations and schools through programming, charitable grant funding, merchandise donations and player, mascot and cheerleader appearances. One example is the team's annual backpack and school supply distribution program, in partnership with the David & Nicole Tepper Foundation. Darlington and Lancaster County Schools are each receiving 5,000 backpacks.
What is next for the organization? How can we all be a part?
We are putting a significant amount of time into the advancement of the sport of girls' flag football. Our ultimate objective is for girls' flag to be sanctioned as a varsity sport in both states. Today, women engage in the sport in ways that would have seemed like science fiction 10 years ago…there are now women on NFL coaching staffs, and the Super Bowl had the first female referee. Our hope is that girls have the access and opportunity to play for their schools, like North Charleston, Summerville or Wando.

By Lorna Hollifield