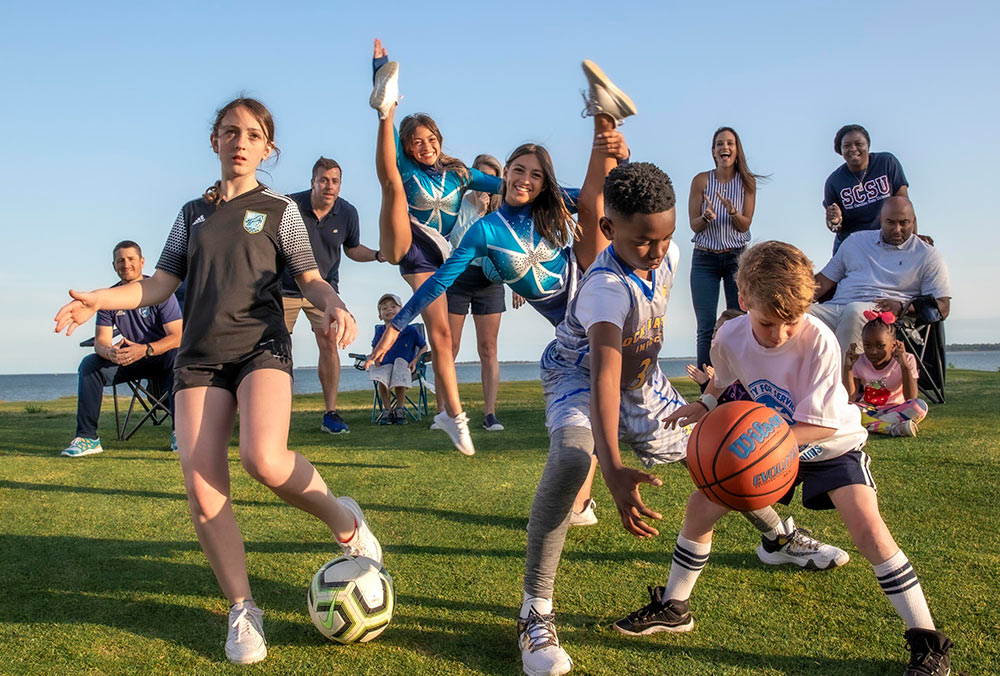 Coaches mean a lot to children as they grow up. These adults are often their first mentors and role models. That bond is even more unique when the coach also happens to be Mom or Dad. Four families in Mount Pleasant show just what it means to lead their kids both at home and at the game.
Fritz Miller, head coach of the competitive U/12 girls' soccer team at Cainhoy Soccer Club, coached his 15-year-old daughter Amelia for seven years, and has been coaching his 12-year-old daughter Karlie for six years. A former competitive youth player, Fritz was thrilled to see his daughters take a liking to soccer.
Four families in Mount Pleasant show just what it means to lead their kids both at home and at the game.
"Coaching my children has been one of the most rewarding experiences a father could have with his kids," he said. "The most rewarding aspect of coaching your own child is seeing their progression and development through making mistakes and working hard to get better."
Although finding the fine line between coach and parent is often challenging, Fritz reminds himself to be patient and just enjoy watching his children learn from their mishaps.
"Kids are under so much pressure from all directions," he said. "But what's most important is that they have fun and develop."
Unlike Fritz, who grew up playing his favorite game, Christine Zamboki found herself amid a brand-new adventure. When the Isle of Palms Recreation Center reached out to parents in need of volunteers to coach youth basketball, Christine stepped into the role of head coach and volunteered her husband Pete as assistant of 6-year-old son Beecher's team. Despite having never played basketball in a formal setting, Christine grew up a Chicago Bulls fan, playing pick-up games with family and friends. However, she admitted she was a bit hesitant to volunteer as coach in these uncharted waters.
"When it was finalized that I would be a head coach for basketball, I was excited and full of nerves," she shared.
During moments of doubt, Christine felt inspired by Beecher's former coach, Keaton Mims, also a working mom of young children.
She explained, "For me, it was inspiring to have a female mom head coach, and this really paved the way for me for this current season."
Christine noted that when her husband expressed his own concerns with their combined lack of experience, she reminded him that kids are asked to do new things all the time. She is certain her family will look back on this experience proudly, as one for the memory book.
To parents considering coaching, Christine advised, "When in doubt, try it out. You will never regret stepping up for your child or other children."
Another coach passionate about the game of basketball is Sean Kershaw, who leads Rock Nation's 5th graders. The former player who proudly represented Lower Richland High in uniform before moving on to play at South Carolina State enjoys sharing his deep love for the game with his own son.
"Basketball saved my life," Sean admitted. "Once I started playing, I started thinking about the future. I would hear other guys talk about going onto college, and for the first time, I wanted that. I realized I had options."
He introduced his son to the game that inspired him early on, knowing that it would not only teach his child fundamentals of the game, but lessons in leadership. However, the best part is spending time together and watching his son grow.
He added, "Watching my son improve is the neatest part…that and knowing I could be the difference in another kid's life, too."
People tend to think of coaches like the last few mentioned: on the court or on the field. However, some athletics are practiced in the studio. Spirit program director and national award-winning dance team head coach Brittney Carimi focuses more on leaps and turns than guarding and passing.
The Christ Our King-Stella Maris school coach was a competitive dancer and coach long before she was a mom. Brittney stepped into the role of cheer coach at COKSM in 2014, started the competitive dance team for middle schoolers in 2015 and started the junior pom squad for students in 4th and 5th grade in 2016. For the past three years, she has had the opportunity to coach her own twelve-year-old twins Holland and Sutton on the Crusaderettes Dance Team. Currently in 7th grade, Holland and Sutton have only one remaining season left with their mom as coach, but the youngest daughter Macayle will soon follow. Brittney could not be more excited for the legacy to live on. Working at her kids' school allows her to see them more during the day, and being their coach permits her to spend more time with them through their shared passion.
"I love getting to know their friends and watch them grow as dancers and young ladies," she commented.
While Brittney has truly enjoyed working with her daughters in the sport she loves so much, she also admits that being their coach has presented challenges at times. "In practice, all the dancers are 'my kids,' and my daughters had to learn very quickly that they do not get special treatment from me. If anything, I hold them to a higher standard because they're mine and they represent me." She added that while she didn't become a dance coach for the sole purpose of coaching her own children, she hopes to always be involved with their future in dance, as she has truly enjoyed sharing her love of movement with them.
In talking with the parents featured, a few things stood out. Parents who coach their own children do it for the shared love of the sport, the teachable moments presented and, most of all, the opportunity to spend more quality time with their kids. Does it get any sweeter than that?
By Jenny Harrison