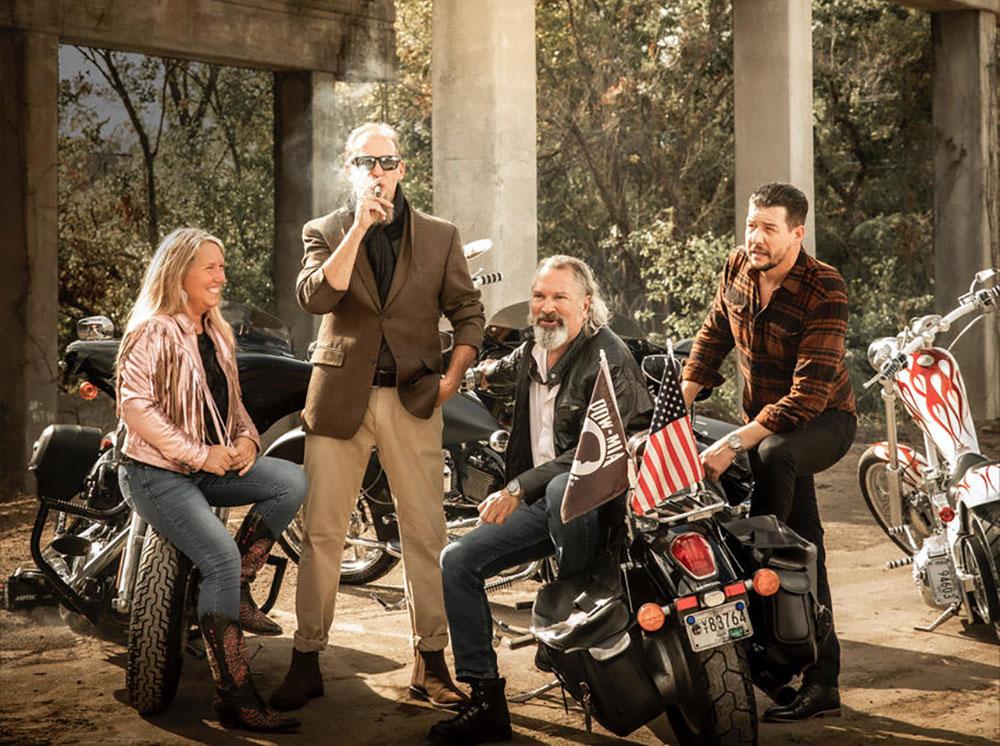 For people who ride motorcycles, the activity can be a freeing, almost mystical experience, providing an escape from hectic daily lives. The Charleston area is filled with individuals who not only love riding, but also use their pastime to support local philanthropic causes. Mount Pleasant Magazine was fortunate to hear a few stories.
Pretty in Pink
Charleston native and James Island resident Kelly Carroll has been riding motorcycles her entire life. Carroll has owned a 2007 Sportster she dubbed "Sanity" and a 2014 Softtail Slim. She loves the "sense of freedom" she gets from riding. "It's fun. It's therapeutic," said Carroll.
Her favorite rides involve traveling from Charleston to Murrells Inlet and taking the backroads to places like Harleyville, where it's tranquil.
Carroll has worked at the Ronald McDonald House Charities of Charleston for the past nine years, and previously spent three years as events coordinator and marketing director of Low Country Harley-Davidson.
She has organized several fundraising events, including benefits for Share our Suzy Lowcountry, which raises money to support breast cancer patients. Carroll said it is one of the top five biggest charity rides in the Lowcountry. Pre-pandemic, she helped coordinate the Steel Pony Charity Ride & Car Show, a fundraiser for the Lowcountry Firefighter Support Team. Carroll has held additional charity events to assist women battling breast cancer, such as "Paint it Pink," and "Scooters for Hooters."
Speaking to the cause, Carroll mused, "I think because I'm a girl, breast cancer is close to my heart." She knows people who have been impacted by the disease and once experienced a scare herself. Pink also happens to be her favorite color, and these events let her share that fondness with some riders less accustomed to wearing it. "It's fun to put a bunch of men in pink," quipped Carroll.
Carroll, who is also involved in advocating for homeless veterans and soldiers serving overseas, prefers working with local grassroots organizations so she can see where the money is going and witness its effects firsthand.
To get involved with one of her charity events, email Carroll at [email protected].
It Takes a Village
Born and raised in the Old Village, Steve Waters has been riding motorcycles for 54 years, which included 30 years of racing. His father, Johnny, started a motorcycle club in 1966 called the Family Riders. Waters, who has since relocated to West Ashley, has ridden "everything you can name" from Hondas and Kawasakis to Harleys and BMWs. "I've never not owned a motorcycle. Motorcycles fix what ails you," avowed Waters. "If I'm having a bad day, I just go out motorcycle riding."
He also combines his passion for motorcycles with charitable efforts. The first benefit Waters ever hosted was in 2010 to help a friend with cancer. Most events he organizes are music benefits, including an Oct. 9 cancer benefit for his friend Smoky Blase at My Father's Moustache. There were more than 70 bikes, and the event was attended by 500 people.
At another benefit, Waters and Kelly Carroll, along with hundreds of other bikers, coordinated to fulfill the wish of a 7-year-old child suffering from metastasized brain cancer who wanted to see motorcycles. They gathered at a park in Conway to lead a bike parade for the child. "There wasn't a dry eye in the house except for him," remembered Waters. "Because he had a grin from ear to ear."
Waters has ridden for the VFW and the American Legion and done Commanders Honors (a nonprofit program to inter unclaimed South Carolina veterans) rides during which groups of motorcycles escort the hearse to the cemetery. The first Commanders Honors ride he did was in Mount Pleasant and featured 72 motorcycles. He has since done Commanders Honors rides to the Beaufort National Cemetery. Additionally, he does several rides annually for Toys for Tots, which distributes toys to disadvantaged children
"What I do is very rewarding to me," remarked Waters. His mantra is 'My Brother's Keeper.' "That's how I live," he explained.
He also noted that God gave him "a gift of gab," which he uses to talk to local businesses and request auction items for benefits. Waters has held three charity benefits this year, including two cancer benefits and a June 5 fundraiser that raised $14,800 for the family of a motorcyclist who, along with his girlfriend, was killed by a drunk driver.
While Waters refers to himself as the 'ringleader' for these events, he said they wouldn't be possible without community collaboration.
"It takes a village. If it wasn't for all these people coming together, it wouldn't happen."
Giving "Back"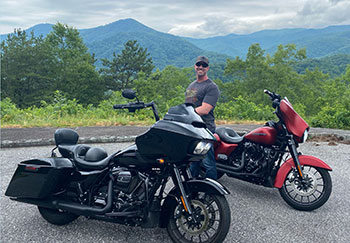 Dr. Matthew Murrin, owner of Chiropractic USA in Mount Pleasant, is another lifelong motorcycle rider. His dad built him a dirt bike when he was 5, and as soon as he turned 16, he got a street bike. Dr. Murrin grew up in Newfoundland, Canada, where weather conditions limited him to about six weeks of good riding. Part of the impetus for moving to this area was so he could ride more.
Dr. Murrin owns three bikes: a customized Harley Road Glide, a customized Harley Chopper and another Chopper. He recently sold his Ducati. "I ride as much as I can," he said. Like Carroll and Waters, Dr. Murrin finds riding therapeutic. He often takes solo trips to places like Asheville to recharge his batteries. "It's my one thing that actually relaxes me. It's essential for me," he emphasized.
Dr. Murrin rides in support of myriad causes. He rides every year for Toys for Tots, and, in October, he rode for Scooters for Hooters. He has also done veteran and police benefit rides.
He enjoys helping any causes that benefit children. Dr. Murrin has ridden twice for the Charleston chapter of Bikers Against Bullies USA, a nonprofit which fights bullying in communities across the nation.
The Fellowship of Riding
John Bell, owner of Southern Bell Living real estate agency in Mount Pleasant, along with friend and fellow SBL agent Tony Tonelis, have both been riding their whole lives. Similar to Dr. Murrin, their passion originated in their youth when each rode dirt bikes. Tonelis has owned a bike since 1999. Over the years, he has purchased a Harley Street Glide and an Ironhorse Texas Chopper.
Bell essentially inherited his first bike, a 2008 Softtail Night Train, from his dad. He now rides a 2011 Street Glide. "When I found the Harley man, it changed my life," reflected Bell. "A lot of my … creative juices and visions flow literally when I'm riding."
Tonelis relishes the freedom that riding brings. He loves riding in the Francis Marion National Forest and recently completed a picturesque loop along the Blue Ridge Parkway. Bell loves riding in Awendaw and Edisto, as well as the scenic, curvy mountain highway popular with motorcyclists known as the Tail of the Dragon.
Tonelis and Bell regularly ride together to advocate causes, such as charity memorial rides for families. As someone who served in the military, an important cause to Tonelis is supporting Toys for Tots, since the program is run by the U.S. Marine Corps Reserve. On Oct. 15, each rode as part of the Island Hopping Campaign, a charity ride put on by the Combat Veterans Motorcycle Association 34-4 to benefit local veterans. Bell serves as a volunteer board member for the nonprofit WakeUp Carolina and dedicates time to the annual fundraiser Shuck Cancer.
By Colin McCandless