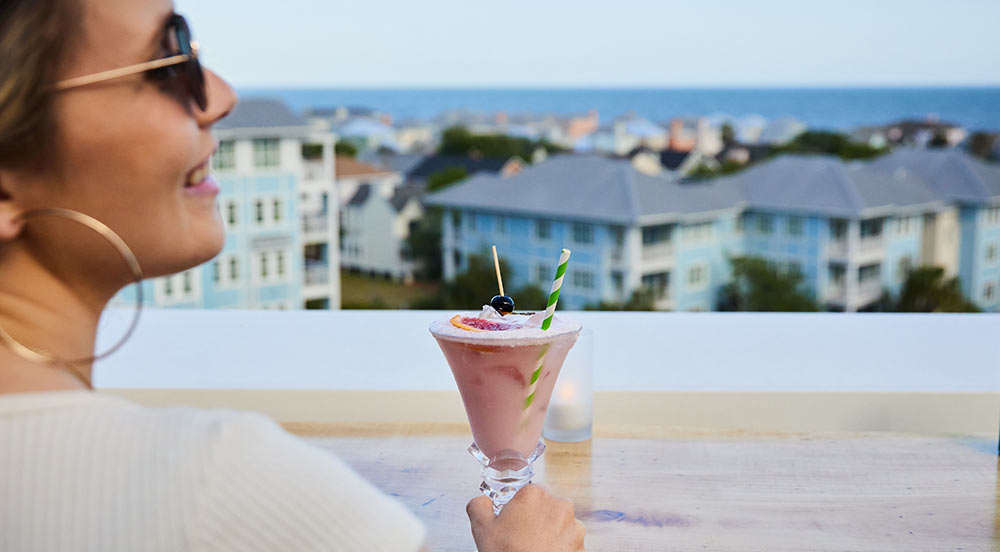 Want a quick getaway practically in your own backyard? While Mount Pleasant and the surrounding beaches serve almost daily in that capacity, something else you might not have tried before, the brand-new Nest Rooftop Bar, is already proving hard to beat.
Opened April 1 atop the Sweetgrass Inn at Wild Dunes Resort on the far east end of Isle of Palms, The Nest, as patrons call it, offers up an array of colorful island drinks and an atmosphere that will make you want to stay forever on the South Carolina coast— even if you already live here.
"There is no hotel in our area that has a space truly like this nestled six floors above the beach," said Nico Scherman, general manager of Wild Dunes Resort. "The new hotel opened with ample rooftop space…and we imagined a casual rooftop bar that mimics our Lowcountry lifestyle."
Even if you don't drink alcoholic beverages, the rooftop view alone is worth the effort, thanks to the surrounding dunes, hotel and pools, harbor golf course, and of course, everyone's favorite, the Atlantic Ocean and shoreline.
"We focused on developing a space that feels tropical, from the colorful uniforms to the space that is engulfed in tropical plants," Scherman said. "And The Nest is a mix of bohemian style, complemented by a curated beachside cocktail list."
For a drink or two, Nest bartenders are ready to serve up lots of intriguing goodies, such as the Cucumber Mule Cocktail, the Passion Fruit Margarita, Tall Skinny Houses Pilsner, and Poke the Bear APA – all from Charleston breweries.
"We only serve local beer of the Southeast," Scherman said. "You won't find mainstream light beers here."
But you will find bartenders who get to showcase their talents, providing a sort of unplanned-for entertainment to go with your drinks.
"My favorite part of the job is the on-the-fly cocktail creation and the creative freedom our leadership gives us," said Veteran Bartender Mike Sweatte. "And having a bar overlooking the beach is not a bad day at the office."
Interesting dishes also pair well with the signature drinks and one-of-a-kind view. This is where Chef Austin Blake will step in to offer you his favorite dish of Mason Jar Pickled Shrimp.
"It's our most popular patron dish," Blake said. "It's a classic Lowcountry item, but we put our own creative twist on it— and use local shrimp to represent a staple of the South."
After a day poolside or on the beach, when you're not quite ready for dinner but you don't want to hang it up just yet, a stop at The Nest will do the trick. Don't forget to check out the custom mural, which serves as a great backdrop along with the full ocean views. You may never leave.
To learn more, visit destinationhotels.com/wild-dunes/dining/the-nest, or call 843-886-6000.
By L. C. Leach III