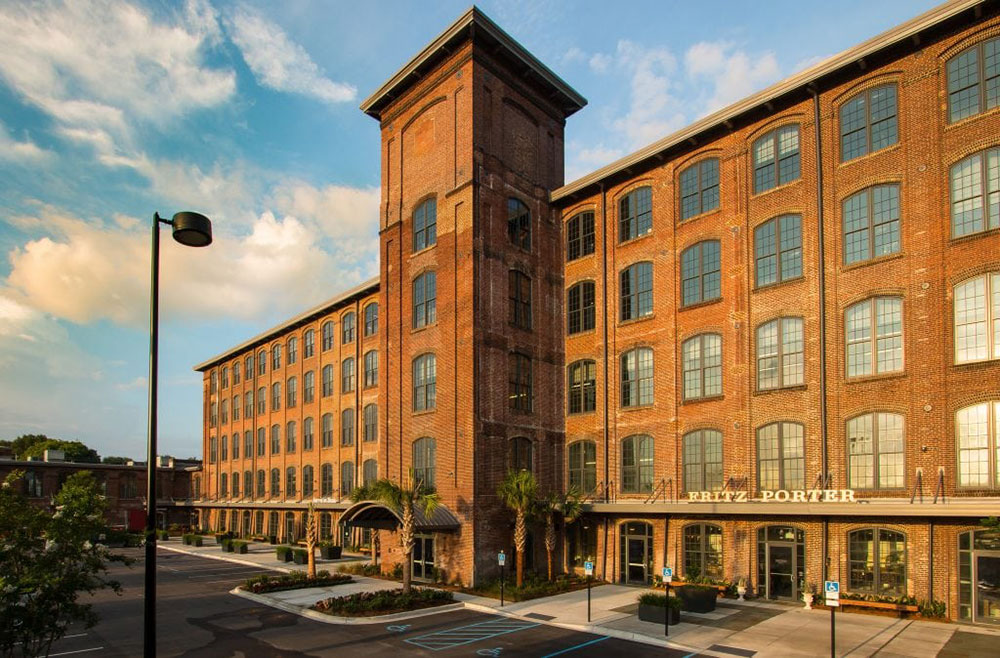 Arresting words inscribed on a picture bearing the visage of Mother Theresa capture your attention as you exit Ripple, a nonprofit incubator housed in the cigar factory building on East Bay Street. The quote, attributed to the revered missionary and global charitable crusader, reads, "I alone can't change the world, but I can cast a stone across the waters to create many ripples."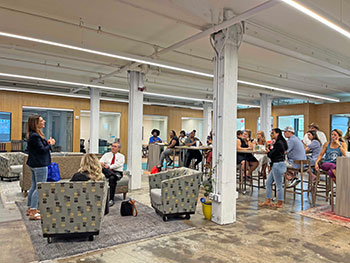 These words reflect the collaborative philosophy behind Ripple, a philanthropic project spearheaded by two prominent members of the Charleston community, Jerry Scheer and Dean Stephens.
For Scheer— and Stephens, who serves as Ripple's executive director—giving back to the community has always been in their DNA.
Stephens wasn't content to rest on his laurels after spending 31 years working with WCIV News Channel 4. The former newscaster, who retired in September 2021, was hungry for a new challenge that could also help make a difference.
Scheer, along with his Homegrown Hospitality Group (TBonz, Pearlz Oyster Bar) co-owner Mark Cumins, established TBonz Foundation Inc., the nonprofit arm of HHG, 25 years ago. The Foundation has provided funding to support countless local charities.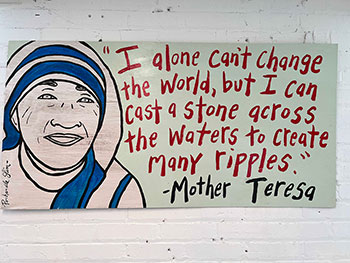 Scheer and Stephens have known each other since 1990, back when Scheer hired the woman who would become Stephens' future wife, Caroline. Scheer attended their wedding in 1994, and the two have since maintained a relationship.
It wasn't until about 15 years ago that Stephens began to recognize the philanthropic work Scheer had done with area nonprofits such as The Green Heart Project and Empowered Minds, as well as how involved he is in the community. For his part, Scheer had always enjoyed the segments Stephens did as a newscaster on the Jefferson Award, a national nonprofit award that recognizes extraordinary public service. Scheer loved watching the stories on the Jefferson Award winners because they "shine a spotlight on unsung heroes in the community."
Ripple Provides Space to Help Nonprofits Grow and Thrive
Scheer first invited Stephens to walk through the space at Ripple in 2019. Opened in July 2021, Ripple offers 5,000 square feet of office space to nonprofits. There are currently 26 nonprofits on the roster.
Scheer explained the genesis of Ripple as an endeavor to develop a charitable project that will "be here longer than me." He said he and Stephens both possessed the "ability to give back to a city and community that's been very, very good to us."
When Stephens retired as a newscaster, it was a no-brainer for Scheer to reach out about becoming involved with Ripple. Scheer noted that with Stephens now serving as the public face of Ripple, they have an executive director whom people recognize.
"We've created this very unique space in the heart of downtown Charleston," stated Stephens.
Some of their prior interactions with nonprofits have come full circle as well. A number of people using space at Ripple are past Jefferson Award winners whom Scheer had previously seen in one of Stephen's news segments. One is Katie Stagliano of Katie's Krops, and another is Emily Kerr, founder and executive director of Charleston Hope. After Scheer saw the story on Charleston Hope, he asked Dean to connect him with Kerr. He ended up funding a full-time position there for a year. Fast-forward seven years later, and Kerr is now working out of Ripple.
Scheer and Stephens use their community connections to link nonprofits with the help they need, but when it comes to what nonprofits do, they both like to use the analogy of supporting a band on tour. The nonprofits are the main act; they just ensure the instruments are tuned correctly so the musicians can perform their best.
"It's not our job to tell them how to do their jobs," noted Stephens. "We're kind of like the roadies."
Scheer, a music fan with an affinity for Jerry Garcia — The Grateful Dead have a song called "Ripple," featuring a favorite line of his, "You who choose to lead must follow" — later echoes the roadie sentiment, adding, "set up their instruments. Be their hotel room."
Looking ahead, Scheer envisions bringing on a group of angel investors who give a portion of their profits to Ripple to help sustain it long term. "Hopefully, within five years, we have not only restaurants but other businesses."
Future goals include helping nonprofits create business partnerships and find assistance with strategic planning. It's about guidance and lending a hand with the business side.
Scheer asserted, "Our main reason here is to help nonprofits flourish and raise awareness of what they're doing."
By Colin McCandless