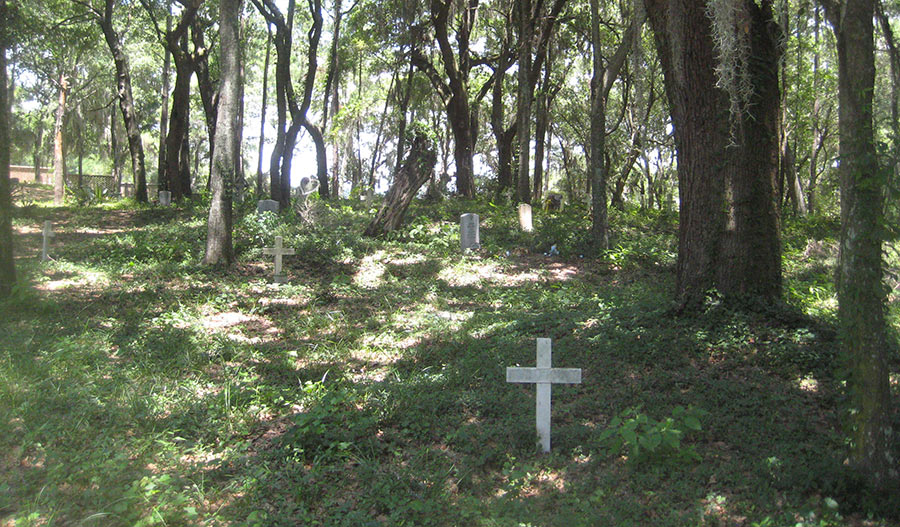 For many people, a quiet drive along scenic Mathis Ferry Road is a welcome relief from the barrage of traffic on Highway 17. Decorated with centuries-old live oak trees draped in Spanish moss, the ride offers a dreamlike glimpse into the Mount Pleasant of yesteryear. The route also provides access to many neighborhoods, and one neighborhood in particular maintains its storied history.
Scanlonville was established three years after the Civil War by Black families. A Black carpenter, Robert Scanlon, paid $6,100 at auction for 614 acres of the former Remley's Plantation. His parcel, bordered by the Wando River, offered other formerly enslaved people 500 half-acre residential lots and 100 two-acre farm lots for purchase. Residential lots were recorded as being sold for $16.50 each. The community was self-sufficient from the beginning with a store, church and school.
The earliest residents were very poor and built houses made of wood, typically measuring 20 feet squared with a dirt floor. Cotton was grown on the farm lots with all the work done by hand, as the purchase of a mule and plow would not have been affordable to these new property owners. They had left slavery with no possessions and literally started with nothing, according to Edward Lee, a multi-generational resident of Scanlonville. In 1869, a New York Tribune journalist described one young mother "dressed in rags and barefoot" toiling in the blazing Lowcountry sun "with the hope that she and her child could one day stand on soil they can call their own."
Resident Barbara Fordham Collier explained that during those post-Civil War years through the Jim Crow Era, the neighborhood perpetuated a kinship network in which the entire community became an extension of the family. This concept of property owners joining together for the common good resembled a cooperative. For instance, since Black people were not able to obtain loans, neighbors helped each other build their homes, using mostly recycled materials. Lee remembered as a child cleaning mortar from old bricks and removing nails from wood planks for reuse. In 1968, the Fair Housing Act finally enabled some Black people to apply for mortgages, allowing for newer and more efficient houses, although lending practices continue to be a hurdle even today in Scanlonville, as in other minority communities.
Both longtime residents explained that neighbors helped each other in a variety of ways. Collier recalled that those who were teachers, coaches and counselors "kept you on your best behavior. They also helped kids whose parents had no or little education. It was their responsibility to the community. And if a resident owned a set of encyclopedias or magazines, they were available to any child who needed them for a school project."
Lee added that there were no fences separating neighbors' yards. "Fences were solely to contain animals." Walking through each other's property was permissible but always demanded a polite exchange of pleasantries with anyone being encountered. Only a stranger wouldn't speak. Children were raised to know and follow these practices.
Extended family members of Scanlonville's early residents had been sold into slavery but many reconnected with their families when the community was established — in some cases, traveling hundreds of miles. Lee's great-grandmother walked to Scanlonville from Virginia. Collier reflected that it took tremendous courage "going from slavery to self-reliance while retaining African-based cultural values just three years after the Civil War. But the Great Migration to the North in the early twentieth century hurt Scanlonville, which thrived on the kinship network." She said, however, that "you don't lose that when you move away," and some have found their way back home.
Scanlonville's streets follow a grid pattern, with avenues running east to west and streets running north to south. A cemetery near the marshes of Molasses Creek was included in the original design. Some of the graves there may date back to when the area was a graveyard for the enslaved people on Remley's Plantation. With possibly 2,000 graves on the site, burials continue to take place there. Because most of the graves are not marked, surveyors and land developers have at times mistakenly considered the cemetery abandoned.
However, according to William Pollitzer, professor emeritus of Anthropology at UNC Chapel Hill, burial practices in the Black community do not mirror those in the white community. In earlier times, graves were often marked simply with a bush, tree or grave ornaments such as shells, pottery and bottles, and countless grave artifacts lie hidden under decades-old layers of pine straw and leaves. The deceased were buried near their ancestors, in no officially designated plots, but Black residents of Scanlonville know exactly where the graves are. "My whole family is buried there," Albert Nelson told the Chicora Foundation, an organization devoted to heritage preservation.
In 1999, a home builder intended to relocate many graves and build on the banks of Molasses Creek, but members of the Scanlonville community and the Chicora Foundation drew attention to the prospect of disturbing the historic and sacred site. Instead, the cemetery is now listed on the National Register of Historic Places.
The shore of the Wando River provided residents of Scanlonville a place for recreational opportunities, but the location was known also to Black people in the city who used the spot for summertime outings and picnics. By the 1930s, the Cooper River Bridge Company had officially established Riverside Beach as a "Blacks only" beach. "Before Riverside, there had been no beach where Blacks were accepted, even though there is water all around us," Ruby Cornwell told the Chicora Foundation.
A bath house, boardwalk, playground and dance pavilion were added, allowing Count Basie, B.B. King, Duke Ellington and Louis Armstrong to perform to all-Black audiences. The community's popular music scene led to a number of small juke joints popping up throughout Scanlonville. In 1943, White's Paradise Hotel was built at Riverside Beach, and music legend James Brown was known to frequently perform at its nightclub. The singer would rehearse during the daytime and locals were able to catch him practicing. Brown was also known to participate in a game of pick-up baseball with neighborhood residents.
The hotel was in operation until the 1980s, but by the 1960s, live shows at Riverside's pavilion were replaced with a local radio station's broadcast by a disc jockey. Charleston County assumed ownership of Riverside Beach in 1975, and the property was eventually sold to the developers of the neighborhoods Molasses Creek, River Watch, River Reach and Harbor Watch.
Scanlonville was one of only a handful of communities of its kind in the state — and the only one still in existence. Robert Scanlon's original venture, the Charleston Land Company, was liquidated during the Great Depression, but the community has survived the winds of change.
For more information on the history of Scanlonville, visit chicorafoundation.org, or view Lee's and Collier's video presentation, "Scanlonville: A History, the Land and Community," via the town of Mount Pleasant's website at tompsc.com.