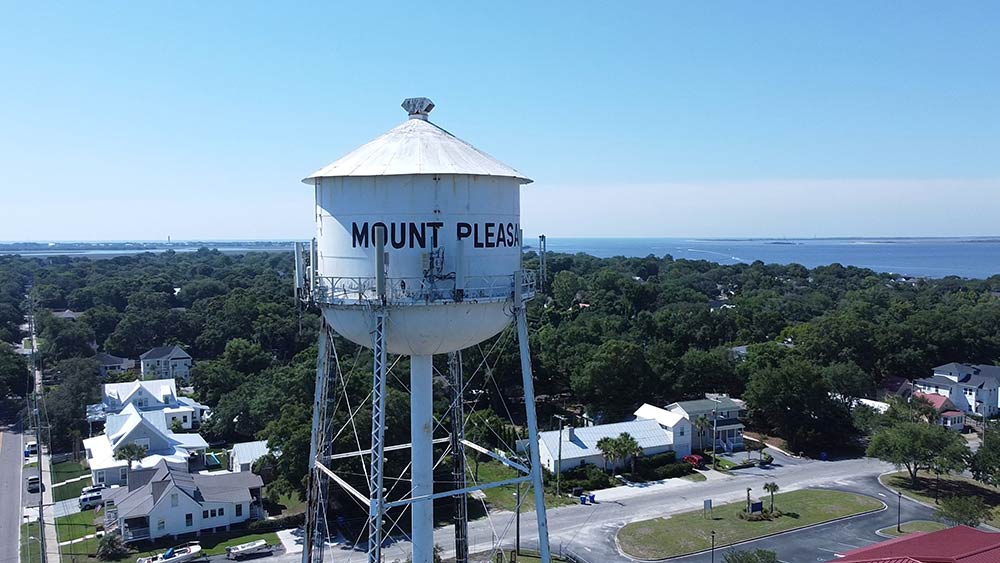 When Mount Pleasant Waterworks dismantled the Old Village water tower last July, they had already formulated a plan to extend its utility, benefit South Carolina's marine environment and protect our natural resources — by donating it to the state as an addition for an artificial reef. That collaborative reef project recently earned them a national environmental award.
Allan Clum, General Manager of Mount Pleasant Water Works Interviewed on Mount Pleasant Podcast.

Erected in 1934 at 520 King Street in the Old Village, the 100,000-gallon water tank was constructed to provide pressure and flow to the surrounding areas, according to MP Waterworks General Manager Allan Clum. It was used until the early 1990s, when underground storage tanks were built. After it became obsolete, the tower was rented out to cell phone companies to raise some additional revenue for the town, which justified retaining what had become a historical community landmark.
Five years ago, an assessment was conducted that determined structural enhancements would be required to keep the tower standing, explained Clum. MP Waterworks evaluated all their options for rehabbing the tower — even considering a replica tank — and determined that it would cost $1 million to repair. They ultimately decided that it wouldn't be feasible to have residential ratepayers cover the renovation, he recalled. The most cost-effective decision for the community, and for safety and liability purposes, would be removal.
But MP Waterworks didn't want to just scrap the tower. They hoped to find a more meaningful use for it.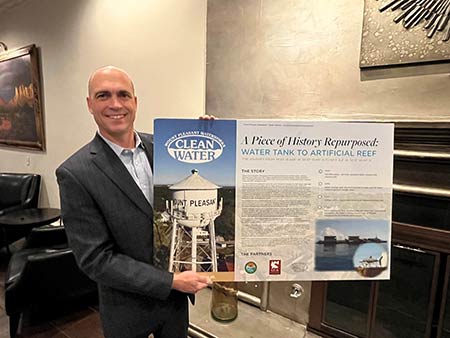 A Partnership Forms
Clum contacted South Carolina Department of Natural Resources Artificial Reef Coordinator Bob Martore about the possibility of using the tower in an artificial reef, which would align with MP Waterworks' mission of protecting the environment by providing habitat for fish, as well as creating recreational diving and fishing opportunities. Martore, who has worked on many similar projects, said that at the time of Clum's call he was working with the Coastal Conservation Association (CCA) on constructing an artificial reef from a barge and the prospect of supplementing the barge with additional structures. The water tower would be a welcome addition.
This fortuitous timing spawned a collaborative reef partnership among CCA, SCDNR, MP Waterworks and Sea Hunt Boat Company. A once conspicuous feature of the town's water system that had loomed over the landscape for 87 years would now be buried beneath the ocean to help support an underwater ecosystem.
The project entailed dismantling and cutting up the tower's metal parts, including the water tank, which was separated into several different pieces. Electrical cables and anything else that couldn't be utilized in the reef were removed, according to Martore.
SCDNR ensures that any components used in an artificial reef are environmentally safe, inspecting for contaminants that might leach out into the water column. Once the Old Village water tank parts were inspected and cleaned, a company named Stevens Towing was hired to tow the artificial reef out to its designated site, located offshore 10 nautical miles from North Edisto River Inlet. It is called the Edisto 60' reef, a reference to the fact that it is submerged in 60 feet of water, said Martore.
Most SCDNR artificial reef projects are funded through federal grants and saltwater fishing license fees, and the CCA also supports numerous projects, but the Edisto 60' reef project was jointly financed. MP Waterworks paid for the tower dismantling and transporting to Stevens Towing, and CCA covered marine towing costs out to the reef location. Sea Hunt Boat Company donated shipping containers for the structure, and SCDNR handled the permit costs and incidental charges of loading the water tower components onto the barge.
Growing an Artificial Reef
While there are "not a lot of natural reefs off of South Carolina" as you might see in Florida or the Caribbean, noted Martore, "there is rock." And in order to grow a reef, you need a hard substrate or a hard surface to which organisms can attach. As he explained, the sponges and coral larvae find the hard substrate and begin growing on it. "We provide hard substrate, then natural processes take over and start colonizing the site."
Because it was loaded on a barge that was sunk, the water tower is part of what Martore called a "complex substrate" that will create a diverse habitat and attract a wide variety of marine life.
The open spaces of the container boxes will create cave-like environments that will draw larger species such as snapper and grouper, while other reef structures such as the water tower will supply cover for smaller fish, like black sea bass, to evade predators. "It provides habitat for a lot of different species," remarked Martore.
SCDNR began its artificial reef program, which conducts research on and builds artificial reefs, in 1973. "It's been growing ever since," Martore noted. South Carolina has even designated reefs as Marine Protected Areas (MPAs) and is the only state to protect artificial reefs with the MPA status, which establishes conservation zones that prohibit fishing and aims to restore aquatic habitat.
Cultivating artificial reefs is important because our state has so few natural reef areas offshore and they are "very easily overfished," added Martore. Building artificial reefs "creates more habitat for more fish."
He offered the analogy of a housing development. If you have a large tract of land in a town with no residential dwellings, no one can live there, but once you construct homes, people move in and populate it. The same concept applies in the ocean. "Once you put the reef structures in, the fish move in and it becomes a thriving habitat," he said. "It helps repopulate overfished species."
The Edisto 60' reef project has already drawn accolades. In early February, the National Association of Clean Water Agencies (NACWA) recognized MP Waterworks with a National Environmental Achievement Award (NEAA) for its collaborative efforts with other agencies to make the reef a reality.
By Colin McCandless