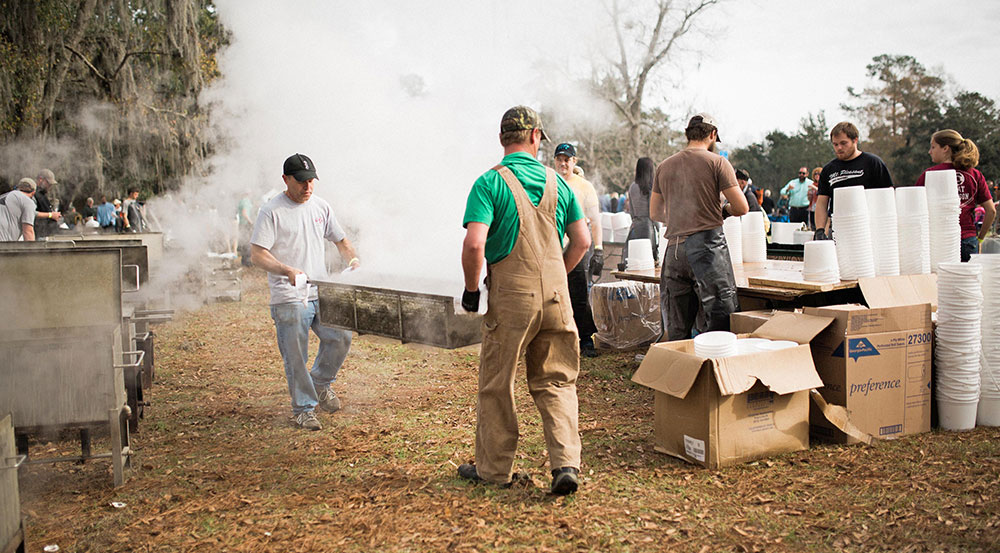 Have you ever sipped a half dozen oysters from a shell-cradling platter at a fine restaurant? Delicious, right? There's something about the experience as well — it's just one of life's great pleasures. However, it's one that need not be fancy or budget-breaking every time. A good oyster roast, a staple of the Lowcountry's winter season, will often scratch that itch.
The concept itself is hardly new. Archeology teaches that Roman emperors like Julius Caesar, Caligula and Nero feasted on the tasty bivalves. During most of Western history, the rich and poor alike relished oysters. When the first colonists arrived in the New World, they discovered that the indigenous people were oyster aficionados as well. In the Lowcountry, oysters were plentiful, and open-air roasts were soon common. Some historians date the true tradition of organized roasts here to the early 1800s.
Today—as it was then— the most attractive attributes of these roasts are that, for a modest fee, one can slurp as many oysters down as the stomach can handle. This is all while enjoying the camaraderie of eager fellow partakers.
Host Your Own Roast
In these parts, it's not hard to throw an oyster roast yourself. You'll need a big sheet of steel, a slab of hardy plywood with a hole cut in the middle to toss in the shells, a few sawhorses, a fire, some wet towels and a shovel to move the steamed oysters onto your makeshift dining tables.
If you're thinking of organizing your own roast, consider contacting companies who do them professionally, like the pros at Mount Pleasant Seafood. According to the company's owner, Sarah Fitch, her family has been meeting the region's seafood needs for 75 years and has catered roasts for anniversaries, rehearsal dinners, church events, company events and birthday parties.
"We also handle many backyard events," Fitch said. "From October through early March, we do four or five roasts every weekend! Even if you don't like oysters, it's a great opportunity to gather 'round the table, warm your hands up and enjoy getting together with your friends."
Attend a Roast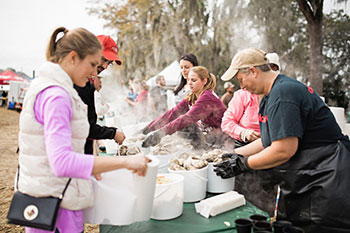 However, hosting isn't for everyone, and if that describes you, you can still enjoy the season as a participant. From roughly late October until early March, there is a host of well-organized roasts throughout the Lowcountry. Most include a significant charitable component to salve the conscience of even the most ravenous oyster gourmand. We've rounded up a few here.
One example is the Charleston Animal Society's Chili Cook-off and Oyster Roast at Riverfront Park in North Charleston, traditionally held each November. Its proceeds help save the lives of an untold number of shelter animals.
As the season progresses, Charleston Harbor Resort and Marina holds a monthly series called "Oysters on the Point." Great food and fun plus a backdrop that can't be beaten are among the highlights of this party.
Then there's the big kahuna of all roasts, the Lowcountry Oyster Festival at Boone Hall Plantation and Gardens, which also raises money for area charities. Some 800,000 oysters are consumed at this world's largest oyster fest, set for January.
Jonathan Kish, president of the Charleston Restaurant Foundation, which hosts the Lowcountry Oyster Festival, said, "I think in terms of pounds and bushels because oyster clusters in particular are hard to count."
Kish estimated that the 8,000 diners in attendance annually go through around 42,000 pounds of oysters. That poundage includes the shells, which are recycled in concert with the Coastal Conservation League's efforts to clean our waterways and provide a sustainable environment for oysters to flourish.
Although the festival has served as many as 13,000 fans, attendance has now been capped at a perennially sold-out 8,000. Kish feels that number is the limit to guarantee everyone plenty of space and a good time.
It is prime oyster season in South Carolina right now. Whatever path you choose, just join in the fun. Get out your oyster knife and work gloves and dive in.
By Bill Farley