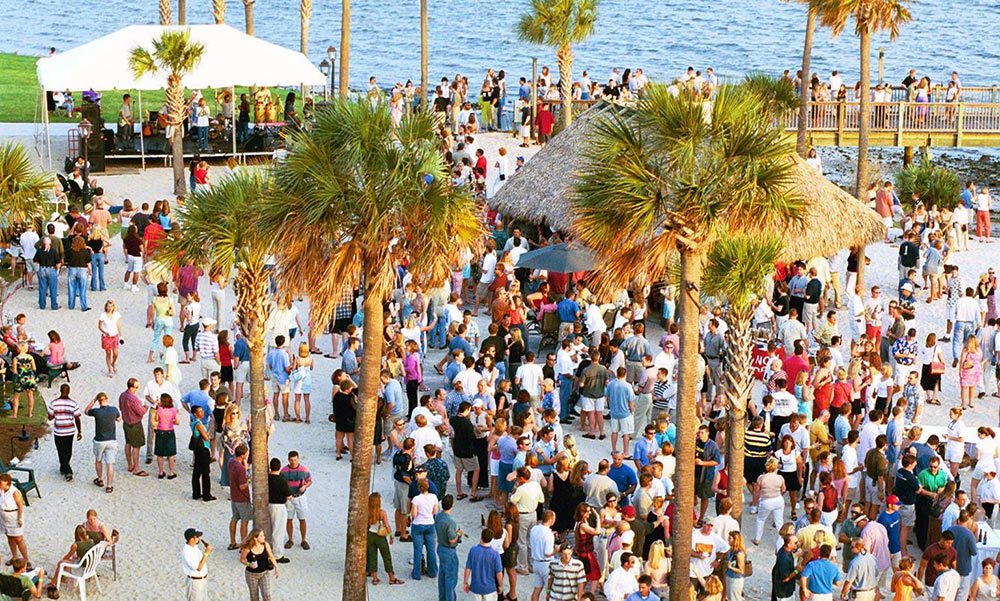 Famed radio personality and author Earl Nightingale once said, "Our environment, the world in which we live and work, is a mirror of our attitudes and expectations."
What Nightingale meant was that whatever goes on around us becomes what we feel inside, and then what we show to others on the outside. Maybe that why it's all smiles, dancing and warm-season leisure every Friday evening at the Charleston Harbor Resort and Marina from May to July. How could it not be? The weekly party that features a variety of music, food and top-notch cocktails takes place at the tip of Patriots Point, just into Mount Pleasant territory, where salty breezes and sunsets are born. There's arguably no better setting either side of the Ravenel.
The resort's website states, "The comfortable, nautically inspired décor blends perfectly with the lush private beachfront overlooking the Charleston Harbor and downtown skyline. You'll love the captivating sunsets over the harbor and soaking in the picturesque views of the Holy City."
According to Rick Carmean, general manager of event sponsor 105.5 The Bridge, families have been adoring the natural stage and fun-filled festivities for a long time. Rick stated, "People who were coming 21 years ago when all this started are still coming, and now they're bringing their kids with them. It's convenient, it's beautiful, and it's a lot of fun."
The small entry fee, amazing sponsors — Charleston Harbor Resort and Marina, 105.5 The Bridge and Ear for Music — and family-friendly feel are the things that have kept patrons flocking to Party at the Point for more than two decades. This year, the party starts on May 6 and wraps up on July 8. Tickets can be purchased ahead of time online or at the gate prior to the event.
The resort is located at 20 Patriots Point Road in Mount Pleasant, where plenty of free parking spots can be found along neighboring roads. If you plan on partaking in the host of beers, wines and cocktails available for purchase, you'll be happy to learn about the easily accessible Lyft and Uber pick-up and drop-off stations.
For more information, please visit 1055TheBridge.com or Facebook.com/PartyAtThePointCharleston. Also, don't forget to head over to Red's Icehouse on Shem Creek for more waterside fun, food, drinks and mingling at the exciting afterparty!
By Lorna Hollifield