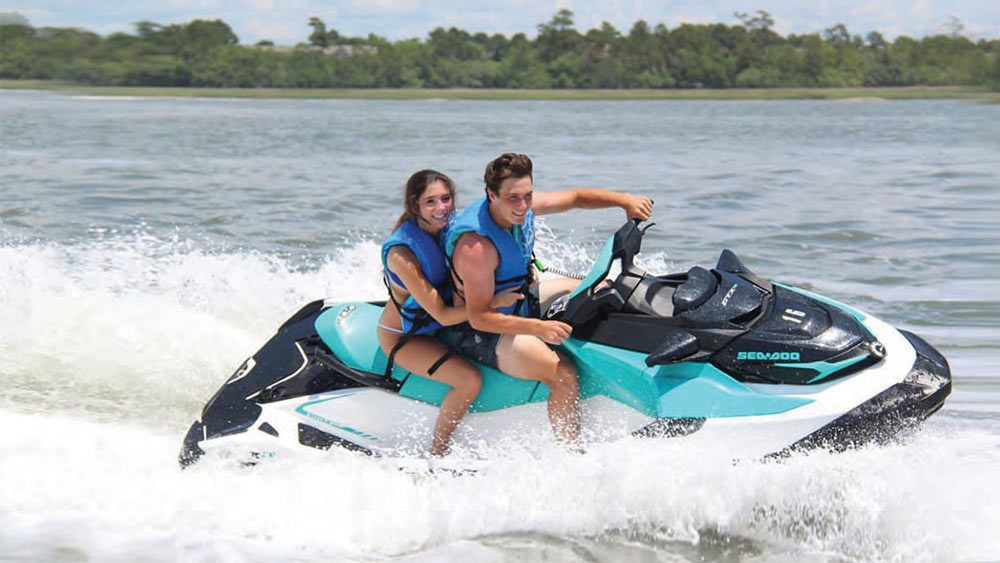 Untold numbers of people have visited the Lowcountry with an eye toward enjoying the marshes, creeks and beautiful beaches. Luckily, there are great opportunities for fun both underneath and atop those welcoming waters.
A good place to start is Carolina Dive Locker, the Lowcountry's premier center for scuba, free diving and spearfishing. Conveniently located where Coleman turns into Ben Sawyer Boulevard, Carolina Dive Locker is an SSI Diamond and PADI accredited dive training center, offering certification classes among many other services.
The Locker was founded by former U.S. Navy diver Jeff Eidenberger. A Michigan native, his passion for underwater exploration was spawned by the many lakes in his home state. He mastered scuba while in the service before becoming a certified hard hat diver. Eidenberg logged many hours exploring sub-surface wrecks, including the Civil War ironclad USS Monitor. Now he is eager to share his love with those willing to learn.
The master diver quickly learned "many people have wanted to try scuba here and, if they liked it, they've gone on to earn the certifications that would allow them to dive at the most exotic and challenging spots in the world."
Eidenberger stressed that from a novice's first dive to his or her highest certification, safety is the first rule. New divers are trained and tested in a controlled environment, currently a swimming pool. When a new diver "graduates," he or she can then take a ride on the Locker's dive boat to explore the nearby reefs. In addition, Carolina Dive Locker sponsors guided dive trips at more exotic locales such as Florida Springs, Bonaire and the Cayman Islands.
For qualified divers who aspire to making dives without an external air supply—a rapidly-growing sport—the Locker offers instruction in the principles of free diving.
"This can be a very attractive option," Eidenberger said, "for swimmers with experience enjoying snorkeling, as I did growing up."
While competitive free divers can plumb depths exceeding 600 feet, free dives with Eidenberger's guides are limited to 30-60 feet for safety. As for spearfishing, Carolina Dive Locker will be happy to dive alongside you, once you've proven you can handle the gear proficiently and safely.
If you don't think the undersea world is your thing, your focus may shift skyward instead. If that's the case, you'll want to head for Shem Creek and Tidal Wave Water Sports. Better yet, ask if you can be picked up by their accommodating van to avoid the parking hassles at the creek.
There, you'll meet Michael Fiem, who founded Tidal Wave Water Sports in 1996. According to Fiem, Tidal Wave offers two distinct over-the-water experiences. One is jet skiing. Takers have a blast zooming over the Charleston Harbor and surrounding waters aboard the popular personal watercraft. For beginners, he recommends the one-hour guided tour that includes Fort Sumter, the USS Yorktown and the Morris Island Lighthouse. For riders who want more, Tidal Wave offers four-hour expeditions that include the backwaters Isle of Palms, Bulls Bay, Capers Bay, Goat Island and Breach Inlet.
"Piloting a jet ski is actually pretty easy to do," Fiem said. "We supply all the instruction and all the life vests you'll need."
If you seek adventure beyond jet skiing, how about the exciting opportunities offered by parasailing? You may already have seen parasailers, soaring through the sky under a specially designed parachute-like canopy pulled along by speed boat.
"That's my favorite activity," Fiem asserted. "We put everyone in climbing-style harnesses and it's an all-around dry experience. We can fly anyone, including kids, who love it! We've even flown an individual with no legs in a special harness we had built…as well as a man aged 96."
Since its inception, Tidal Wave has never had a parasailing accident. Its gear is tested regularly to meet all US Coast Guard specifications. They won't take "fliers" out in sustained winds blowing at more than 20 miles per hour.
"It's very smooth when you're up there sailing," Fiem said. "People are always telling us about their amazement at how quiet and peaceful it is up there, soaring over the world below."
Tidal Wave is even happy to accommodate group adventures. Piloted excursions and private charters are available for up to 15 people.
Between Carolina Dive Locker and Tidal Wave Watersports, adventures big or small are possible. Tourists and locals alike can experience the various waterscapes exactly how they've dreamed.