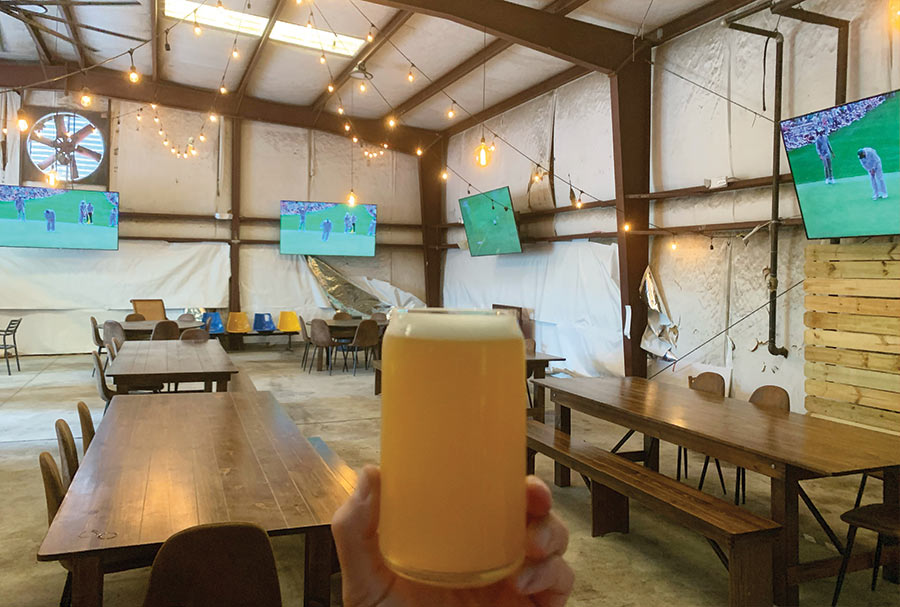 Fall's arrival means college and NFL football, festivals and fairs, plus slightly cooler weather (fingers crossed). Whether your allegiance lies with state teams such as Clemson or Carolina or another school, we can all agree on certain activities associated with football season, including tailgating and football watch parties with family and friends.
If you're entertaining guests, you'll need to be sure to stock that cooler or beer fridge before the big game. After all, football and beer go together like shrimp and grits. The best part is that you can support local business while enjoying your favorite fall pastime. Pair some suds with your sports while supporting our community's local craft beer scene.
Four Mount Pleasant breweries are conveniently clustered off Long Point Road, affectionately known as "Long Pint." This creates easy access to buy a to-go item from each and make your own local craft brew sampler. Another fun option is to watch the games in person at their respective taprooms.
Small-batch brewery Hobcaw Brewing Company has devised some winning plays for football season, including purchasing NFL Sunday tickets and featuring pro games on their massive 86-inch big screens, according to owner Chris Mottram. Hobcaw's hours are noon until 7 p.m. on Sundays. They will show every NFL game in the afternoon windows between their seven inside TVs and one outside TV. On Saturday, they will show the big SEC and ACC college football games as well.
"I think it will be a big draw for customers this season," said Mottram.
No one should drink on an empty stomach, so when hunger strikes, Hobcaw has you covered with rotating food trucks Saturdays and Sundays. If not everyone in your group loves football, they also have live music every Sunday afternoon. The brewery is family-friendly and offers games, including foosball and shuffleboard, so there is something to do for everyone.
For those preferring a take-out option for tailgating or home watch parties, Hobcaw releases a new smallbatch beer each week. You can purchase to-go beers in four-pack cans or 32-ounce crowlers (sealed aluminum cans) of anything on tap, which typically ranges from seven to nine different selections, according to Mottram. You may also bring in your own 32 or 64-ounce growlers to fill. On September 10, Hobcaw will celebrate its two-year anniversary by releasing a bourbon barrel-aged imperial stout, aged for one year in local barrels from North Charleston's Beyond Distilling Company. It will be available on tap and to go. For more information, visit hobcawbrewing.com.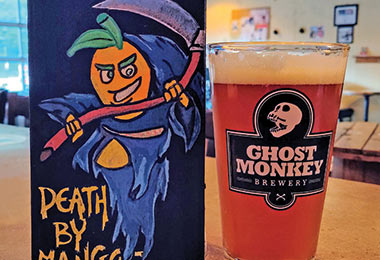 Ghost Monkey Brewery offers another great option. The taproom features a few TVs and shows the bigger games of the weekend in both college and pro football, relayed Partner John Kosky. Brunch Holiday, a food truck, is onsite preparing made-from-scratch pub fare selections infused with Southern flair from Wednesday to Sunday. Ghost Monkey hosts live music Friday and Saturday and music bingo on Sunday. There are other activities to keep you entertained, such as shuffleboard, corn hole and darts.
For to-go tailgating options, they currently sell four-packs of their staple beers and can sell or fill crowlers and growlers with just about whatever they have on tap.
During fall, Kosky said Ghost Monkey typically release a pumpkin spice ale called "Got Uggs,"along with "Mallo Monkey," their take on a s'mores beer. It features a cream ale with marshmallow and chocolate and is adorned with a toasted marshmallow on top. Additionally, they put out their Carolina Reaper and Mango IPA "Death by Mangos" beer. Pepperheads take note: Ghost Monkey concocts an extra spicy version of this fiery brew for a pint challenge. Visit ghostmonkeybrewery.com if you're up to the task.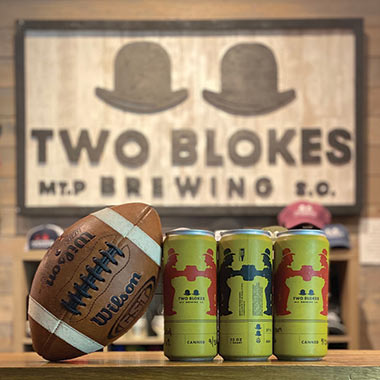 For to-go beers, another "Long Pint" favorite, Two Blokes Brewing, offers a selection of four-packs, 32-ounce crowlers and barrel-aged bottles.
"The varieties are always rotating, and we often have discounts on to-go beer during game days," said Two Blokes Operations Manager Michelle Lapp.
If patrons want to glimpse the gridiron action in-house, they have two large TVs in the taproom, which are always showing football games during the season. They have food trucks parked at the brewery Wednesdays through Sundays and usually host live music every other Saturday in the taproom from 5:30 to 8:30 p.m. In the fall, Two Blokes puts out cornhole boards, though the game must be played outside where there are no TVs. But hey — that's what halftimes are for. Be on the lookout for their new fall brew, "Hayride Marzen," slated for September release. Check out twoblokesbrewing.com for more details.
Finally, Westbrook Brewing sells bottles, cans and crowlers filled to-go during their tasting and tour hours. Additionally, they will fill any 32 or 64-ounce growler you bring into the brewery. They feature a full list of their available to-go items on their website, westbrookbrewing.com. Also check their website for any upcoming events or new beer releases.
Whether lager, ale, IPA, porter, stout, saison or sour, you'll find your preferred style in Mount Pleasant's Long Pint craft brewery district. Hoist a pint, can or crowler and cheers to craft beer, football and fall
By Colin McCandless