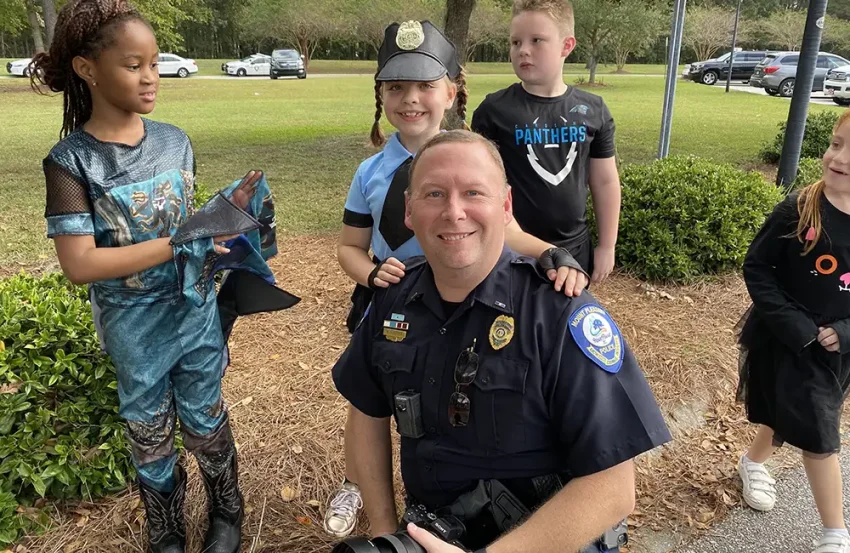 At the age of 12, Mount Pleasant Police Department Captain Chip Googe already knew exactly what career he wanted to pursue when he grew up.
Googe's father worked for the Charleston County Police Department, eventually moving to the Charleston County Sheriff's Department. His uncle worked in law enforcement as well. Growing up around a family with law enforcement ties made an early impact.
"From the time I was 12 or 13, I was a police cadet with the sheriff's office," Googe recalled. "They'd take middle and high school kids and teach them about law enforcement. Students got to compete in different events within the state. It prepares them for a job in law enforcement."
Googe's background, coupled with that strong family foundation, placed him on the path to becoming a pillar of safety and support within his community. Following his training, Googe became a Mount Pleasant Police Department (MPPD) officer in 1996.
The department has evolved since Googe joined the force in the mid-90s. Back then, Mount Pleasant's population was only around 30,000; now it has more than tripled to over 90,000.
Googe witnessed the changes in the town throughout the years, many of which presented challenges. "Starting off with only 45 to 50 officers and then seeing the population boom… with that brings new and different problems," he reflected.
When he started, an officer's tool belt consisted only of a radio, a gun, a baton for self-defense and some pepper spray. Now, it's a body camera, in-car cameras and other advanced technology. Calls are now more in-depth and challenging. Googe noted that Mount Pleasant's recurring crimes are car break-ins, domestic violence, DUIs and property crimes. There has also been an increase in responding to individuals in mental health crisis.
"Back when I started, mental health crises weren't our big focus," recalled Googe. "You handled it as a crime, they went to jail and then you moved on. Now, we focus on mental health and those who are in crisis, doing our best to get them the help they need. So, we have almost become 'mental health counselors.' We have training for those types of things. The police department has taken on more and more roles as society identifies important issues."
Googe helped oversee some of the changes at the department as well. He is personally responsible for launching the department's social media channels, the drone program, body camera program and overseeing two Gold Standard re-accreditations. Googe also earned numerous accolades throughout his career. He is the recipient of the 1996 Distinguished Graduate and First Responder of the Month Award, the 2013 Visionary Award and 2018 Life-saving Award.
After serving the community for the past 28 years, Googe decided to retire from the force.
"Chip Googe is like a brother to me," MPPD Captain Pat Carter stated. "He has shown what a police officer should be so many times, and more importantly, what a Christian man, father and husband can be. He has served the Mount Pleasant community for 28 years like he would want his family to be treated. He is a credit to the town, and I am blessed to call him my friend and brother."
Throughout his nearly three-decade-long career, Googe accumulated many memorable stories. Perhaps his most memorable one happened during his early years as an officer. What seemed like a routine DUI traffic stop quickly escalated into a car chase and subsequent shootout, followed by an officer being fired upon. The suspect was killed, a tragic and sometimes unavoidable outcome in this line of work.
In 2018, Captain Googe came across a vehicle that appeared to be disabled at the on ramp to the Ravenel Bridge from I-26. When he encountered the driver, who was standing between the truck and the barrier, Googe saw a bizarre look in the young man's eyes. As he turned, the man revealed a severe cut on his neck. He was contemplating suicide by leaping from the bridge. Googe summoned backup and tried to get the young man talking. He had to keep his distance since each time he approached, the man stepped closer to the edge.
Time warped. It felt like they'd been talking forever, but it was only a few minutes. Backup arrived. The man had lost a lot of blood, and Googe saw he was about to lose consciousness. He motioned to a fellow officer to jump in the bed of the truck. As the man began to faint, the officer grabbed him and pulled him to safety. EMS loaded him in the ambulance and left. The man in crisis had been given a second chance at life.
It was more than just another day on the job for Googe. It was a life saved.
"The Lowcountry has a good group of officers, the town of Mount Pleasant, especially," Googe added. "We've done such a good job picking the right group of people. The heart is in 99.9% of the men and women who do this job."
By Maurice J. Frazier