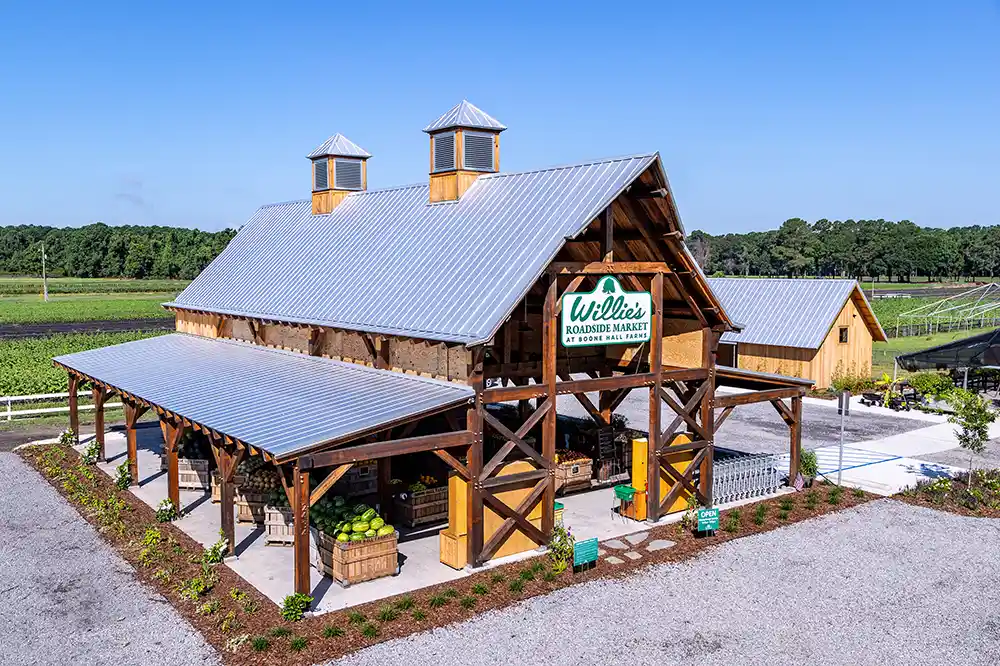 "If you build it, they will come."
Boone Hall Farms has been growing its own "Field of Dreams" for decades and they've certainly reaped what they've sown. Supply and demand has always been there, but now there's a market for it, literally.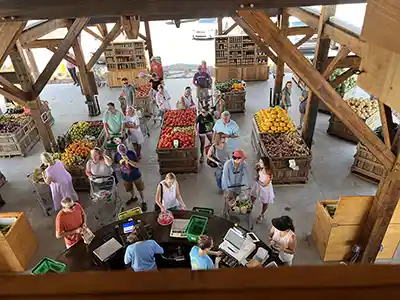 Surrounded by 150 acres of farmland, beside the busy thoroughfare that is Highway 17, stands an open-aired, timber-framed structure. This rustic, farm-style building is Willie's Roadside Market.
After many harvest moons of discussion, on July 8, Boone Hall unveiled the market to the public. Thanks to Coastal Structures, Building Art, LLC and Reggie Gibson Architects, one man's vision is now a reality.
The farmers market's namesake pays homage to the historic antebellum plantation's owner Willie McRae, who passed away in April 2020 after a long battle with cancer. The year before he passed, the McRae family entered Boone Hall Plantation into a conservation easement agreement with the Lowcountry Land Trust to ensure that the entire 738 acres that comprise Boone Hall will remain preserved, protected and intact and future development will be restricted in perpetuity.
Although McRae's life was cut short at the age of 65, his legacy lives on through the fruits of his labor that blossom every season from the grounds of his creation.
Willie's is open six days a week, Monday through Saturday, from 10 a.m. to 5 p.m. Every day of the week features a special discount. Early birds get the worm, so come early and come often.
SEASONAL SPECIALS
Earlybird Monday: 10% discount from 10 a.m. to noon
Two for Tuesday: Varies weekly
Peachy Wednesday: 10% off peaches
BOGO Thursday: All watermelons buy one get one free
BYOB Friday: 5% off your purchases with your own reusable bag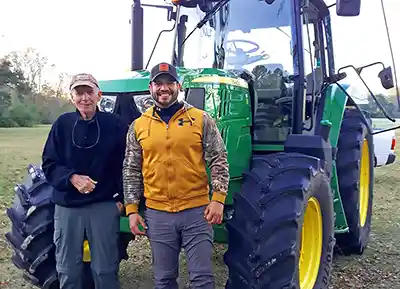 This farm-to-market experience is only made possible through the hardworking staff, many of whom have been on hand for generations. Boone Hall Farms Manager Erik Hernandez knew McRae like a father and considers himself to be one of his fortunate sons.
Boone Hall hired the Hernandez family after Hurricane Hugo struck in September 1989. McRae needed help cleaning up storm debris strewn along the Avenue of Oaks. They've been family ever since.
"He was like a dad to me, an example for me to follow, not only farming but about life," Hernandez said. "It's all about making him proud. For us he's still here and we still follow what he always wanted and dreamed of."
Hernandez and a team of 10 maintain the farm from dawn to dusk. One of the staff members is his uncle, Gilbert Hernandez, who is head of the grounds and has worked on the farm for 30-plus years.
So far, Mother Nature has blessed Boone Hall with a bountiful harvest this year. Watermelons, tomatoes and peaches were among the hottest commodities that customers sought this summer. This fall, Hernandez expects their squashes to be a hit, as well as their picturesque sunflower patch, which was his original idea that he planted without McRae's permission. From the looks of the social media craze, it proved to be a savvy marketing decision.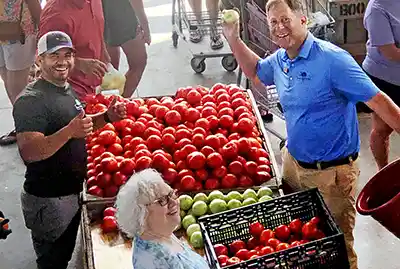 When Boone Hall isn't growing a particular crop, they cultivate what are called "cover crops" to help bring back nutrients from the soil and minimize the use of fertilizers. No acre is taken for granted.
When asked how many daily visitors come to the market, Hernandez laughed and replied "too many to count." He said the most rewarding part of the job is watching them leave with a smile.
"It's a true farmers market in the middle of Mount Pleasant," Hernandez said. "Not every city is as lucky as we are to have that."
Boone Hall Plantation General Manager Jim Westerhold said they get a lot of comments from the community saying, "Willie would be proud." Westerhold, a former professor at Horry-Georgetown Technical College, was McRae's personal choice to be his successor.
On the property, not visible from the market, is a live oak planted in memory of McRae. The spot marks where he used to sit and watch outdoor concerts. Now, he's watching his legacy live on from a greener pasture.