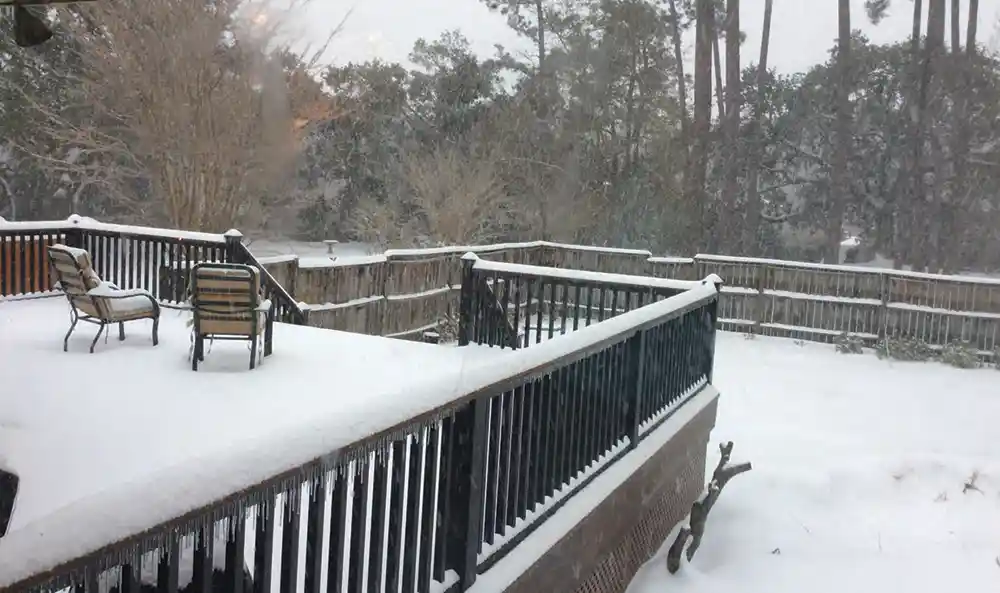 If you're dreaming of a white Christmas, you've come to the wrong place. It's not likely that snow will be in our forecast for the holidays, but in these days of wacky weather, you never can tell. We've had our share of sunny and warm Christmas days here in the Lowcountry, but there have also been a few harbingers thrown in. In 2018, just after the holidays ended – and two days after the new year was ushered in with temperatures in the 70s – the year started out with more than 5 inches of snow, the third highest amount ever recorded here. The snowfall was followed by nearly a week of below-freezing temperatures and highs reaching only into the teens. Drivers were warned to stay off the roads due to the hazardous icy conditions, but several fatalities occurred when people attempted to simply walk on the ice.
Another bizarre winter storm that many long-time locals remember is the 1989 snowstorm, which happened just three months after Hurricane Hugo wreaked havoc. That one did give us a white Christmas – and even provided a bit of Christmas magic by covering up the mounds of debris and devastation that the hurricane had left behind. Eight inches of snow fell from the evening of Dec. 22 to the 23 and stayed around through Christmas Day.
But even without snow in the mix, there have been terrible ice storms when sleet and freezing rain has chilled the Lowcountry to the core, like in January 2011 when icicles draped live oak and palm trees as well as power lines. That meant many folks lost electricity when those power lines came crashing down—which made things pretty miserable since it meant that many homes had no heat. Along the coast, nearly an inch of ice accumulated. Three years later, the Lowcountry was hit with two consecutive ice storms – one in January and an even more severe one just weeks later which brought a third of an inch of freezing rain. That one forced the authorities to close the Ravenel Bridge when giant icicles hung on the bridge's cables and later fell onto unsuspecting vehicles.
Even though such occurrences might (thankfully) be the exception rather than the norm for our area, early European settlers in the Lowcountry found that their new home would have its trials and tribulations during the winter. A local newspaper, the South Carolina Gazette, reported on Jan. 2, 1737, that frozen ponds and creeks were covered with a layer of ice 3 inches thick.
But winter storms don't confine themselves to January, often considered the coldest month of the year. On Feb. 12, 1899, a severe blizzard blasted most of the Southeast, including the Lowcountry. Temperatures here plummeted to 7 degrees F and 4 inches of snow blanketed our area. Another February storm occurred in 1934. Lowcountry resident Yvonne Kanapaux said her parents got married on Feb. 10 during that ice storm. She remembered being told that her father had always jokingly predicted that "it would be a cold day in hell when he got married!" And February 1973 brought a record snowfall of 7 inches. Some locals seized that opportunity to use the old Cooper River Bridge as a ski slope.
The winter of 1784 proved to be a particularly bizarre set of weather anomalies. Due to the El Nino effect ushering in unusually cold temperatures to eastern North America coupled with the effects of an atmospheric low caused by a volcanic eruption in Iceland, frigid water temperatures froze up Charleston Harbor. It was reported at the time that some daring local residents ice skated on the surface of the harbor. Hard to imagine, but fact or fiction, it does allude to an extreme weather event.
Snow and icicles adorning the Palmetto State's namesake trees might make for an interesting holiday photo replacing the iconic images of snow that appear on commercially produced Christmas cards – scenes that Lowcountry residents have never been able to relate to anyway. But when Old Man Winter pays a visit to our area, it's not exactly picture-perfect. So this holiday season, just be careful what you wish for!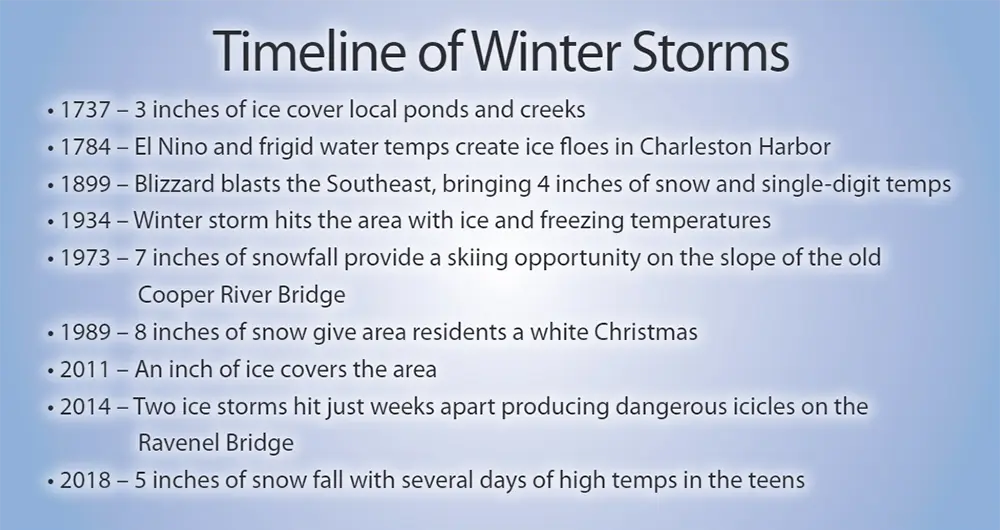 By Mary Coy