Charleston native Carl Ritchie has always lived a life of service. From the military to law enforcement to Mount Pleasant Town Council, everywhere he goes he tries to leave things better than he found them. Presently his focus is on the South Carolina Special Olympics Powerlifting team, where he's using physical fitness and strength training to empower young athletes to succeed in the gym and beyond.
Born and raised in Charleston, Ritchie joined the Air Force as a young adult, serving his country before returning home to pursue a career in law enforcement. Originally hired by the North Charleston Police Department, Ritchie transferred to Mount Pleasant six months before Hurricane Hugo decimated the area. Talk about trial by hurricane; as Ritchie helped his beloved Lowcountry recover, he knew he'd found his calling.
In 2013, Ritchie was promoted to chief, ultimately spending over three decades with the department. One of his proudest moments came in 2015, when he helped organize the Unity Walk that followed the Mother Emanuel AME Church massacre. "Over 10,000 people crossed the bridge on that walk," he said. "We were able to protect our town while also protecting the rights of the people who wanted to protest the right way."
Ritchie retired from police duty in May 2021 and promptly found a new way to serve—he ran for Town Council. "I wanted to find a new way to take care of our community, especially my police and fire guys," he said. He won his race and currently serves on the Mount Pleasant Town Council.
Powerlifting and the Special Olympics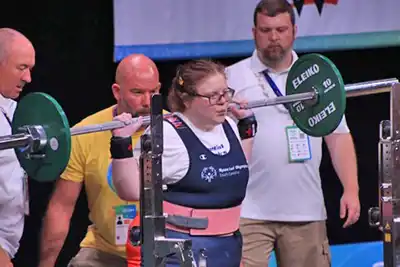 Ritchie also gives back to the community through championing the Special Olympics, a cause which he has been involved in for a long time. His love of powerlifting eventually spurred him to help in this specific area. "I have a passion for powerlifting and fitness," said Ritchie, a competitive powerlifter who represented South Carolina in the Police and Fire Championships in 1997. Several times he received the honor of lighting the torch for the Law Enforcement Torch Run, escorting a Special Olympics athlete at the run's start. The torch travels from the coast up to Columbia in a multi-day run as a kick-off to the annual Special Olympics South Carolina competition.
When Ritchie heard that the Special Olympics has a powerlifting event but didn't have a team here in the Charleston area, he knew he had to get involved. "I made some inquiries, checking on athlete interest in the area," he said. A handful of athletes expressed interest, so in 2015 Ritchie launched a team. Ultimately, only three athletes competed that year. "It takes so much to compete in this sport," he added. Special Olympics powerlifters are held to the same standards set by the International Powerlifting Federation. They train year-round to stay fit and competition ready. However, despite the challenge inherent in those rigorous standards, Ritchie loves this inclusion. "It shows these athletes are no different from other athletes," he stated. "They're just as strong. Just as passionate."
Special Olympics powerlifters can compete in the same three disciplines as standard Olympic powerlifters: squats, bench press and dead lift. Divided by weight classes, they're judged on the control, depth and smoothness of their lifts. Ritchie's team found success at both the state and national levels. He now coaches the statewide team and brought four of his athletes to the Special Olympics national games held in Orlando, Florida, in June 2022.
The Athletes and Their Success
To Ritchie, it's the athletes doing all the hard work and making his job so rewarding.
Mark Vito is a 29-year-old who competes in the 165-pound weight class. He works full time at Boone Hall, riding his bike to work each morning. "He has such a great work ethic," said Ritchie. "He trains hard, never missing workouts, and he gives it everything he has." His work ethic resulted in four gold medals at the national games last June, and Vito has only been increasing his weights since then.
Katie Spears is a 24-year-old competing in the super heavyweight class. At nationals last year she dead lifted 190 pounds; recently, she lifted 215, demonstrating her love and passion for the sport. "Katie's saying to me all the time, 'I don't quit, coach. I'll never quit,'" said Ritchie. "She gets after it, every time, and gives it everything she has."
"Powerlifting gives my athletes confidence," Ritchie added. "We focus on stretching and movement as well as diet and nutrition. We talk about eating to perform. My gym family (the folks we work out with every week) are always giving advice about how to train your body, and how to eat for success. Altogether, it helps their mobility and their confidence. When the athletes started many years ago, they didn't know how to grip the bar or listen to commands. Today, I'm confident they can both be coaches themselves."
To Ritchie, powerlifting is about more than just strength training. "I used to tell my police officers: when you're physically fit, you're mentally fit," he said. "They go hand in hand. When you work hard and get strong, you'll have that confidence to face anything that may come your way. I know my athletes take that seriously, and I know they apply it throughout their lives."
By Leah Rhyne