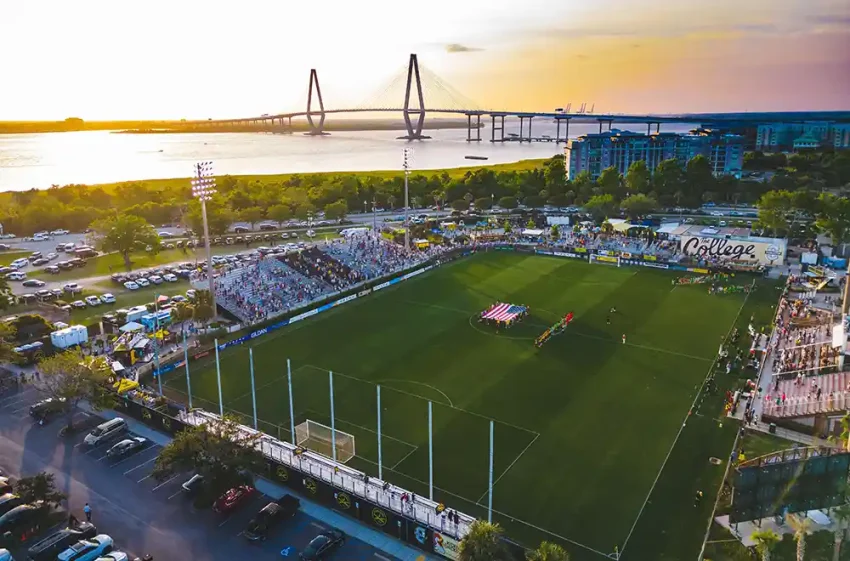 Move over and make some room baseball. America has fallen in love with all things soccer. The sport has seen an explosion of popularity among fans and players, from youth to professional league teams and every level in between.
It's no different in the Lowcountry, and perhaps even more so thanks to our beloved Charleston Battery. While making Charleston residents and soccer fans proud since 1993, the Charleston Battery, a United Soccer League professional soccer club, has continued expanding its offerings, including stadium improvements, to bolster the fan experience.
This era of change started in late 2019 when the Battery was purchased by Rob Salvatore of HCFC, LLC. Exciting developments have been steadily rolling out, continuing into the 2023 season. The Battery have played at Ralph Lundy Field at Patriots Point Soccer Stadium in Mount Pleasant since 2020 and bill themselves as having "a seat for every style of supporter." They also boast that beautiful Patriots Point backdrop of Charleston Harbor and the Arthur Ravenel Jr. Bridge.
Citing the ongoing stadium improvements, club president Lee Cohen said, "Our ownership group, led by Rob Salvatore, has been very forward-thinking about the fan and stadium experience over the last couple of seasons. This offseason, we were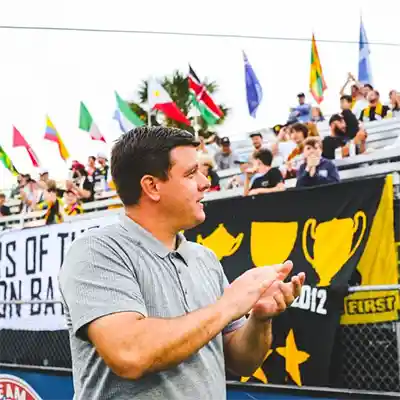 able to add more hospitality spaces with new party decks and a new sound system. We reconfigured the pavilion to allow for more food vendors and, most importantly, we have created a place where all former players, staff and coaches can congregate on game days now, at the Michael "Augie" Anhaeuser Alumni Deck, named after the club legend."
Also new in 2023 is head coach Ben Pirmann, who signed on in November 2022 and has hit the ground running, tallying an impressive eight wins, three losses and a trio of draws as of late May. Pirmann comes to Charleston from Tennessee after coaching the Memphis 901 FC. He brings solid experience and a proven track record, having been named 2022 USL Championship Coach of the Year.
Cohen spoke highly of the new head coach: "You always have high expectations each offseason of improving from the previous year. Ben Pirmann has been as advertised. He led a very talented group of players to the top of the table in the USL Championship Eastern Conference a third of the way through the year. Our relationship developed quickly. We both have a vision for bringing pride back into the club. The Battery are known around the region as being a club that wins and entertains. I believe Ben has the team on the right track to bring that pride back into the club and the community."
As for the coach himself, Pirmann stated, "Obviously we have had a great start to the season. We have already won as many league games this year as all of last season (six), and we won more matches total (eight) in the first 14 total matches in all competitions (the league and U.S. Open Cup) than all of last season. However, with that initial success brings added expectations. Therefore, the staff and the players have had to ramp up our processes to make sure that we are improving at a more rapid rate. We have had a bit of a target on our back from opponents throughout the league."
The air is electric these days at Patriots Point Soccer Stadium with owners, staff and fans sharing in the exhilaration of a great team and a phenomenal venue with many features and attractions to accommodate supporters. Anticipation is high that the team will continue its run of success throughout the remainder of the season.
"We believe with this coaching staff and the group of players, we can be playing meaningful games late into the fall and the playoffs," Cohen added. "We have had fantastic support from the community. It will be important for us to build on this support and continue to provide a best-in-class fan experience to anyone that attends games at Patriots Point."
Tickets can be purchased at charlestonbattery.com or at the stadium. See you on the pitch!
By Jack Lovingood