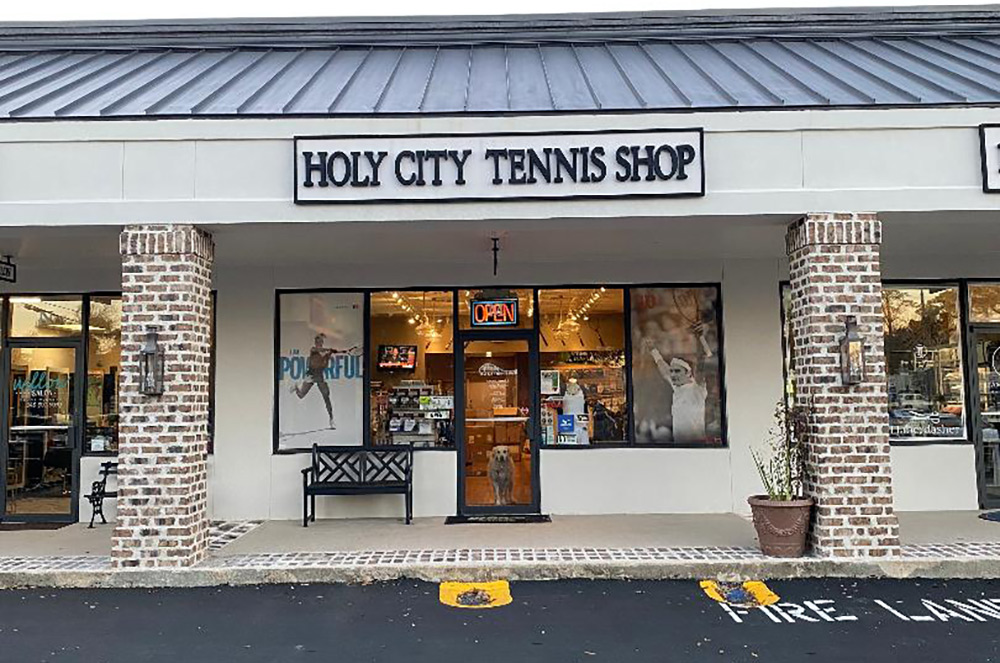 Walk into a random sports shop asking about tennis and you will probably find someone to point you to some racquets and tennis balls. Entering Holy City Tennis in Mount Pleasant offers a completely different customer service experience. When owner Daniel DiNardo greets you, you'll be in the capable hands of a professional committed to making your tennis game as good as possible.
He has the knowledge and desire to match you with the equipment best suited to your skill level and playing style — not just "the racquets over there."
Because DiNardo doesn't "just run a tennis shop," he makes every inch of it part of his daily life, always with an eye on improving customer play and products. "We are absolutely the best tennis shop in the area," said DiNardo, who opened Holy City Tennis in 2017. "All of Charleston, and especially Mount Pleasant, has a large tennis community — and with us, you get a knowledgeable staff and all the products and accessories to help advance your game to the next level."
For example, suppose a customer needs a racquet, but isn't sure what to choose. Besides explaining Holy City's choices, like Babolat, Wilson, Head, Tecnifibre and Yonex, DiNardo will offer advice on which racquet would be best for your level of play and budget. Even if a customer has never played a game, DiNardo will walk them through their equipment options and clothing — detailing similarities, differences and the best choices to groom them into the game for success. "We offer professional racquet stringing with 24-hour turnaround, and racquet customization with balancing, grip and grommeting," DiNardo said. "And if you still aren't sure, we also offer a five-day demo program, with three racquet demos per customer. I want to make sure you are happy with the racquet you use."
Some customers have played for years and have already attained the highest level of play they hope to reach. However, this player might commission DiNardo to restore a longtime favorite racquet to good-as-new shape or help them psychologically for the next match.
All the reasons mentioned above are why DiNardo opened Holy City Tennis six years ago; he saw an opportunity to create a go-to tennis place for an area whose name is now almost synonymous with tennis. The City of Charleston, for instance, boasts 87 courts, 74 lighted for night play. The Charleston Area Ladies Tennis Association sponsors leagues at four levels. Both Charleston Tennis Center and Maybank Tennis Center sponsor United States Tennis Association teams in all adult, senior, super senior, mixed doubles, combo and singles leagues.
Regardless of your level or ambition, Holy City Tennis is the place to start and to return in a town that offers so many playing options. "We have many junior customers as well as many who are 55 and older," DiNardo said. "My favorite part of the job is interacting with our customers and providing them with the utmost knowledge and professional service."
For more information, please visit TennisShopMountPleasant.com, or call 843-284-8977.
By L. C. Leach III