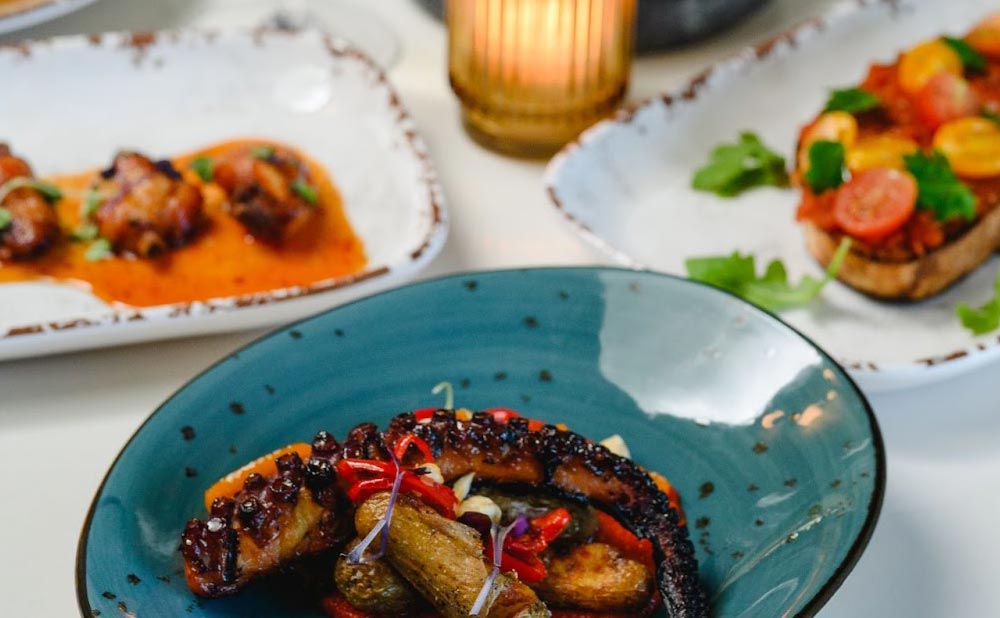 On Jan. 31 the front doors opened to Sommbá Cocina restaurant, and the shape of dining in Mount Pleasant would never be the same. From the high-octane team that brought you SAVI Cucina and Wine Bar, Sommbá promises small plates with big flavor — and an even bigger wine cellar—to keep guests coming back for more.
When they set out to open their new restaurant, business partners and husband/wife duo Karen and Ty Raju wanted to channel one thing: energy. "We wanted a space and a name with loads of energy to convey that this is going to be an amazing spot for food and beverages," said Karen.
Added Ty, "So, we sat around chatting with some of the members from our team who have been with us since SAVI. We may have had a glass of wine or two. The name Sommbá came up a couple times, and it was a great play on words. The samba is a high-energy dance, and as we thought about our concept, we couldn't think of a better name. We're putting together a dance between great wine and great food. They're moving in lockstep together."
The dance flows through their menu, where you'll find influences from Spain, France, Italy and the Mediterranean coast. From the whipped sheep's milk feta with chili oil, pickled fennel, spiced honey, almonds and sourdough pita, to the octopus a la Plancha with harissa romesco, hazelnut, pickled peppers and crushed fingerling potatoes, the eclectic flavors are bursting from every bite.
Their choice of cuisine stems, in part, from Ty's childhood. "I grew up in Queens where ethnic food was everywhere," he said. "One night you'd have Spanish food, and the next night it was French or Italian or Chinese. We felt like Spanish was missing here, but we didn't want to limit our menu to just Spanish food. We also felt like we needed a restaurant in Mount Pleasant that had the feel of SAVI, which is a little bit sexy."
They've put together what they call the "most incredible culinary team," including a chef who is famous in Venezuela. "We hired him as a line cook, and then we saw his knife skills," said Ty. "We realized; this guy is the real deal." The team already has aspirations of making Sommbá a James Beard Award nominee.
With four sommeliers on staff, the wine cellar is as much a feature of Sommbá as it is at SAVI. And, added Karen, they are extending privileges for members of their wine club, the SAVI Society, to Sommbá. Members can go to Sommbá Cocina to taste five different wines, then pick the bottle(s) they want. They can even enjoy a bottle with their dinner that night. "Plus, our cocktail program is super strong," said Karen. "We want to be the late-night destination in Mount Pleasant."
"We're planning to be open on weekends at least until 11 or midnight," added Ty. "If the bar is full and it's rocking, we'll stay open. We'll never shut the party down."
For more information, please visit sommbacocina.com, or call 843-476-4410.
By Leah Rhyne