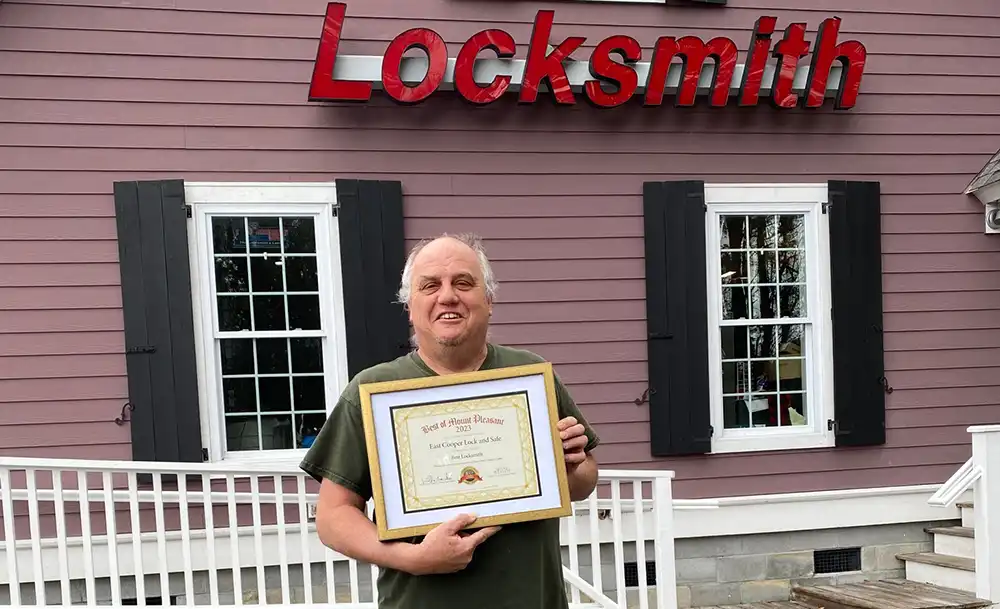 Raised on the Isle of Palms, Larry Spears, owner of East Cooper Lock and Safe, is the true definition of a local. His deeply-rooted Southern .values, sense of family and commitment to his community are reflected through his business every day. Established in 1981, East Cooper Lock and Safe has helped transform the East Cooper community.
"Over 40 years ago, my stepfather started the business with his business partner Bruce Thielen. I got into the business around 1983. So, for me it's been 42 years. We started off in a little hotel room, and the hotel was called H Square," shared Larry, beaming as he recounted a little family history.  "I've been a part of this community for so long. You can't find a locksmith anymore with a storefront. Just think about it. If I took my business out and closed these doors — that almost isn't fair to Mount Pleasant. If someone really needs to come out to get a key or lock, I'm it."
Spears' love for his business and "always available" feel keeps his customers coming back or referring him to neighbors. That's why East Cooper Lock and Safe has been the winner of "Best of Mount Pleasant" for several years. The success of their business comes from hard work, honesty and allegiance to the community. A small business' reputation is paramount to running a successful operation. With great longevity in the industry, it's no surprise how Spears and his team are impacting the Mount Pleasant community.
"I love working with the community," said Spears. "I love to make customers smile or laugh. When they laugh at my jokes, I know I got them. I have that great character to pull them in; I'm genuine. What you see is what you get. The community has been amazing."
Spears not only has a great personality, but his quality products separate him from his competitors. And they can do more than just retrieve those keys you locked in your home or vehicle. East Cooper Lock and Safe also specialize in decorative hardware for your home or business. Looking for brass and bronze features? Top Knobs, well known for their vast collection, is the perfect fit for that dream kitchen. Want a company who designs and assembles in the United States? Try Emtek, elevating your space to the vision you desire.
East Cooper Lock and Safe is dedicated to serving our community and providing a first-rate customer experience. You don't stay in business this long if you're not the best at what you do.
For more information, please visit ECLockSafe.com, or call 843-881-2044.
By Maurice J. Frazier