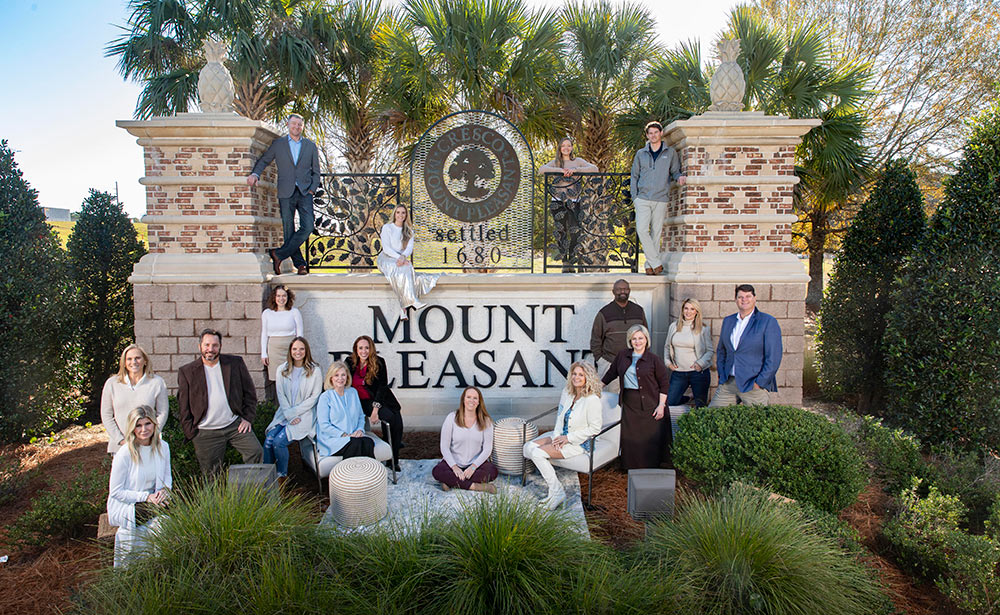 I'm sure you've heard the saying, "a picture is worth a thousand words" or "it takes a village." Both of these popular expressions apply to the journey I recently embarked on, which culminated on Tuesday, Dec. 13, in front of the iconic "Welcome to Mount Pleasant" sign at the Long Point Road exit.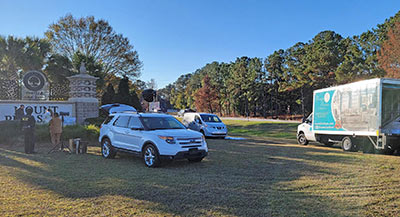 The journey began with a lot of questions, concerns and just plain what-ifs. Would town officials or the police department even allow us access to the sign? With the thousands of vehicles speeding past this area every hour of every day, would we be safe?
Because Mount Pleasant Magazine had interviewed Chief Mark Arnold on our community podcast, MountPleasantPodcast.com, I knew Donald Calabrese, the public information officer (PIO) would help me coordinate this. Don was easy to work with, and we had built a mutual trust. When I reached out to him, he told me he was no longer in that position, but to call Senior Police Officer William Martin. (⇣ Article Continues Below Video)
Best of Mount Pleasant Podcast: Mayor Will Haynie
Officer Martin was very accommodating. I'm sure it's not every day someone inquires about taking a photo using the famed sign as a backdrop. During one of our numerous communications, he referred me to Sergeant Ashley Croy, Mount Pleasant Police's new PIO officer. She was a joy to work with, and I felt she understood what Mount Pleasant Magazine was striving to accomplish. Her number one priority was to assist in putting the right people in place for safety. Traffic officers Mathis and Culnon were commissioned to help facilitate the dream. By the end of the shoot, they were like part of our publishing team.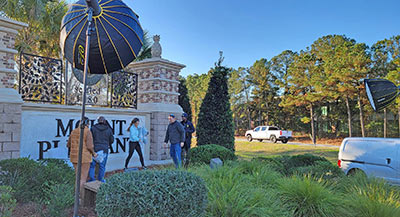 We had the greenlight, but still needed to prepare for perfection. After visiting the location with photographer Mark Staff, Haven's Furniture owner Angie Balderson, Haven's designer Vilmarie Bennett and managing editor Lorna Hollifield, I couldn't help noticing how untidy the sign looked when viewed up close. I felt awkward asking our mayor to pressure wash the sign, but I texted Will Haynie anyway. I wanted to get the best photo possible. So, I asked, "Could you get town maintenance to clean the sign, please? We are shooting the Best Of 2023 cover and it would be the best reflection of our town."
A couple of days after my text, I ran into Mayor Haynie at the Mount Pleasant Chamber Christmas party. I told him how awkward I felt asking him to get the sign pressure washed. Seamlessly he said, "Bill, your magazine is about Mount Pleasant. Don't feel awkward asking me to do something that would help our town look better." The next day Town Administrator Eric DeMoura emailed me to inform me that the sign would be washed, and the landscape would be worked on for the Best Of 2023 cover shoot.
I'm sure after viewing the 2023 Best Of photo, knowing what went into capturing this image, the popular expressions first mentioned ring true. It does take a village to make something happen, and a picture is worth a thousand words. Thank you to everyone who helped bring this to fruition. I feel so blessed to publish this magazine about the town that so many people love to call home.
Best of Mount Pleasant Podcast: Mount Pleasant Police Department