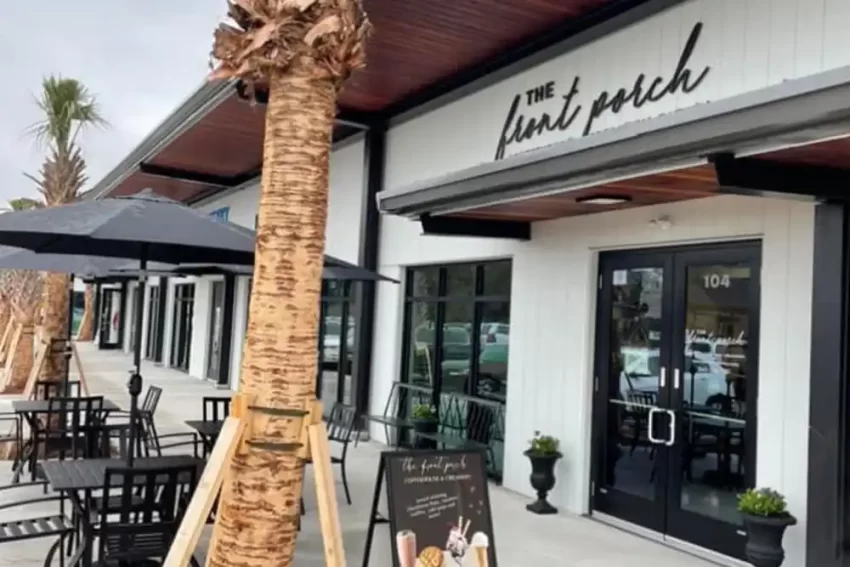 12-year Marine Corps Veteran and business owner Webb Cheshire of The Front Porch Coffeehouse and Creamery has a passion for food stemmed from his formative years. Cheshire received his culinary training in Monsac, France, east of Bordeaux. "I was classically trained in Monsac, France, as Chef de Cuisine and Pastry. I thought that was where I was going to go. Then, the Gulf War happened, and I wanted to go and fight." His culinary dreams went on the back burner.
Cheshire returned to his culinary roots with Charleston Pops, an award-winning gourmet dessert and catering company featuring handcrafted frozen, baked and custom pops that are locally-sourced and all-natural. The treats are sold in eight locations throughout the Southeast. Webb and his wife and co-owner Diana decided to expand into a brick-and-mortar operation, finding a new home at The Front Porch Coffeehouse and Creamery last year.
Located in North Mount Pleasant, The Front Porch Coffeehouse has quickly become a staple. Not only do they provide a place for fellowship over coffee, salads, sandwiches and desserts, but the building serves as a space for community. The Cheshires have a passion for local causes, serving as host to "Coffee with a Cop," and sponsoring "Honor and Remember: Run for the Fallen," and the monthly Veterans Homeowners Association meeting.
The Cheshires know great food, recognize the importance of community and understand how to make these elements come together right on "the porch."
For more information, please visit TheFrontPorchSC.com, or call 843-388-7161.
By Maurice J. Frazier