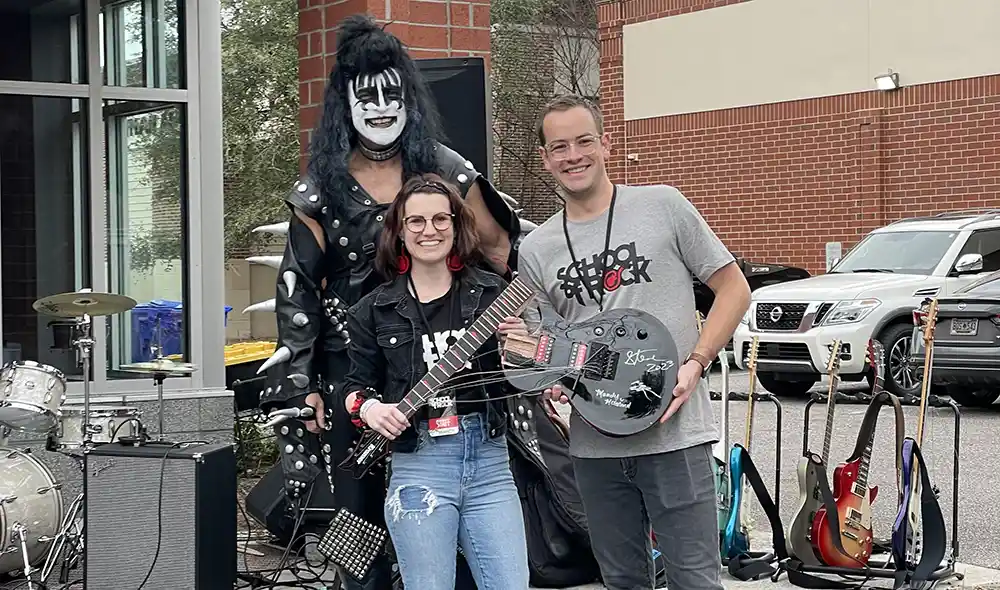 For anyone that has ever dreamed of living the rockstar life, you know that the family a band creates is a special thing. School of Rock in Mount Pleasant is a place to make dreams a reality.
The organization works with students and has programs for adults. You truly get the rock band bonding along with growing your own musical skills.
School of Rock has been around since 1998 and has more than 330 studios worldwide. Their Lowcountry location is the only one located in this area. The experience allows musicians of all ages to grow into a rock band and showcase their skills at rock shows.
Since their grand opening in January, School of Rock has put on a showcase concert at Commonhouse Aleworks in Park Circle and just had their most recent concert at The Windjammer playing 90's rock tunes. The shows are always centered around a theme and put on at least four times a year. British Invasion was the theme of the last rock show and their upcoming show will showcase 90's rock.
Owner Matt McFarland and his wife Mandy run the school together and pride themselves on having a place where students can come and find community. During rock band practice, there can be up to 20 students hanging out while casting is happening for different songs.
This couple knows all students' names and knows them personally. They know that this is important with how big schools have become in the Lowcountry area. They strive to ensure that School of Rock is a "space where kids get dropped off and it's their space. A space where they feel welcomed," McFarland said.
McFarland commented that it is not uncommon for students to come and hang out even if it is not their band practice time. The sense of community and comradery are an important element to the rock band experience for students.
School of Rock provides a comprehensive program for musicians at all skill levels. The program uses a patented curriculum and includes one band session a week along with one private lesson. Students are enrolled in both simultaneously to ensure that they receive the musical support that they need along with the true band experience.
The instruments that are offered at this establishment are the five main rock instruments which include guitar, bass, drums, keys and vocals. Their approach is different then traditional musical lessons because they don't offer private lessons in isolation. The band experience meets musicians where they are while giving them the chance to get used to playing. Adult musicians often need to fine tune their skills and relearn as they play with others.
The relaxed approach gives all experience levels the chance to grow together and make music in a fun, intimidation-free zone. There is no experience needed and there is something for everyone.
Enrollment is always open and constantly rolling into the next band experience. It allows for the flexibility to jump in at any time. If you're looking for a musical, community-building journey, School of Rock is a great place to start.
For more information, visit schoolofrock.com or call 843-258-1181.
By Cari Lawson