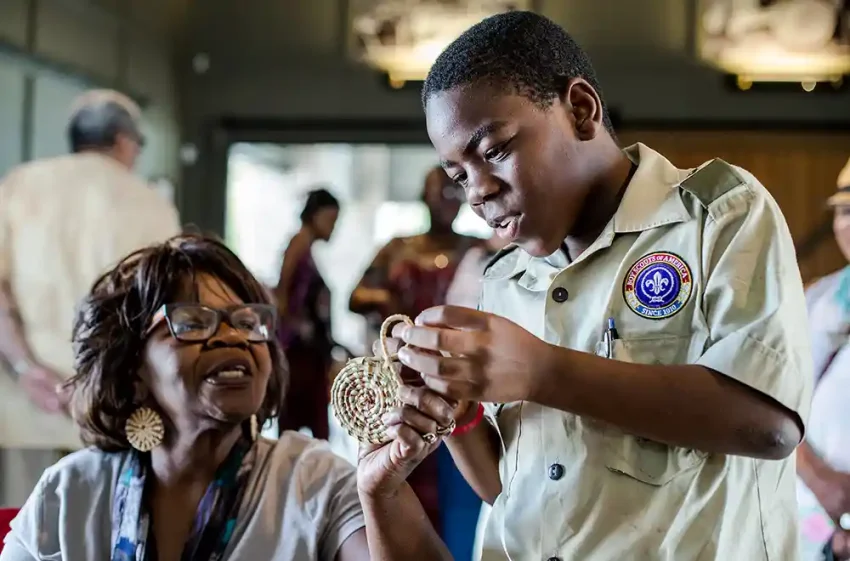 Mount Pleasant is the historical home of the original sweetgrass basket makers, women who dedicated their lives to creating a unique artform celebrated across the Lowcountry and beyond. The Town of Mount Pleasant's 19th Annual Sweetgrass Festival on July 22 at Mount Pleasant Memorial Waterfront Park celebrates and preserves the history and heritage of the sweetgrass basket artform. It also honors the Gullah Geechee people who introduced hand-weaving to the Lowcountry in the 17th century.
The Gullah Geechee people are the descendants of West and Central Africans enslaved and brought to North Carolina, South Carolina, Florida and Georgia. "Different enslaved families had different skill sets," explained Corey Alston, a renowned Gullah sweetgrass basket maker and founder of All Things Gullah.
While Alston is a descendant of bricklayers, his now wife taught him her family's tradition of basket weaving when he was just a teen. Her mother and grandmother ran a basket-weaving business, and today the family continues to practice the art of weaving, apprenticing the couple's daughters, thus ensuring future generations can enjoy sweetgrass baskets' beauty and history.
At their roots, sweetgrass baskets were functional. They were used for gathering eggs, harvesting vegetables and—in the case of rice fanner baskets, which look like flat oversized plates—removing rice grains from husks. Today, sweetgrass basket makers like Alston create a wide assortment of basketry, handmade arts, crafts and jewelry.
Sweetgrass baskets are made of sweetgrass, palmetto stalk, pine needles and bulrush. Sweetgrass grows in Charleston's marshes and is harvested at low tide between late May and early September, then sun-dried for two to three weeks. Weavers forage for needles and other materials. The use of organic materials in sweetgrass baskets and other wares makes them tolerant to the elements and easy to maintain.
Henrietta Snype, a master sweetgrass basket maker and educator, has participated in Mount Pleasant's annual Sweetgrass Festival since its inception. She is a founding member of the Sweetgrass Basketmakers' Association, and her work has been featured at numerous events and museums around the country.
Snype learned the art of basket making at 7-years-old. "I didn't have a choice," Snype laughed. She moved out of the area for higher education and returned when her grandmother, one of the women who taught her the art of weaving, fell ill. Snype registered as an artist and master sweetgrass basket weaver. "I wanted to preserve the culture and history while aiming higher," she said.
"Mount Pleasant's annual Sweetgrass Festival keeps the tradition alive," added Snype. By allowing local basket makers to showcase, promote and market their merchandise, Snype believes that the festival encourages participants to protect the art for the community. Each year, Snype exhibits her baskets there. She also demonstrates the skill it takes to weave these intricate baskets and hopes to inspire future generations of basket weavers.
Nicole Harvey, Mount Pleasant's Community Affairs & Marketing Division chief, has been involved with planning the Sweetgrass Festival since 2018. She has seen its evolution firsthand. "When the festival's founder, the late Thomasena Stokes-Marshall, who served on Mount Pleasant's Town Council, stepped aside, our town administrator wanted to maintain the festival and spotlight this important part of our culture and heritage. We all agreed it is too important to let go."
The festival allows attendees to meet different families with diverse stories. They get to know the basket makers, their histories, and the heritage lines of each family's style and method. Festival-goers view the work of over a dozen basket weavers who they have the opportunity to meet, learn about and purchase their art.
The festival also offers the opportunity to engage and interact with the Gullah Geechee people's legacy, learning their history and tasting their food. With educational exhibits that cover the basket makers, settlement communities and slave artifacts, the festival shines a light on the profound meaning of the period they represent.
"Gullah storytellers and African dancers illustrate a culture that is a founding piece of our town's heritage," added Tracy Richter, events coordinator for the Town of Mount Pleasant. "The festival is a great way for locals and visitors to learn about an integral piece of our town's history."
As president of the African American Settlement Historic Commission, John Wright believes that Mount Pleasant's Sweetgrass Festival "is a critical asset to the culture. Sweetgrass baskets and Gullah culture are a staple of Mount Pleasant," he said. "Having an ongoing festival is not only important for this generation but also for generations to come."
"The event got started in the community," he added. "The African American Settlement Historic Commission partnered with the Town of Mount Pleasant when they took over the event to ensure that we played a part in preserving the cultural and historical roots of the festival."
The Sweetgrass Festival's grassroots growth and longevity prove that the Gullah Geechee people's history, culture and traditions remain a vital and celebrated part of our town and community to this day.
By Isabel Alvarez Arata