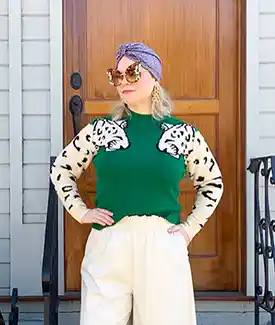 Julianne Taylor is a Charleston style icon, empowering women to express themselves fearlessly without rules. Through her popular social media platform, where her followers lovingly call her "JuJu," Taylor emphasizes that there's no such thing as too colorful, too bold or too extra. She has called Mount Pleasant home for nine years now, loving her beautiful residence in the Scotts Creek neighborhood.
In 2021, Taylor had an important intuition. "I had a quiet whisper that told me, 'You need to take better care of yourself and get your physicals scheduled.' I had not had a physical for four years," Taylor recalled. "With busy mom life and running my businesses I had placed my health at the back of the priority list."
The routine mammogram that followed revealed something Taylor never would have expected — she had breast cancer.
"I was immediately scheduled for a biopsy, and it confirmed DCIS (ductal carcinoma in situ). I was scared," Taylor reflected. "You hear the word 'cancer' and you first think that your life is over. But my doctor assured me that it was very common and treatable."
While breast cancer occurs slightly more often than the national average in South Carolina, advancements in breast cancer screening and treatment offer hope with excellent survival rates when detected early. Dr. Rebecca Leddy, professor of radiology and director of Breast Imaging at the Medical University of South Carolina (MUSC), is passionate about screening early and often for breast cancer.
"It's important to take care of yourself, take ownership of yourself, and that includes screening for breast cancer starting at age 40 and every year after," Leddy advised. "We often put off caring for ourselves because we're busy taking care of everybody else. Listen to your body, notice changes and don't delay."
For Taylor, treatment included surgery to remove the tumor followed by 16 rounds of radiation.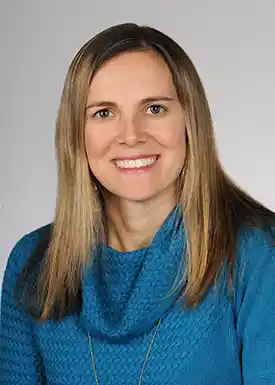 "The receptors on my cancer were positive for estrogen," Taylor related, "which means that I have to take Tamoxifen for the next five years to lessen my chances of the cancer returning. The Tamoxifen blocks the hormones in my body, which means that I've been thrown into full-blown menopause."
While the ongoing side effects of this medication have been brutal, Taylor is grateful to be cancer-free.
Although Taylor had no family history of breast cancer, Leddy confirmed that most women who are diagnosed with breast cancer don't.
"Just because something doesn't run in your family, more often than not with breast cancer most women who are diagnosed have average risk," Leddy explained.
For women who do have family members who have been diagnosed with breast cancer, Leddy encouraged a conversation with a physician.
"If they have a higher risk, a first-degree relative like a mother or sister who had breast cancer, we start screening earlier than the age of 40 and can also add in supplemental screening, like MRI," Leddy said.
Leddy emphasized that 3D Mammography, offering digital breast tomosynthesis, has been proven to be the most effective tool for detecting breast cancer with 30-40 percent more accuracy than older machines.
Regardless of how you arrive at a breast cancer diagnosis, the journey can be an emotional rollercoaster.
"I think it's important to allow yourself to feel the feelings associated with the diagnosis," shared Taylor, reflecting upon her experience. "Trying to pretend like you're not scared or sad is not good for your mental health and I really allowed myself to lean into those feelings. When you do that, you create a pathway to pull yourself back out of it."
Taylor also emphasized the important role that rest played during her battle with breast cancer. She encourages others to tune in to their bodies and rest when needed in order to heal and find the strength to keep fighting.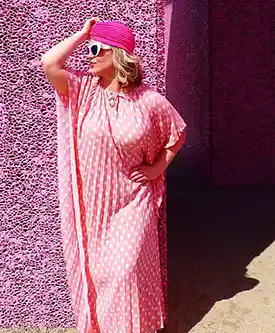 While it was Taylor's intuition that prompted a trip to the doctor, there are a few key indicators of breast cancer that are important to look out for — and take seriously.
According to Leddy, common symptoms of breast cancer include:
Feeling a lump in the breast
Nipple changes
Nipple discharge
Change in breast size on one side
Focal pain in the breast
Skin thickening
Although there is no known cause of breast cancer, there are several risk factors that are important to note. Having early periods or late menopause, a family history of breast cancer or never having children are factors beyond our control that can increase breast cancer risk. Research shows that one in eight women will battle breast cancer in their lives and though family history and genetics play a role in this disease, there are proactive steps people can take to reduce their risk.
These include:
Staying physically active
Eating whole, healthy foods
Reducing alcohol consumption
Not smoking
Breastfeeding
Getting seven hours of sleep each night
Scheduling annual screenings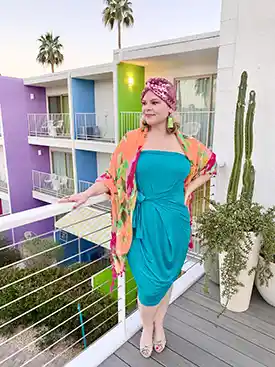 In May 2022, Taylor rang the bell to celebrate the end of her radiation treatments. Though she still feels tired at times, she's grateful to be on track with normal mammograms and check-ups.
"I'm proud to be a breast cancer survivor, but honestly, it's not a label that I lead with in conversations," stated Taylor. "I'm so many more things than that. I even joked with family and friends when I first got diagnosed not to send me any of that 'pink' stuff. I do love pink, but I felt so strongly about not labeling myself with the breast cancer logo. For me, my mindset was this is just a blip in my story, but it's not the story. I think you have to figure out what works best to support your mental health in the right way. If the pink logo empowers you during your journey, wear it with pride, lady!"
Taylor truly beat breast cancer in style and encourages all women to embrace their unique style without holding back. "A cancer diagnosis gives you lots of perspective on the opinions of others," Taylor mused. "You can very quickly get to a place of not caring about what other people think. Life is truly too short. I love expressing myself in a fun and colorful way, as I believe that clothing carries energy with it."
Visit Taylor's website at www.juliannetaylorstyle.com to learn more about her work. Follow her on social media at @juliannetaylorstyle. Visit muschealth.org/medical-services/radiology/breast-health for more information on breast cancer screening at MUSC.
By Heather Rose Artushin