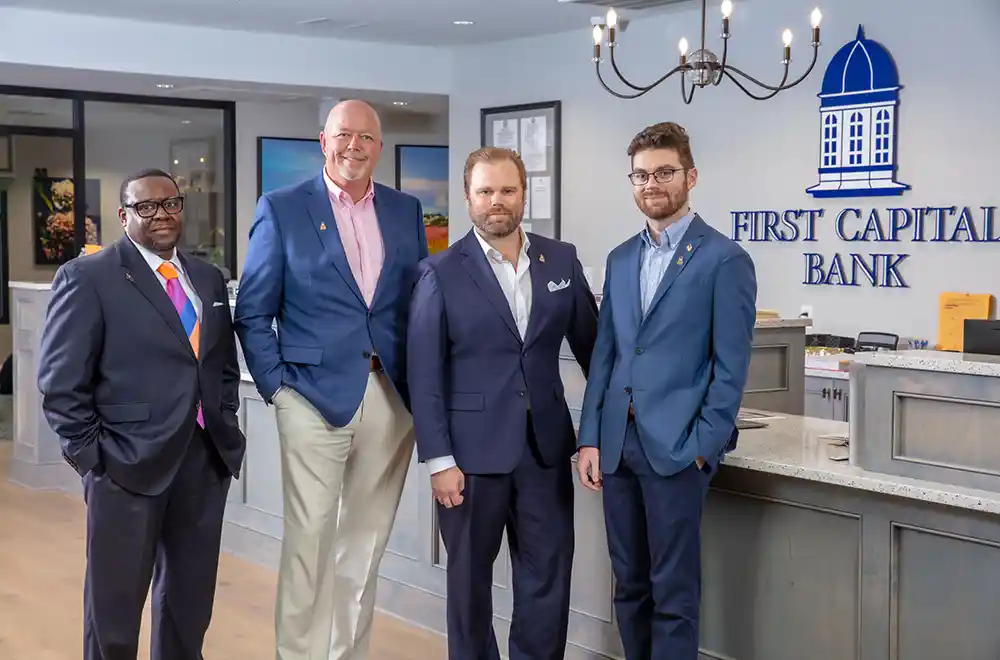 When you think of your hometown, there are likely several nostalgic thoughts that come to mind. The neighborhood coffee shop that makes a mouthwatering macchiato. Your favorite Mexican restaurant, whose owners know you by name. Your childhood church and pastor who baptized you when you were younger. Your high school and those spirit-filled Friday night football games, and perhaps even your local community bank. The same can be said for Mount Pleasant and its residents. What may stand out in the minds of many is First Capital Bank and the people who work within its walls.
As a main street bank that values its main street clients, First Capital Bank is an institution that owes not only its presence, but also its success, to the community that it serves. As vice president and branch manager Jimmy Hyams said, "I believe our true value is how important our clients are to us."
Each person entering the doors of the new branch location is greeted individually with warmth, respect and a readiness by all employees to meet them where they are and help them get where they are going. Members of the leadership team are active in serving the residents of Mount Pleasant and its surrounding areas.
Hyams is a dedicated husband and father of three who, outside of the banking community, enjoys playing golf and devoting time to the McClellanville and Awendaw senior centers, as well as assisting in church and school activities with his family. Professionally, he is surrounded by a team of talented and devoted experts whose primary mission is to help their clients make smart fiscal decisions and achieve life-changing financial goals.
Kevin Simmons, assistant branch manager working alongside Hyams, has been in banking for over 20 years and is also deeply involved in the community by serving on several area boards, particularly the Emanuel Nine Memorial Foundation.
Andrew Thomas may be new to banking but has superior client service skills and is one of First Capital's many secret weapons, especially when it comes to making sure each client is completely satisfied with their banking experience.
Conor Smith is celebrating his second year in the banking industry and is often referred to as First Capital Bank's "Swiss Army Knife," due to his countless talents and knack for being a jack of all trades.
The list of incredible and noteworthy team members working at Mount Pleasant's First Capital Bank location would be endless, as each provides invaluable skills, gifts and contributions to the banking team. What is more important than recognizing each of them individually, however, is shining a light on what they offer to the local community, both inside and outside the branch.
First Capital Bank prides itself in being a hometown bank that supports, encourages and reaches out to its community and treats their clients like family. A local Mount Pleasant team member will answer when you call, and each will know you by name. Their number one goal is, and has always been, to put clients first.
For more information, please visit fcbcarolinas.com, or call 843-990-7780.
By Katie James