Charleston's culinary scene has been featured on food networks and the city has established a reputation as a destination for quality fare. However, downtown Charleston isn't the only area in the Lowcountry to enjoy a great meal.
Mount Pleasant is setting food trends of its own, so you don't have to travel over the Ravenel to find scrumptious dining options. You can sample savory, delicious cuisine right here in your own backyard. Within the town limits alone there are 300 restaurants, so picking what to eat for breakfast, lunch or dinner can sometimes be overwhelming.
This is where we come in. The following eateries consist of tried and true staples as well as something new to please your palate.
MOZZO DELI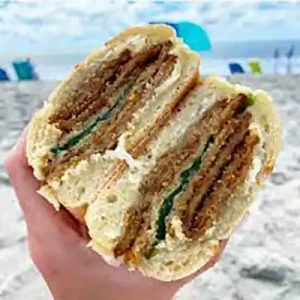 Located off Coleman Boulevard, Mozzo Deli is a go-to spot for tasty sandwiches, burgers, salads, deli meats and salads. Their top-selling sandwich, the Honey Slide, features roasted turkey, crisp bacon, Swiss cheese, lettuce, tomato and honey mayo. And breakfast is served all day — as if one needs a better excuse to eat a bacon, egg and cheese sandwich at 2 p.m. Looking for a dependable caterer to service your next breakfast, office meeting or event? Mozzo has you covered there as well. This place is always busy, but their efficient and personable team provides exceptional customer service to get you in and out in a timely manner. For hours and more information, visit mozzodeli.com.
WHITE DUCK TACO SHOP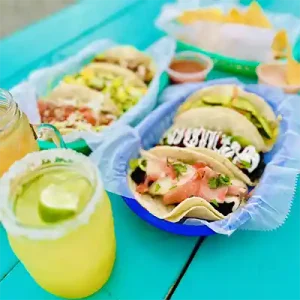 Taco lovers, rejoice! Tequila shots, but of course! And don't forget their margaritas! There is a new kid on the block in the local food scene. This mouth-watering addition to Mount Pleasant has only been open a few months and already there are lines out the door. White Duck Taco Shop boasts 11 locations within the Tennessee, North Carolina and South Carolina area, with just one here in the Lowcountry. Situated just outside of the Village Pointe Shopping Center, White Duck Taco's menu will leave you salivating. From chips and queso to creative taco selections such as spicy buffalo chicken, steak and cheese, fish, duck with mole, mushroom potato with romesco and lamb gyro, their extensive options have something to please all taste buds. This is a cool spot for hanging out with family and friends or grabbing a quick bite to eat before heading home from work. Learn more at whiteducktacoshop.com.
STEEL CITY PIZZA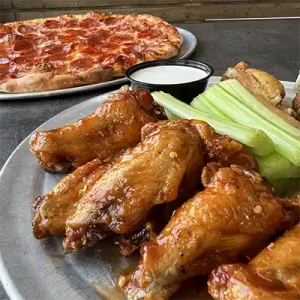 We all love a great pizza, but if you're looking for a place that offers more than just pizza, like say a relaxed, laid back atmosphere where everyone can hang out, then Steel City Pizza is where you need to be. Conveniently located off Ben Sawyer Boulevard, Steel City Pizza was born in Pittsburgh, but raised in Charleston and has been serving the Charleston community for more than 13 years. Owner Adam Carb, along with the Steel City family, want you to feel like you're dining at home when you enter their doors. In addition to a wide variety of pizzas and calzones, their vast menu includes pastas, sandwiches, wings, salads, authentic cheesesteaks and Weggies (their signature sandwiches). Even the pickiest eater can order off this menu. Try the Ranch Rub wings or the Steel City Special Pizza (pepperoni, mushrooms, red onions, green peppers, black olives and Italian Sausage). Visit them at www.steelcitypizza.com for more info.
LOLA ROSE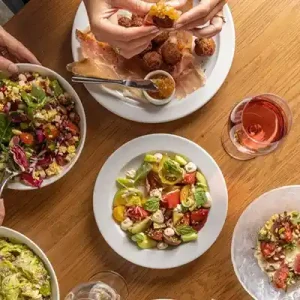 If you are a fan of The Grocery by Chef Kevin Johnson, then their sister restaurant, Lola Rose, will blow you away. Located across from the North Mount Pleasant Costco in the Carolina Park development, Lola Rose is slated to open at the end of August. Their coastal, Mediterranean cuisine, all prepared with fresh, local ingredients, will keep you coming back. "It took us seven years to have the perfect spot here in Mount Pleasant, our community. We felt that North Mount Pleasant needs this type of place. This is our community and we love it," said Johnson of the new venture.
Lola Rose will feature regional inspirations along the Mediterranean coast alongside wood fired pizzas and pasta dishes. From Spanish to Portuguese, the eclectic and creative dishes on the menu will elevate your palate. They also feature a wine list focusing on Mediterranean and coastal American winemakers. A neighborhood trattoria with a relaxed, warm vibe, Lola Rose promises to be a welcoming spot for the community to gather, dine and socialize. For hours and more information, visit lolarosemtp.com.
By Maurice J. Frazier