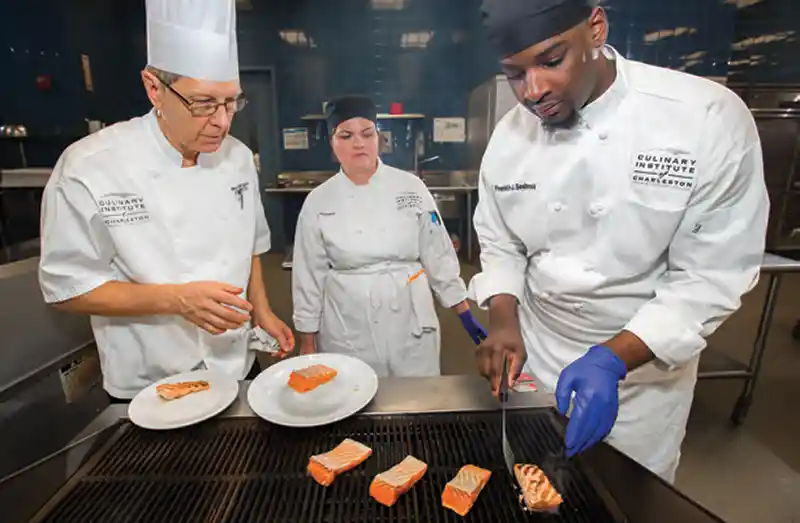 When Johnson & Wales closed its Charleston campus in 2006 it created a gap in the areas of hospitality and culinary arts education that needed to be addressed.
The Culinary Institute of Charleston, the only branded division at Trident Technical College, stepped in to fill that void after J&W left, according to Nathan Rex, dean of CIC. Since that time the division and its culinary program have grown significantly over the years—in terms of curriculum offerings, faculty and course content—to meet the rising needs of the community, Rex said.
Mike Saboe oversaw the bulk of that transition and growth at CIC, serving 15 years as dean prior to his retirement in summer 2022. Trident Tech hired Rex as his replacement in September 2022. Rex was a student in Trident Tech's Culinary Arts program in 2003 prior to it becoming branded as CIC, pursuing a dual degree in Culinary Arts and Hospitality and Tourism Management. Saboe was an instructor of his who also became a mentor. Rex spent two years at Trident Tech, then transferred to the University of South Carolina to complete his four-year degree.
He then worked nine years in hotel operations in Las Vegas (earning his MBA at UNLV during his time there). Rex stayed in touch with Saboe the entire time he lived in Las Vegas. Saboe ultimately offered him an opportunity to teach online courses in hotel management with CIC as an adjunct instructor. In 2015, CIC hired Rex as its Hospitality and Tourism department head, bringing him back to campus. He worked in the position until assuming his current role as dean.
For a long time, there wasn't any change in the CIC faculty, but in the past year they have been hiring. They needed to fill Rex's vacant department head role, and there have been additional hires within the division, including a new program coordinator for Culinary Arts and a new Hospitality and Tourism instructor.
"We've got a very strong culture here, a strong team" stated Rex. "Really I knew coming into this new role that the key is to maintain the culture and the continuity— the consistency—for the students, and our relationships throughout the community as well."
DEGREE AND CERTIFICATE PROGRAMS
CIC currently offers three degree programs which are all two-year associate degrees: Culinary Arts, Baking and Pastry and Hospitality and Tourism Management. Students can enroll in any two programs at once while attending CIC. There are also 10 certificate programs in areas such as Advanced Culinary Arts, Baking and Pastry, Cake Decorating, Dietary Manager, Food and Beverage Operations, Event Management, Hotel Operations and Hospitality Entrepreneurship. The hospitality faculty recently developed the Hospitality Entrepreneurship program to support culinary and baking and pastry students who aspire to launch their own business. It started last year with 30 students and has already doubled to 60 in 2023. CIC degrees are all "stackable," explained Rex, meaning each certificate is part of a larger Hospitality and Tourism Management degree. "So, it's a feeder almost for us to keep them here for the degree programs."
Enrollment is rising at both Trident Tech overall and CIC, with the division seeing a 12.5 percent increase year to year. Numbers have increased every year for the past several years since COVID-19, said Rex. There are currently 875 degree and certificate-seeking students, of which 450 are degree-seeking, divided fairly evenly among the three program areas.
CIC typically sees more non-traditional students— the average age is 27—but they attract a broad range of individuals from high school-age to retired grandparents desiring to learn a new skill such as cake decorating. "That adds value to a classroom as well because you get so much diversity with your fellow students," maintained Rex. "Our students are embedded in the community already," he added. "They live here, they work here, they have careers here, they have families here."
The program focuses on providing students practical, real-world experience. "One of the benefits, I think, is that all of our faculty come from industry—at one point or another," said Rex. Some of them have owned their own businesses, but they represent diverse backgrounds including restaurants, catering, hotels, resorts, etc. "One of the things we do is we strive to find ways to promote graduates into teaching opportunities. I'm an example of that," noted Rex. "We also hire a lot of adjuncts who are alumni. Because they understand. I think they get so much respect from the students because they know they've been in their shoes."
THE PUPIL BECOMES THE TEACHER
Instructor Reina Gascon-Lopez is one of those alumni-turned teacher. Gascon-Lopez graduated from CIC in 2018 with a Culinary Arts associate degree. She was a non-traditional student returning to school after spending nearly a decade in the workforce. Gascon-Lopez earned her bachelor's degree in Communications and Media from the College of Charleston in 2010, but at the time of her graduation, there were no jobs available in her field. She waited tables and worked in tech for a while before enrolling in CIC in 2017. Gascon-Lopez loved the hands-on nature of CIC's program and the applied learning focus. While there, she had the opportunity to work an externship at Stella's in downtown Charleston.
After graduating she landed a gig at Ted's Butcher Block, doing prep work and learning about butchering, and later worked in the kitchen of the longstanding Charleston fine dining restaurant Peninsula Grill. Like so many others in the service industry, Gascon-Lopez was laid off during the pandemic. As a student at CIC she had done some casual food blogging, writing about things she did in school whenever time permitted. Amid COVID-19, with nothing but time on her hands, Gascon-Lopez resumed food blogging, sharing recipes online as a freelance writer.
Life as a freelancer proved challenging. While she had a passion for cooking, she didn't want to work in a restaurant anymore, enduring the long hours and lack of benefits. As she pondered her next move, Michael Carmel, chef and CIC Culinary Arts department head, contacted her and encouraged her to apply for an open adjunct instructor position. "It was kind of serendipity," she recalled. "I love cooking and I love teaching others."
She began her new role in March 2023, teaching an entry level course called Culinary Foundations that educates students on kitchen basics such as proper knife-cutting techniques and prepping. For Gascon-Lopez it presented the perfect opportunity because it brought her back into professional cooking without having to work in an actual restaurant. She loves collaborating as part of a team in the kitchen. "I miss the camaraderie," she said. Gascon-Lopez enjoys watching students grow and progress through the program. "It's nice to see a student gain confidence and spread their wings."
Alum Travis Maynard, general manager of OVG Hospitality at Credit One Stadium, was another non-traditional student who enrolled in CIC to get an additional degree. During the COVID-19 lockdown in 2020 he came across a Trident Tech billboard advertising free tuition. While he had already earned a bachelor's in Leadership Studies and master's in Conflict Management and was still working at the time, he felt he needed a food and beverage degree. So he obtained a certificate in Food and Beverage Operations. The combination of timing, proximity and free tuition motivated him. As someone already working in management in the hospitality industry, the biggest take away from CIC's program for him was seeing that "they are doing some real-life applicable stuff over there. So applicable to what I do day-to-day." He also learned a few key industry terms in the process.
The company he works for, OVG Hospitality, is in over 300 venues throughout the U.S. and some internationally as well. OVG took over food service as concessionaire at Credit One Stadium in January 2020. They contract and partner with the stadium, helping put into practice the client's vision. Along with his finance manager, Maynard handles the budget, overseeing items such as labor, cost of goods and reporting expenses. Other responsibilities include customer service, innovation in the industry and training future management. Maynard said that OVG Hospitality offers internships and is always looking for students from the CIC program. Its food and beverage operations manager is a CIC alum. "This is a good place to recruit," stated Maynard.
CAMPUS FACILITIES, STUDY ABROAD
Trident Tech's culinary program has two campuses: the Palmer Campus on Columbus Street in downtown Charleston, and the Thornley Campus at Trident Tech's main campus in North Charleston. The entire culinary and hospitality program was once based out of Palmer up until J&W left, said Rex. With J&W gone, Trident Tech invested in the Thornley Campus facilities, which feature state-of-the-art production kitchens, baking and pastry kitchens, labs and classrooms. It also houses the student-operated restaurant Relish, which is open to the public on Thursdays.
Gascon-Lopez remembered her class prepping and executing a menu for Relish when she attended CIC. A student works a meal for a grade, and your exam is the dish you create for the menu. She described her Relish experience as like "working in a restaurant with training wheels." People can make reservations at Relish on Resy. Rex said it fills up pretty quickly, calling it "probably the best three-course meal in town for $20."
There's also a demo kitchen amphitheater where students can observe chef demonstrations, ask questions and gain real-world experience from professional chefs. Additionally, students have access to a large conference center that holds more than 365 events a year including meetings, conferences, weddings and seminars so they can see firsthand how a big event space such as this operates and is utilized.
CIC has established a sustainable study abroad program as well, thanks to an altruistic donor who has helped keep the price more affordable for students. Over 17 days in September and October, 20 students traveled throughout Italy with faculty including Carmel, visiting culinary schools, working with chefs, learning about Italian cuisine and touring cultural sites such as the Colosseum and Pompei.
Last year Rex accompanied students on a 14-day Mediterranean cruise through Spain, Italy and France. "I'm passionate about the study abroads," he asserted. "I've done three study abroads since I've been here." It provides an opportunity to not only learn about various aspects of the hospitality and tourism industry, but also exposes students to different cultures.
"You know a lot of our students haven't necessarily been out of the country," said Rex. "Some haven't ever been on a plane. Some have never been out of the state. So there's a lot of firsts. It's a memorable thing that you take away."