Let's face it, the flavors of fall are some of the best and most iconic flavors of the year. Pumpkins and spices abound and the cornucopia of fall fruits and vegetables available at your local farmers market can make for an exciting culinary adventure.
In the spirit of autumn cooking, I reached out to some local business owners, farmers and chefs for their best fall-inspired recipes that our readers can prepare at home. Prepared together, these dishes make a three-course meal perfect for serving on a cool autumn evening.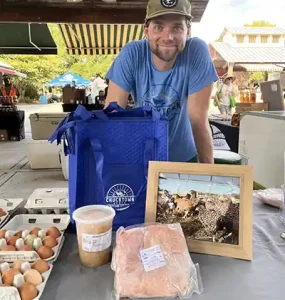 Super Easy Chicken Bone Broth Soup
Recipe courtesy of Alex Russell, owner of Chucktown Acres. His booth can be found Tuesdays at the Mount Pleasant Farmers Market or items can be purchased online at chucktownacres.com.
Ingredients
3 pounds of locally sourced chicken backs
2 pounds of locally sourced chicken thighs/drumsticks
2 roughly chopped apples
Salt
Black pepper
1 tablespoon of minced garlic
1 cup of diced carrots
1 cup of diced celery
1 cup of diced onions
1 stalk of parsley
1 splash of lemon juice
Instructions
Place chicken backs, 2 tablespoons of salt and a splash of lemon juice or apple cider vinegar in a slow cooker.
Cover all the ingredients with water and set the slow cooker on low for 12 hours.
After 12 hours, add apples, parsley and garlic to the slow cooker and continue to cook for 3 more hours.
Strain the ingredients out of the broth, until you're left with just liquid.
Add in the remaining ingredients and cook until the chicken shreds easily (3-5 more hours).
Pull out chicken thighs/drums and shred the meat, discarding the bones.
Place chicken meat back in the soup and salt to taste.
Enjoy!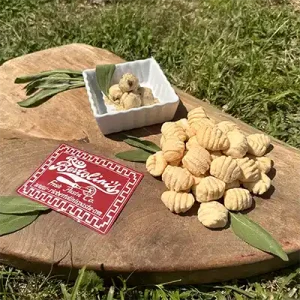 Pumpkin Gnocchi with Apple Cider Butter
Recipe courtesy of Brian and Danielle Bertolini, owners of Rio Bertolini's, who can be found at their booth Tuesdays at the Mount Pleasant Farmers Market or online at riobertolinispasta.com.
Ingredients
1 pound of Rio Bertolini's Pumpkin Gnocchi
2 teaspoons kosher or sea salt
1 cup of apple cider- refrigerated not shelf stable
1/4 cup of raisins
1 or 2 tablespoons of Rio Bertolini's Sage Brown Butter
1/4 cup of Grated Pecorino Romano
Instructions
Bring 1 gallon of water with 2 teaspoons of salt to a boil.
In a sauté pan, combine 1 cup of apple cider and 1/4 cup of raisins, heat to a boil, then lower heat to a simmer.
Reduce cider by half, allowing the raisins to become plump.
Add gnocchi to the boiling water and gently stir to prevent sticking. Bring the water back to a boil on high heat.
When it returns to a boil the gnocchi will begin to float.
When all gnocchi float, remove from water and add to the cider reduction.
Set aside about half a cup of pasta water.
Add 1 or 2 tablespoons of brown butter and return to a simmer while shaking the pan to melt and incorporate butter.
If the sauce appears dry, add a little pasta water. The sauce should appear creamy from the pasta starch and butter.
Remove from heat and add grated Pecorino. Shake the pan to emulsify the cheese.
For an entree portion, use a 1/2 pound of gnocchi per person. If preparing as a side, use 1/4 pound per person.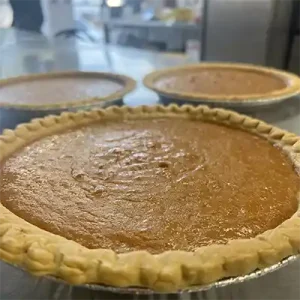 Sweet Potato Pie
Recipe courtesy of local chef and restaurateur RaGina Saunders, Catering, Gullah Tours, & Events.
Ingredients
1 cup of mashed sweet potato
1/2 cup of unsalted butter, softened
1/4 teaspoon of salt
1/2 cup of granulated sugar
1/2 cup of evaporated milk
1 teaspoon of vanilla extract
1/2 teaspoon of ground cinnamon
3/4 cup of light brown sugar
1/4 teaspoon of ginger
1/4 teaspoon of nutmeg
2 large eggs
1 tablespoon of all-purpose flour
1 frozen 9-inch pie crust, lightly pre-baked for 5 minutes
Instructions
Preheat the oven to 350 degrees. Wash, peel and cut sweet potatoes into cubes then boil until soft.
Place sweet potatoes and butter into a mixing bowl and mash until smooth and creamy.
Add in the brown sugar, granulated sugar, salt, evaporated milk, eggs, vanilla extract, cinnamon, ginger, nutmeg and flour.
Mix until smooth.
Pour filling into the pre-baked pie crust and bake for about 50 minutes or until the center is set.
Let the pie cool then serve.
By Sherry Whiting