Sometimes it feels like holiday cooking can get a little stale. Turkey, stuffing, mashed potatoes, green bean casserole… the same old holiday dishes we all know and love, but have tried a million times. To help shake things up this holiday season, I reached out to some of my favorite local chefs for some not-so-traditional recipes that you'll want to cook for your next festive family gathering.
Raul Sanchez is the executive chef and owner of Maya Del Sol Kitchen, and his recipe is a Mexican holiday classic:
RECIPE: LOMO ALMENDRADO
(Almond Stuffed Pork Loin with Mango Sauce)
Serves 6-8 people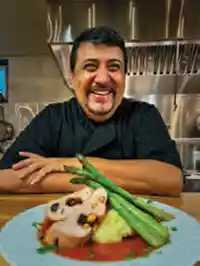 INGREDIENTS

1 large or 2 small mangoes
3 cayenne peppers or a half teaspoon of cayenne powder
*Optional* 1 guajillo pepper or you may substitute ancho peppers *Not required*
1 garlic clove
Salt to taste
1 tablespoon of oil
2 small pork tenderloins around 1.5 lbs each
1/2 cup toasted almonds
1/2 cup of golden or regular raisins
1/2 teaspoon salt
1 teaspoon black pepper
1 teaspoon sugar
PREPARATION
Peel Mango/Mangoes
Remove fruit from pit
Put in saucepan and cover with water
Boil for 10 minutes
Once mangoes are cooked, add mangoes and boiled water to blender with peppers and garlic clove
Blend for 4 minutes
While sauce is blending, heat the oil in a saucepan and add sauce to hot oil
Bring to boil and salt to taste
If sauce is not as sweet as you would like, add a teaspoon of sugar
Set aside
With a knife, poke thumb-size holes halfway through tenderloin
Stuff each hole alternating raisins and almonds (you can never overstuff) set aside once done
In a small bowl, mix peppers, sugar, salt and black pepper
Cover tenderloin with all seasoning
Preheat oven to 500 degrees F
Bake for 10 minutes at 500 and then drop temp to 350, bake for 10 minutes
After the 10 minutes, take out of oven, cover with foil and let rest
Serve with rice or mashed potatoes and vegetable of choice
Marcie Rosenberg is the owner/chef of Dining In Inc, Charleston's premier kosher catering company, and this is her recipe for mouthwatering potato latkes:
POTATO LATKES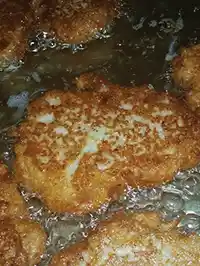 INGREDIENTS
2 pounds russet potatoes
3/4-pound yellow onions
4 eggs
3/4 cup of matzo meal
1 1/2 teaspoon salt
3/4 teaspoon pepper
Oil for frying
PREPARATION
Peel the potatoes and onions
In a food processor, using the "S" blade, put all the onions and half of the potatoes and puree with the eggs. (Divide in batches depending on size of processor)
Once pureed, grate the rest of the potatoes and mix into the pureed mixture
Add the matzo, salt and pepper.
Add about 1" of oil to a frying plan and make a small test latke to check seasoning levels, adjusting as needed
Using a large spoon, place potato latke mixture into hot oil, then cook until golden brown on each side
Hold in warm oven on a sheet tray until ready to serve
SPARKLING CRANBERRY MARGARITA
Cantina 76
INGREDIENTS
1 1/2 oz of Cranberry Juice
1 ½ oz of Blanco tequila
1 oz of orange liqueur
1 oz of lime juice
1/2 to 1 oz of agave to taste
1 1/2 oz of sparkling water
Ground Clove & Sugar Rim
2 to 3 Fresh or Frozen Cranberries
Rosemary Sprig
PREPARATION
Combine cranberry juice, tequila, orange liqueur, agave, and lime juice into a shaker with ice. Shake hard.
Wet the rim with lime juice, then rim the glass with a mixture of ground cloves and cane sugar.
Add ice to the rimmed glass and pour desired amount from shaker, leaving room to top it off with sparkling water. Then give it a little stir.
Garnish with 2 to 3 fresh or frozen whole cranberries and a Rosemary sprig. Cheers!
By Sherry Whiting