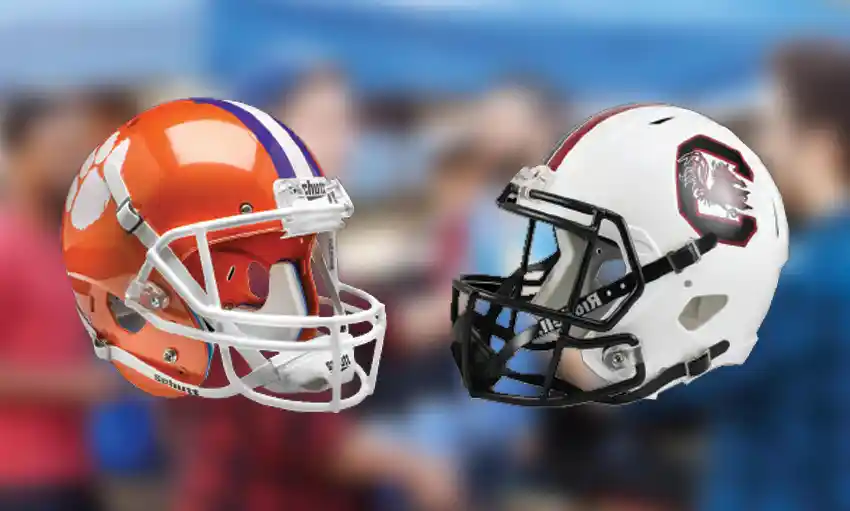 Let's face it, the flavors of fall are some of the best and most iconic flavors of the year. Pumpkins and spices abound and the cornucopia of fall fruits and vegetables available at your local farmers market can make for an exciting culinary adventure.
In the spirit of autumn cooking, I reached out to some local business owners, farmers and chefs for their best fall-inspired recipes that our readers can prepare at home. Prepared together, these dishes make a three-course meal perfect for In South Carolina, we embrace a cherished rivalry that has shaped the state's identity for well over a century. The South Carolina Gamecocks and the Clemson Tigers battle goes beyond the gridiron, spilling over into the lively tailgate scenes that precede each game. With football season here, college football enthusiasts have dusted off their tents and grills.
Imagine it's a Saturday in South Carolina and the Gamecock faithful make their way to Williams-Brice Stadium for a lively day of tailgating. The air is filled with team spirit as fans gather, creating a sea of garnet and black. Tailgating hotspots like Gamecock Park, Cockaboose Railroad or nearby parking lots offer diverse tailgate settings. Each setup is unique to the host, but the common thread that binds every tailgate together is the importance of the food. There is a myriad of food offered at each tailgate that includes grilled meats, fried chicken, chips and dip, beer and plenty of desserts to satiate the hungriest of fans.
Mount Pleasant local Virginia Girardeau Smith gives insight into her family's tailgate on days like these. With a lineage deeply intertwined with Carolina football, her father and grandfather having graced the team's roster and her mother, siblings and children all being Gamecocks as well, it's an undeniable fact that this family is all in on USC. Smith's tailgate setup is traditional and tasteful. It features the classic tailgate tent, camping chairs, a TV and a table full of delectable foods to make sure everyone gets their fill.
One dish that this tailgate boasts is a coveted family recipe, "Carolina Tailgatin' Chili Dogs." This dish is an heirloom of sorts that has been passed down in the family and is now made by Smith's sister-in-law Nancy. The secret to these chili dogs is to wrap each one as they are made so it's piping hot by the time the festivities begin. Nancy offers advice on these by saying, "It's nice to bring some plain dogs for the ones that prefer them plain. Either way, if it's a plain hot dog or a chili dog, when wrapped in foil and stored in a cooler to keep hot you cannot fail!"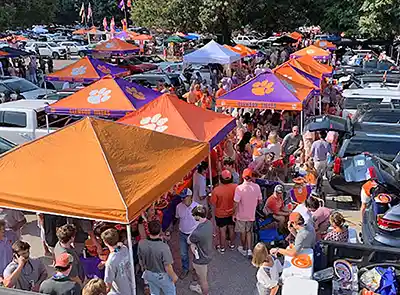 Carolina Tailgatin' Chili Dogs
1 ½ pounds of lean ground beef, cooked, crumbled and drained
1 packet of chili seasoning
1 can of Sloppy Joe mix
1 teaspoon of Worcestershire sauce
Combine ingredients, bring to a boil, then simmer
Grill dogs, place in buns, add chili, wrap in foil and place in an insulated cooler
Venturing upstate, Clemson fans gather around Death Valley, creating a vibrant display of orange and purple. Tailgating in Clemson is an unforgettable experience that makes it worth the trip every Saturday, no matter how far you have to travel. There are various tailgating spots and with the whole town participating in the festivities, there really isn't a bad spot to pregame.
Kim Gray of Mount Pleasant said of the atmosphere, "We have a lot of pride in our tailgates, we want everyone to be hospitable. Clemson is really pretty and full of life." Gray is a proud member of the tailgating community known as "All in Avenue." With over 50 tailgaters joined together, a communal table stretches through the heart of this avenue that's filled with an array of food provided for everyone, Tigers or not. The menu on the avenue is endless, offering desserts, snacks, fried chicken and even hibachi.
Gray's signature drink takes the spotlight – the "Tigerita." This orange slushie is tasty and fun. Another beloved addition comes courtesy of Tiffney Cullum. Cullum's grilled steak wrapped asparagus has become a fan favorite recipe and can be found at the avenue table.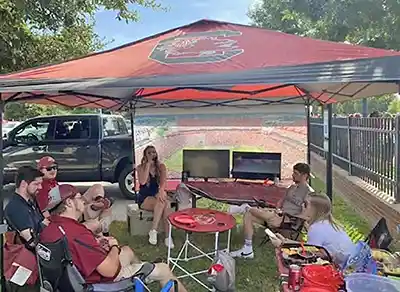 Steak-Wrapped Asparagus
Thinly sliced steak
Scallions
Asparagus
1/2 cup soy sauce
1/4 cup rice wine vinegar
Slice steak thinly, cut asparagus and scallions, wrap steak around them.
Combine soy sauce and rice wine vinegar, marinate steak wraps overnight, then grill.
Regardless of your allegiance, both teams offer a memorable time and remarkable food. Whether you find yourself at USC or Clemson, come with an open mindset and an empty stomach. serving on a cool autumn evening.
By Brooke Hughes