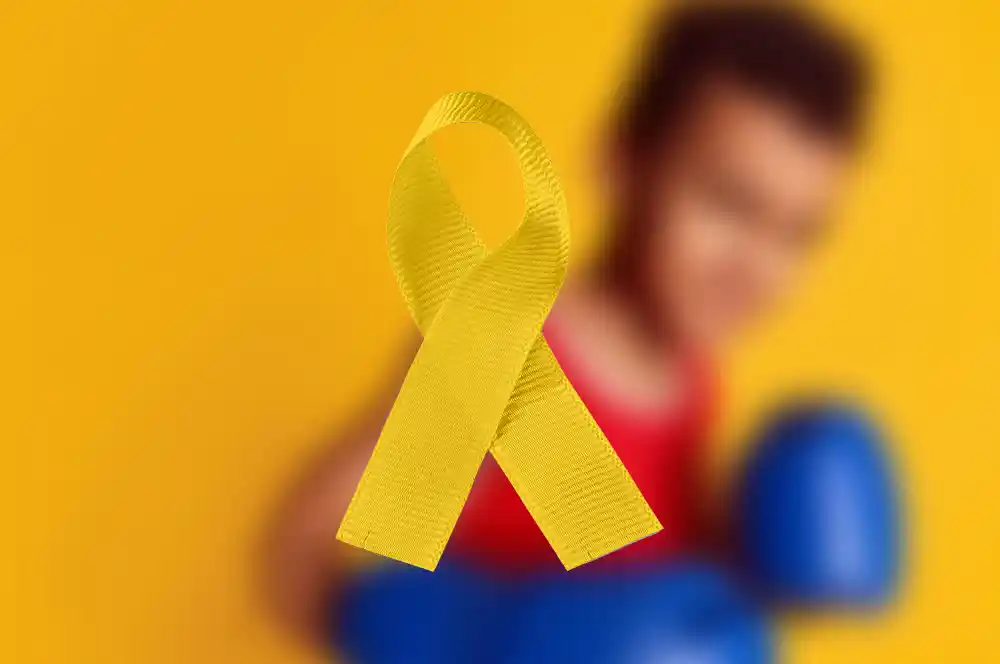 You may already be aware that September is Childhood Cancer Awareness Month. If you are, then you know that gold is the ribbon used to recognize childhood cancer.
Unfortunately, childhood cancer remains the leading cause of death by disease for children under the age of 14, according to St. Jude Children's Research Hospital. Thankfully, there are also positive stories of families that have children in remission and children that have beat the disease. The following are triumphant testimonies from local families whose children battled to overcome cancer.
Navigating a New Normal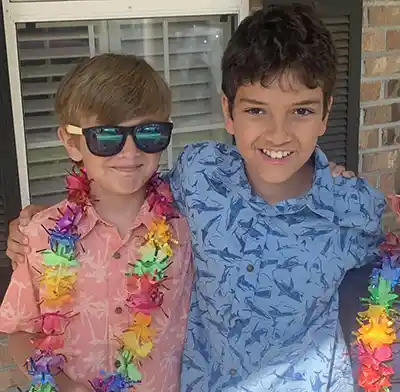 Cayden Burke will be entering Cairo Middle School this year as a 6th-grader. He enjoys swimming, hanging out with friends and soaking up summer. Cayden is interested in journalism and can't wait to take electives this school year. With a name meaning champion or fighter, it is no wonder that Cayden does not let problems get him down for long. Compassionate and always concerned about the well-being of other sick children, he has been known to sit with newly-diagnosed children while they get their blood drawn or cuddle with sick babies and their moms.
Cayden is drawn to helping others and naturally comforts the scared and vulnerable. His mom, Jennifer, always described him as her "fearless fighter." Cayden was diagnosed with Leukemia four days before his fourth birthday. Jennifer shared that she felt totally overwhelmed and had to learn how to advocate for her child's health while also navigating her new normal. She relied on family and friends so that she could maintain the energy and stamina needed to care for herself and her family.
Allowing others to help can be difficult, but is often necessary amid challenging times. Jennifer related, "At the end of the day you learn that no one is steering the ship besides you and that can be an intimidating feeling." She wants parents who may be facing this journey to know that they need to acknowledge their fears, take time to rest and ask for help. You are your child's best advocate and it is important that you ask questions and trust your intuition. Cayden's story is one of triumph and the family is blessed to report that he is now in remission.
Perspective and Perseverance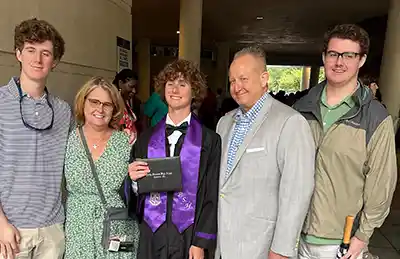 John "Eli" Crowley graduated from Philip Simmons High School in May and began his freshman year at the University of South Carolina this fall. He is looking forward to living on his own. This summer he spent time as a counselor in training at Camp Happy Days. All of the boys in his family have been involved in the camp for over 13 years and this was a great opportunity to give back to an incredible program. Gregarious and outgoing, Eli possesses the ability to walk into any room and make friends instantly, a trait his mother admires the most about him. He is kind and loves to try new things as well.
On Jan. 3, 2007, at 2 years old, he was diagnosed with high-risk B-Cell ALL (acute lymphoblastic leukemia). His brothers were 5 and 7 at the time. His mom, Maria Crowley, noted that the three-and-a-half years of treatment that followed caused them to "grow as a family knowing we could handle whatever gets thrown our way." She added that having a child who is experiencing cancer helped to put things into perspective in her life.
As long as everyone is healthy, you can get through it. For families that are currently experiencing childhood cancer, she advised taking every day as it comes. "There will be totally horrific days, there will be bad days and there will be better days. Try not to look back too much, and certainly not look forward too much." Crowley reiterated Burke's sentiment about the importance of relying on friends during this time. She said she doesn't know how she would have made it through this ordeal without them. The best news is that Eli completed treatment on May 25, 2010, and now is considered cured!
Family and Faith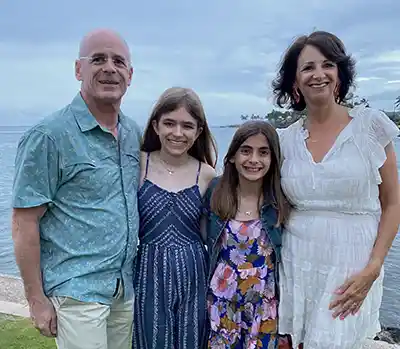 Elaina McLoughlin is beginning her final year at Christ Our King – Stella Maris before heading to high school next year. She loves sports like soccer, volleyball and tennis. Easy-going, strong and independent, Elaina has many great friends at her school that have become family and supported her since she was 4 years old. Her cancer journey has strengthened the faith of her family and made them appreciate every day. The journey seemed interminable while it was happening — Elaina's mom Stacey McLoughlin said sometimes it felt like it would never end. She expressed extreme gratitude for family, friends and the medical care that was received during that time.
The experience shaped who they are today. Elaina's sister, Claire, loved and cared for her sister during her affliction as well. Every family member's faith was strengthened by this trial. Elaina is a fighter and she helped put things into perspective. When asked what things she would tell a family experiencing childhood cancer, Stacey said, "As parents, you learn more than you ever thought you'd need to about your child's treatment, medications and how to manage the side effects. Moms become 'Momcologists,' a title I took very seriously because the more I knew, the better I was able to care for Elaina." She also noted that MUSC has one of the best pediatric oncology departments in the country and a staff that is committed to the comfort and care of every child. Elaina is currently in remission and looking forward to the great moments that lay ahead!
For those who have or are experiencing childhood cancer, you are not alone, and you don't have to face it alone. Anca Dumitriu of MUSC's FACT survivorship clinic said that pediatric cancer is rare, and they take a multidisciplinary team approach to treatment. This clinic serves children from birth to 20 years old and follows up until age 30.
"Our team is composed of doctors, nurse practitioners, nurses that are specialized in taking care of patients with cancer, a dedicated pharmacist, a dedicated nutritionist, dedicated psychologist, child life specialist, social worker, nurse case manager, outpatient coordinators," Dumitriu said. "Each person is committed to learning more and working to eradicate this terrible disease."
By Cari Lawson