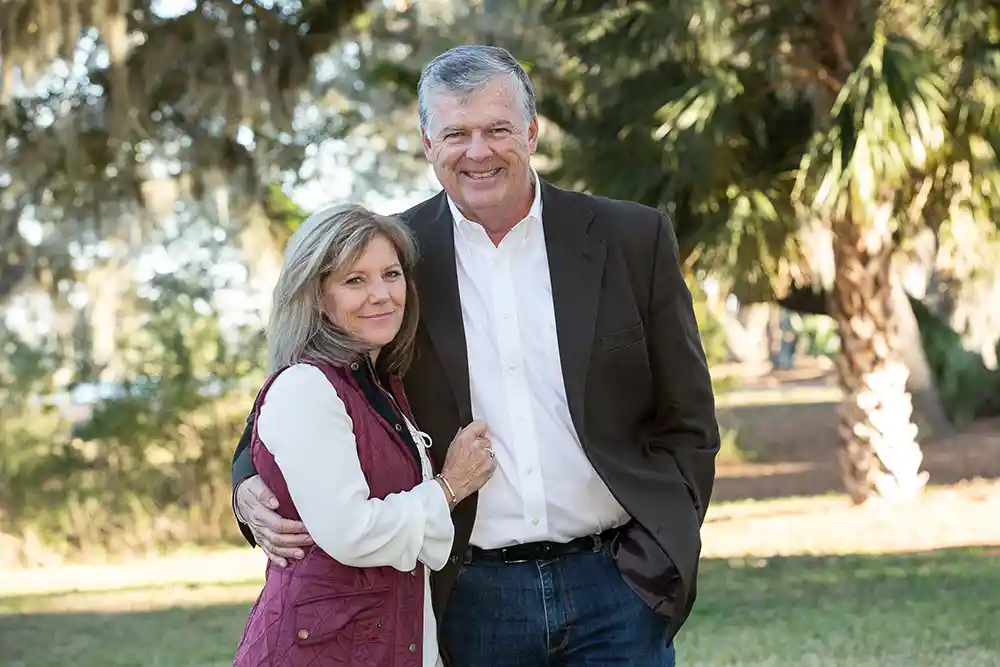 When Mark Mitchell retired in 2006 from almost 30 years with Enterprise Rent-A-Car, he intended to play golf, relax and travel. Now, Mitchell has reached 17 years in a second career of real estate, where he often partners with his wife Lisa, a fellow Dunes Properties realtor. And together, they and their team have become some of the most sought-after agents in the Charleston area.
"Our specialties are resort communities, suburban communities and relocations," said Mitchell, broker-in-charge for Dunes Properties offices in Mount Pleasant, Folly Beach, Seabrook, Kiawah, and the Charleston Peninsula since 2020. "And whether our clients are buying or selling, our focus is to solve their problems for a seamless transaction."
Mitchell added that while trust is the most vital factor between clients and realtors, listening is nearly just as important.
"Too many agents try to project their taste on a client instead of listening to what they want," Mitchell said. "So with me and all 60 of our agents, the attitude is to let the client do the talking."
That talking often includes many questions, such as:
How would the current real estate market tend to affect my purchase or sale?
How much more home for value and area would I likely have if I purchased farther away from the beach – but still within close driving distance?
Is it possible for me to negotiate a lease back until I find my next home?
Do I even need a home? Would renting better suit my needs?
Is there a sweet spot where the home's price and features come together perfectly with the area's livability and proximity to everything I care about?
"I look at it as providing a service or solving a problem for a client," Mitchell said. "My biggest reward comes when I get repeat business from a client I've helped in the past."
This approach has led to much recognition: the Dunes Properties team realized more than $300 million in sales for 2022; and the Mitchells have been acknowledged by the Charleston Trident Association of Realtors as realtors of distinction on multiple occasions.
"And our region comprises more than 7,000 real estate agents," Mitchell said.
It's a far cry from 2006, when Mitchell's retirement ended after only two months. Knowing something about real estate, he got a real estate license and that same year he got on with Dunes Properties selling beach houses.
A few years later, Mitchell got a call from a friend, "who needed someone to find some relocation information for people who represented Volvo."
"So when the company located a plant here about 10 years ago, we got the contracts to find houses for more than 100 of their representatives," Mitchell said.
Now, after 17 years in a second career, Mitchell doesn't plan to make any second attempts at retirement anytime soon.
"I like learning about different types of homes and communities and meeting people from all over the world looking to either buy or rent," Mitchell said. "And if you solve your client's problems and concerns, then success takes care of itself."
By L. C. Leach III