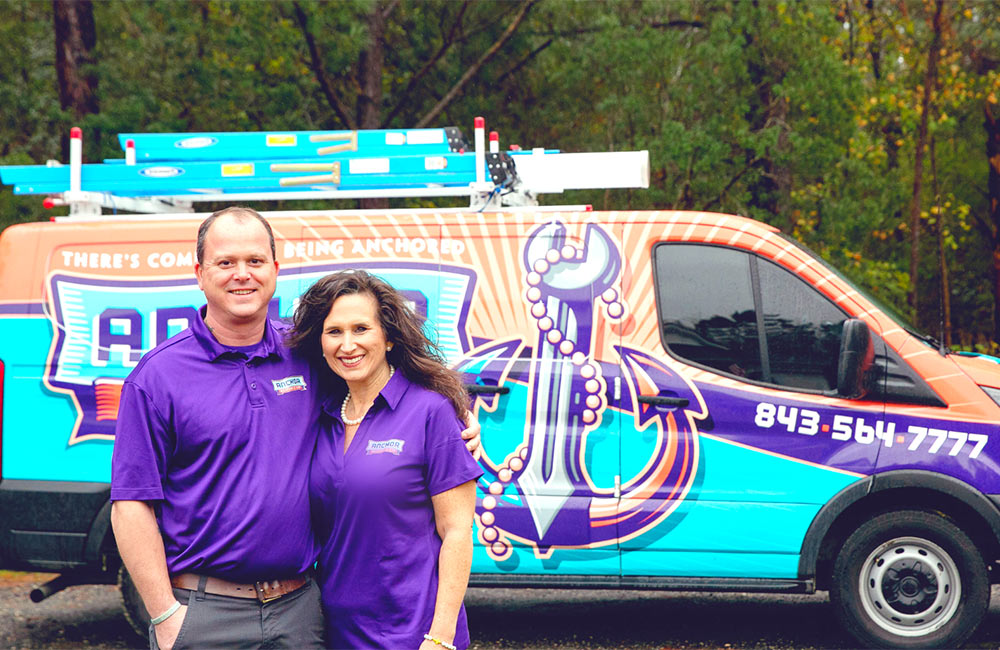 Stephanie Postell, half of the team behind Anchor Heating and Air, wants you, her community, to know that her company is different from the other HVAC companies in town. Not only is the company female-owned and run, but their dedication to building relationships and providing exceptional customer service makes Anchor Heating and Air the company you'll come back to for all your HVAC needs.
Anchor Heating and Air has only been in business for a little over a year, but the licensed and bonded team behind the company has more than 30 years industry experience. Postell runs the business side of things; her husband, David, is the co-owner, install manager and service team lead. "David and I are a great team," said Postell. "A lot of times you'll find in trades businesses it's all about the technical side, at which, of course, we do excel. David has over 20 years of experience in HVAC. But in my mind, it's our female perspective for customer service that sets us apart from other companies. I tell my team all the time it's great if you can fix something, but if you can't explain to your customer why it was broken or how you fixed it, then they feel sold to. That's not the business we're in. We're here to serve and to educate."
Stephanie and David are lifelong Charleston residents, and they're looking to build lifelong relationships with their customers. "We care about the place we live and the people we work with and for," said Postell. They know when they put in the time and effort to work with customers through little things, when the time comes for the big projects—like replacing an air conditioning unit—those customers will trust the team at Anchor to get the job done and do it right.
"Our customer service is second to none," added Postell. She's been known to respond to urgent Facebook messages in the middle of the night. "I let them know we're here, and we'll see them the next day to get the issue taken care of."
On their first visit Anchor can provide almost 90% of repairs that need to be done on a unit. They stock their trucks with common parts so they don't require multiple visits to resolve most issues.
The Captain's Club also sets Anchor apart from other local companies. The club focuses on comprehensive preventative maintenance for HVAC units. Members receive bi-annual maintenance checks on their systems, including cleaning and overall wellness checks. This goes a long way in keeping a system running at max (and energy-efficient) capacity. During a recent cold snap, Postell was happy to see all but one of the emergency calls she received was for new customers, proving the systems they maintain were able to manage the increased demands.
With their robust and entertaining marketing efforts, which even includes a TikTok channel, Anchor Heating and Air has grown rapidly in the year it's been open. Postell believes this is the proof that's in the pudding. The quality of their work is speaking for itself, and as they continue building lifelong relationships with other members of their community, Postell said, "we're going to be here for a very long time."
For more information, please visit AnchorHeatingandAir.com, or call 843-564-7777.
By Leah Rhyne